This is my first blog post for Comic Book Daily. I thought my first post would be an introduction of sorts and show you where my interest in comics lie. I look forward to writing more columns, but for now, here is a little bit about me.
When I was a kid I would read whatever comic books my parents would buy me. Two examples that come to mind are Spectacular Spider-Man #71 and The Further Adventures of Indiana Jones #22. These were the first two comic books I had and I read them a million times.
When I started high school I was within walking distance to a convenience store (I grew up in the country, I couldn't walk to the Quick E Mart anytime I wanted to) and started buying comics. One of the first books I bought then was a Batman In Detective Comics issue featuring a quick origin story of Batman as he took on a street gang. From there I bought Spider-Man, G.I. Joe, Super Pro and anything else that sat on the news rack.
Back in those days the comic book shop in town wasn't a very nice one. It was intimidating to go in there, the guy who ran the place wouldn't help or even ask what you were looking for. So my comics were purchased at the corner store, grocery store or Mega Mart. It was great with a one shot comic, but it was tough if there was a multi issue story arc; you may not find the comic you want next month.
Fast forward six years or so, I was in El Centro California doing a job for the company I was with and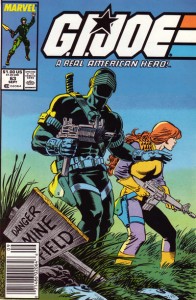 across from my hotel was a comic book shop. They were closed that week (apparently there was a convention in San Diego… I never heard of it before) and when they opened up the next week I went in to look around. My focus at that time was G.I. Joe (I've been collecting the figures since '82, but more on that later) and the guy sold me thirty books for $1 each. That hooked me on comics ever since. Now don't get me wrong, I have loved comics and super heroes since I was a kid, but I learned that there are great comic books shops out there. Some people who work there are passionate about comics and love to talk to their customers about comics and what their customers are reading. This is the kind of store I needed.
I was living in Calgary at the time and I searched out every comic book shop I could find (primarily looking for G.I. Joe comics) and found some good ones and found some great ones. One in particular became my favourite and I used to hang out there three or four times a week. That is when I found out comic book shops have mailboxes where they will make sure you get the issue you want from a "pull list". I didn't know they would do that. I moved back home to Ontario and tried to find one of these great comic book shops, because I was now part of the comic book shop culture.
Luckily I did find one in Barrie (and it is the main reason you are reading this blog today). This shop has helped me broaden my comic book horizons by introducing me to great titles like Captain America, Daredevil, Planetary and The Losers. These are comic books that I would not have normally read since I always focused on G.I. Joe, Spider-Man, Batman and X-Men/X-Force. But now I am exploring more and reading more and finding some great reads out there.
I am not a comic book expert. I am just a regular guy reading some comic books with my own opinions. I don't know who all the up and coming artists and writers are. I just know who I like to read or who draws some pretty cool stuff. But I am having a heck-ova-lotta fun doing it.