If you are planning on attending Fan Expo in Toronto this year, there is something to take into consideration.  It's changed weekends.
Traditionally Fan Expo has run the third weekend of August in Toronto.  A lot of people plan their summer vacation around this event.  Some people travel long distances, and make Fan Expo their premiere destination for their summer plans.  There are some who have to juggle their work schedule so they can attend Fan Expo all four days, or just the Thursday and Friday with the lighter crowds.
So it may come to some people as a shock to learn that Fan Expo has moved to August 28 to 31 for 2014.  This just happens to be Labour Day weekend (with Labour Day falling on September 1st).  Which will affect a lot of people who wish to attend Fan Expo.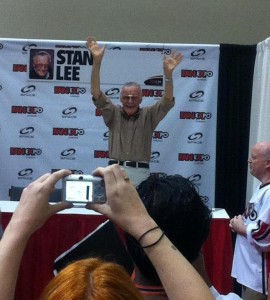 When I first saw the announced date on the Fan Expo website, I starting thinking about reasons for the change.  And there are a lot of them.  But instead of trying to hypothesize them all, I sent an email to the General Manager of Fan Expo Canada, Steve Menzie.  To my surprise I received a reply to my email, and an invitation to call him and talk about the change of date.
Steve Menzie told me that the reason Fan Expo Canada has moved weekend's this year is very simple… the Metro Toronto Convention Centre is booked that weekend.  So Fan Expo Canada had two options.  Change weekends or try to find an alternative venue in Toronto.
Changing venues was not an option for Fan Expo Canada.  As Steve told me, the Canadian National Exhibition (C.N.E.) is on that weekend so the Direct Energy Centre isn't available for Fan Expo.  Also the International Centre isn't the right type of facility for Fan Expo because that venue doesn't offer the types of show space, and conference rooms that the MTCC has at its disposal.
Plus the MTCC is close to public transit like TTC and GO.  And downtown Toronto has hotels, restaurants and facilities required to house and entertain the over 70,000 people who come to an event like Fan Expo.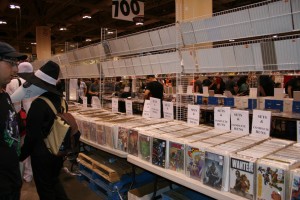 Now you'd think that Fan Expo would have their weekends booked years in advance.  It would be a safe assumption that Fan Expo isn't going to fold up operations any time soon.  But Steve informed me that one of the mandates of the MTCC is to be available to organizations outside of the city of Toronto, as a destination for conferences and trade shows.  The example he used was if a "National Space Aeronautics Council" wanted to have a trade show or conference the same weekend as Fan Expo, the mandate for the MTCC is to accept the application for the show for that group before Fan Expo Canada's prior reservation.  So the decision to move weekends was out of the hands of Fan Expo Canada, it was the MTCC's decision to go with another group first.
The calendar has a lot to do with Fan Expo falling on Labour Day weekend too.
Technically Labour Day weekend just happens to fall on the last weekend of August this year.  Next year Fan Expo is scheduled at the MTCC for August 27 to 30th.  Labour Day falls on September 7th.  A schedule that will work out for everyone.
I am not happy with Fan Expo falling on Labour Day weekend this year.  For me, Labour Day is the end of summer.  We traditionally have a huge barbecue on Labour Day weekend, and it becomes an all day affair of ribs on the smoker, coleslaw, baked beans and homemade corn bread.  My friends look forward to it (some of them are CBD alumni, and you may have heard stories about my "ribfests"), and it's a way for us to kick back and relax after a busy summer that is filled with toy shows, comic cons and Fan Expo.
I have three kids, and if you are like me, we are getting our kids ready to go back to school.  That last day gives us that bit of extra time so we can get backpacks packed and new school clothes laid out for Tuesday morning.  With Fan Expo falling on that weekend, it's going to be difficult to be at Fan Expo, plus get the "real world" chores done.
Steve Menzie also recognized this, and explained to me that children are an important part of Fan Expo, because they are the future fans of comics and pulp culture.  Fan Expo Canada realizes that their attendance could drop because of families getting ready for school, or that one last trip to the cottage.
Fan Expo Canada hasn't kept this a big secret from us.  The dates for Fan Expo 2014 are clearly posted on their website, but I know there are some people out there who may have taken it for granted that Fan Expo was going to happen it's regular weekend, and may have started planning, without realizing the dates have changed.
How about you?  Has Fan Expo's move to Labour Day weekend changed your plans on attending this year?