Another Free Comic Book Day has passed us, and it is the best time of year to be a comic book collector.  I for one, love Free Comic Book Day.  It is exciting.  It can be frantic.  But it is always fun.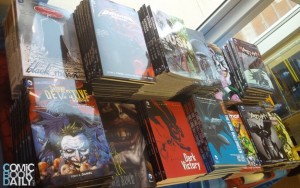 I don't want to start off on a negative here, but I have heard many complaints about Free Comic Book Day.  You know the usual stuff.
It costs the retailers too much money.
The people coming in for the books are not "real" comic book fans.
It's just shameless self-promotion.
Well… I don't agree with any of these statements.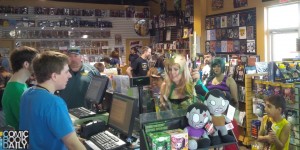 Free Comic Book Day is a way for the industry to try and draw in new readers/customers.  Retailers can use it as a way to say thank you to existing customers.  And it is a perfect way to launch a new story arc or special event.
Over the last 2 years Free Comic Book Day has become a weekend of "geeky goodness" too with the release of Thor and Avengers during Free Comic Book Day weekend.  Some comic book shops use this as a way to cross-promote with a movie theatre, and work together to get the purchasing public to come out and spend some money.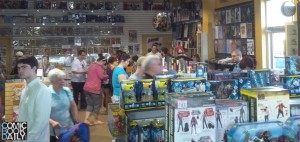 This Free Comic Book Day was a new experience for me.  I had the chance to get in the trenches at my local comic book shop, and help out.  Wow… that was a new one for me.
It was a very long day at Big B Comics in Barrie.  And many people came through the doors.  The first thing that surprised me was the variety of people that came into the store.  I know Free Comic Book Day was very popular with families.  We look forward to it with our family.  My kids enjoy getting to choose from a variety of comics.  But there were people of all ages coming into the store to get comics.  It just goes to show, all sorts of people enjoy comic books.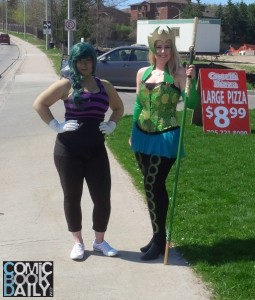 I talked to several people and they were surprised to find out the comics were for free.  Their first question was why.  I gave them a quick summary of what free comic book day is, and they were very grateful.
Cosplay and Free Comic Book Day go hand in hand these days too.  At Big B Comics we had several cosplayers there.  We had Superman, Batman, Green Arrow, She-Hulk and Enchantress to name a few.  The 501st Legion made an appearance as well.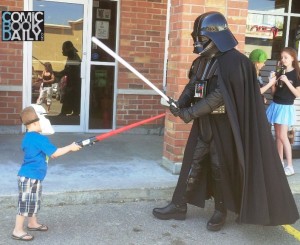 The kids loved seeing the Superheroes there.  Last year I was Captain America and I had a blast interacting with the kids.  A few of them thought I was actually Captain America.  All of the Cosplayers took time to have their pictures taken with the kids.  You could tell that everybody was having fun.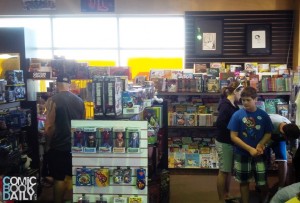 Free Comic Book Day was a resounding success at Big B.  There were long lines all day, and not just for the free books.  There was a steady stream of new books and memorabilia heading out the door.  I really hope that those first time visitors to the store, return in the future.  I think they will find that comics is a very fun and rewarding hobby.
How was your Free Comic Book Day?  Did your local comic book shop do something new and innovative that made the day very special?