April 19th/2014 was the inaugural GTA Comic Con at the Sheraton Hotel in Toronto.  The show was organized and presented by RPG Events, who also organizes the Canadian ToyCon and Burlington Toy Show.  This was their first foray into being a straight comic book convention, with of course, attractions for all fans of comics, toys, collectibles and general "nerdery".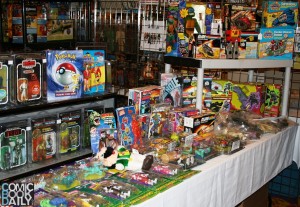 Some of the special guests included E. Roger Mitchell (Walking Dead), Jim "The Anvil" Niedhart (WWE Legend), Richard Comely (Creator of Captain Canuck), and Kurt Lehner (Gargoyles) just to name a few.
The show also offered a wide variety of vendors selling all sorts of merchandise.  There were many comic book retailers in attendance and you could find some great deals on CGC graded comics, key Silver Age comics books, and lots of bargain comics for $1 to $2.  There was also a wide selection of graphic novels and trade paperbacks.  Some vendors had trades on sale for $10, while others offered these books at US cover price with additional discounts on top of that.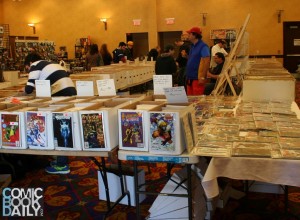 Action Figures and collectibles were in full supply too.  And some retailers were offering some great toys at the lowest prices we've seen at any recet toy show.  For example, there was one retailer selling "Pop Vinyl Figures" which normally sell for $10 to $15, for only $5.  These prices aren't normally seen at a toy show.  And that was just some of the deals to be had.  It was definitely a good day for a collector at GTA Con.
The other big event at GTA Comic Con was the costume contest.  RPG Events worked hard to create a unique experience for the Cosplayer with the "Cosplay Café" which was an area for Cosplayers to hang out and meet with friends, and also a dedicated area for people to get their pictures taken with the Cosplayers in attendance.  Cosplay For a Cure, Geek Girls, Ontario Ghostbusters and X-Men of Toronto were set up in this area and it was a lot of fun to just hang out there and talk to other Cosplayers.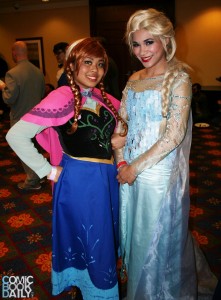 GTA Comic Con also had the costume contest.  This costume contest contest continues on from the Burlington Toy Show contests, where competitors earn points towards the final competition in November.  It was also one of the largest costume contests in the series with 34 adult competitors.  I decided to give the contest a chance with my new Captain America costume.  But the competition was very strong and some truly amazing costumes won.
GTA Comic Con was very well attended for being a show outside of the downtown core of Toronto.  I talked to a few people who travelled from the "core" via transit, and they said it was very easy to get to the venue.  There was also lots of free parking available at the show as well.  So for convention attendees like me, who drive to shows, it was nice having my vehicle close for locking away my purchases when I got tired of carrying them.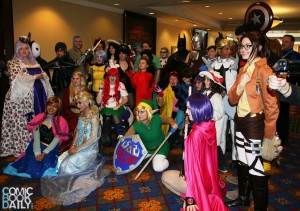 For me it was a great show to attend.  I had a great time talking to friends I have met through writing here for Comic Book Daily.  I also met some great people who recognized me from my Thor and Captain America costumes.  But as much fun as I had, I did here a few complaints on the show.  Some of them were from retailers, and some of the complaints were from convention attendees.  I heard a few retailers had poor sales on the day, and the traffic was light in their area of the convention floor.  With this being the first year of the GTA Comic Con, it is tough to try and expect what type of crowd was going to show up.  I expected the regular Burlington Toy Show crowd, and I was very surprised to see an even bigger crowd.  It's one of those problems that happen with starting something new.  There are bound to be small problems arise, but those issues will be addressed at the next edition of the show.
The next show from RPG Events will be the Burlington Toy Show, June 1/2014 at the Holiday Inn & Conference Centre in Burlington.
For more photos from GTA Comic Con check out Cosplayers Canada or their Facebook Page.
(photo credits Angela Campbell – Comic Book Daily)