This weekend Ghost Rider Spirit of Vengeance comes to theatres.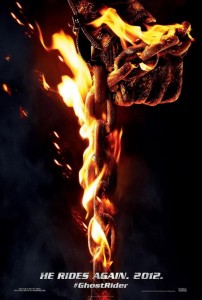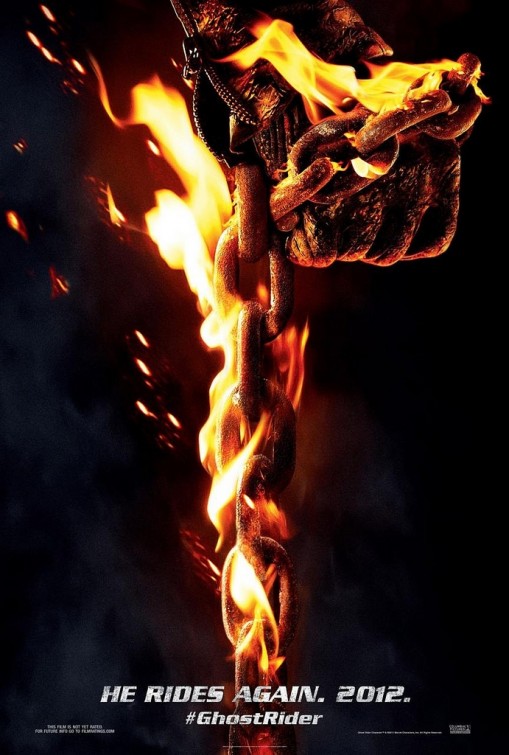 I know there are a lot of people who didn't like the first movie, but I loved it.  I'm not the biggest Nicolas Cage fan (Wild at Heart was horrible and it wasn't until The Rock that I watched a Nic Cage movie again), but I thought he was good as Johnny Blaze.  I thought the supporting cast was the real strength of the movie.  I don't think you can go wrong when you have a movie that features Brett Cullen, Peter Fonda and Sam Elliot.
I think the first movie gave us a good origin story of the Ghost Rider.  We know what "flamehead" can do.  He didn't have the best enemies to fight, but his conflict wasn't huge compared to the events of other Marvel movies like Iron Man or Fantastic Four (cause you know Galactus did try eating our world in FF 2).
Ghost Rider 2 is a movie I've been anxiously waiting for.  Since it took 5 years to actually come to theatres, there was a time where I thought it was never going to be made.  But I am glad it is here this weekend.
I have tried to avoid all the news about the movie.  I know it takes place after the first movie, and Johnny Blaze is in hiding and he needs to help save a kid in trouble.  Other than that, I don't really know what the movie is about.  I could have done more reading about it, but I want to see the movie without any preconceived ideas about it.
There are a couple of things I love with the trailer (especially the 3D version which I saw before The Phantom Menace), one of them being the crane (I assume) that Ghost Rider operates and it changes to go all "flame-y" like his motorcycle.  That is a cool effect.  That is one of the scenes I can't wait to see.
The other scene I'm interested in seeing is the "pee" scene.  Everyone saw it on the teaser trailer, I just want to see how it fits into the movie.
I'm not sure how Ghost Rider Spirit of Vengeance will be received at the movies this weekend.  Ghost Rider isn't a hugely popular character.  He had a strong following in the late 70's and early 80's.  The only Ghost Rider stories I read were the Marvel Classic Tales that were reprints of Marvel Team-Up from the early 80's, and a couple of Danny Ketch issues from the early 90's.  Hopefully he has a strong enough following, so the movie makes some money this weekend.
I know I am planning on catching it.  Check out the trailer below.