So how did you spend this past weekend?
The correct answer is… you saw Thor on Friday night and Saturday you were at your favourite comic book shop for Free Comic Book Day.
That is how I spent my weekend.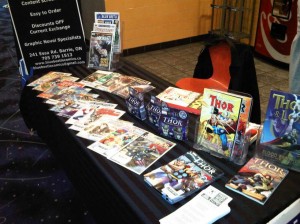 THOR
I was excited to see Thor on opening night.  I was killing some time on Facebook, when I saw Blue Beetle Comics were going to do some promotion at the theatre and they needed help.  They needed some help promoting Free Comic Book Day, showing off some of the comics at a table, and talking to the theatre audience about Blue Beetle Comics and Free Comic Book day.  I don't have a problem with public speaking so I jumped at the opportunity.
I stood up at the front of the theatre and told the crowd about Blue Beetle Comics and asked them where it was located.  I asked the crowd about Free Comic Book Day and gave them a bit of background information about the event as well.   I came up with some very interesting observations.
First off, I noticed that the screens were not sold out.  The theatre we were at was showing Thor on 3 screens (in 2D and 3D) and I was able to talk to the crowd for 6 six performances.  The theaters were 75% to 85% capacity.  If there were less showtimes, the screens would have been sold out.
Secondly, only a quarter to a third of the crowd (well… the ones who yelled out the answers to the questions) knew where Blue Beetle Comics was located and knew that May 7 was Free Comic Book Day.
While I was sitting at the table I also noticed there were a lot of kids who were very excited for the movie.  They were very excited for Free Comic Book Day as well.  I like seeing kids get excited for comics, it reminds me how fun it was to get my hands on a comic book when I was a kid (or even when I get my hands on a good one now).  There were however, some people waiting in line for Thor who were snickering to themselves about comics.  I thought it was ironic that they were making fun of comic books waiting in line to see a movie based on a comic book.
The movie itself was awesome.  Thor was the one I was worried about the most this summer.  I thought the whole idea of Asgard and Norse mythology would not work well, I am glad I was wrong.  Thor is one of the few movies that have something for everybody.  There is action, fantasy and a really good romantic story that would qualify it for a perfect date night movie as well.  I chuckled to myself when I saw the billboard that said "Journey Into Mystery", and Thor has my favourite Stan Lee cameo yet.  And yes… I did wait til the end of the credits.
FREE COMIC BOOK DAY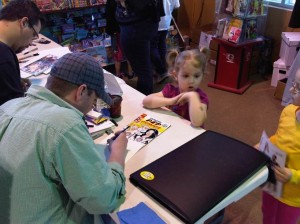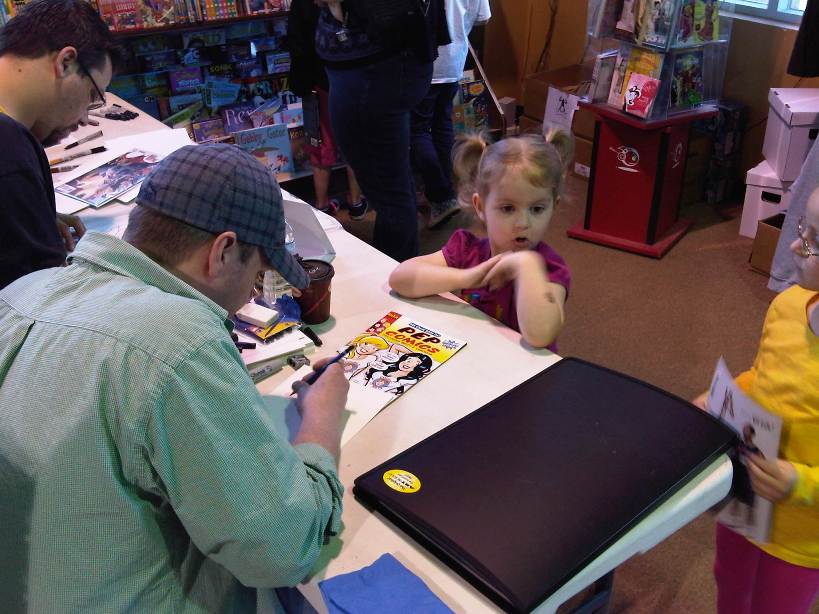 I took my family to Free Comic Book Day at Blue Beetle Comics.  We got there later in the afternoon and it was very busy.  There were kids everywhere (a very good sight to see).  My kids went to the free book table and found the books they wanted.  They picked up some of the ones I wrote a previous blog about as well.  My wife was able to meet/talk to some of the regulars at the shop, who have become good friends of mine as well.
There were long line ups for free sketches from some local artists (including Comic Book Daily's own Ryan O'Reilly from I Was A Hero).  My kids patiently waited to get Ryan to do some amazing sketches for them.  They were very excited about the artwork and it is going to be framed for their rooms.
Free Comic Book Day is a great event for comic book shops to create a festival atmosphere to celebrate all things comics.  People who don't regularly shop at the comic book shop, will feel more comfortable showing up that day without any obligation to make a purchase, but many people do.  It was just a fun day all around.  I was also told that several customers were at Thor the previous night, and found out about the event because of the movie.
How did you celebrate free comic book day?  Let me know in the comments below.