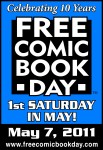 The first weekend in May is going to be a busy one.  THOR will be in theatres on May 6th; and May 7th is the day that has been written on everybody's calendar, Free Comic Book Day (FCBD), the 10th Anniversary.  FCBD is like your birthday and boxing day all rolled into one.  It is also your local comic book retailers busiest day.
FCBD is a perfect day to get your kids interested in comics, with little cost to you.  It's natural that kids love comics.  Kids always have, probably always will, but the problem right now is kids are not reading enough of them.  Your kids will have a blast going down to the comic shop, grab a couple books and browse the store.  It makes for a fun family day, that is economical.
So what is coming out this year for FCBD.  I checked the list and here is what I'm excited for.
Green Lantern/Flashpoint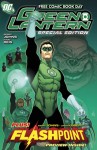 This is a reprint of Green Lantern #30, the origin story of Hal Jordan becoming a Green Lantern.  As the FCBD site says "This is the perfect jumping-on point for new readers who can't wait to see the Green Lantern major motion picture from Warner Bros".  The book also has a preview of Flashpoint, which is the DC major event, that I haven't read too much about and hopefully this gets me interested in the storyline.
Darkwing Duck/Rescue Rangers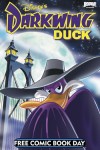 This is one that my kids will be interested in (with my very convincing urging I am sure), but it is one I am interested in reading as well.  This is going to be a reprint of Darkwing Duck #1, and when flipped over, it is a reprint of Chip 'n Dale's Rescue Rangers.  Both were great animated series from the early 90's.  Darkwing Duck (The Masked Mallard, The Terror That Quacked in the Night) was particularly my favourite.  The show had a great premise and one of the best Super Hero catchphrases "Let's get dangerous!"
The Mis-Adventures of Adam West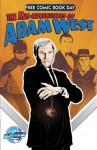 Adam West receives a magic amulet, which will send him on an adventure that will change his career, love live and will make him the saviour for the universe.  Who would expect any less from Adam West?
The Tick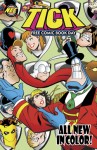 The Big Blue Bug of Justice is back.  I am a big fan of the television shows (Animated and Patrick Warburton's live action version), so I am looking forward to grabbing this book to familiarize myself with the Tick universe.  SPOON!!!!
Kung Fu Panda/Richie Rich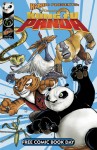 Po, the Kung Fu Master, is returning to the big screen this summer, so there is no doubt your kids will want to grab the Kung Fu Panda comic.  This comic will be a must, to pick up to prepare for the awesomeness!
Amazing Spider-Man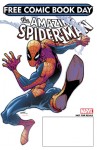 According to the FCBD website "give[s] you [the] first, fateful glimpses at the biggest Spider-Man epic in years (coming later this summer)! It's a crime that we're giving this one away!  The new MADAME WEB can sense a great conflict brewing in SPIDER-MAN'S future and his only hope for survival lies in the hands of SHANG-CHI, THE MASTER OF KUNG FU! Can Spidey gain mastery of the martial arts in time to stop a deadly foe from his past? Watch out, True Believers, 'cause this is the issue that changes up Spider-Man like never before!" Sounds like there is something big in store for Spidey this summer.  This one would be a great one to pick up to get into the story.
James Patterson Witch and Wizard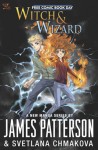 I have heard great things about the Witch and Wizard manga, and no doubt there will be lots of people picking this one up on May 7th.
This is just a small sample of what I am looking forward to on Free Comic Book Day.  Not all titles will be available at your local shop, so please check with them to see what they will get in.  The complete list is available on the FCBD website or your local comic book retailer.
It will be a busy day at the comic book shop on May 7th.  Lots of people, lots of kids, lots of fun.  Many comic book shops have big celebrations to celebrate the day.  Just ask your local comic book retailer to find out what they are doing for the Free Comic Book Day.
What are you looking forward to?  Leave a comment below.  Let me know what you can't wait to grab and why it will be great.