Saturday August 11th was the 2012 Canadian G.I. Joe Convention.  This year featured many special guests and panels.  One panel featured IDW artist Robert Atkins, who has drawn G.I. Joe since IDW acquired the license in 2008.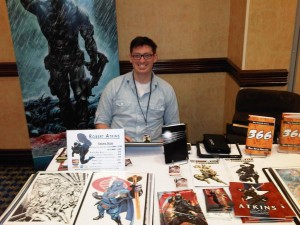 To start off the panel Robert Atkins gave the group a quick run-down on how a licensed comic is made.  G.I. Joe is owned by Hasbro.  They are the license holder for the property.  A publisher, like IDW, would approach the license holder and propose the idea of producing a comic.  Once the fine print is worked out on the deal the comic goes into production.  IDW and its creators will create the comic and Hasbro will have some input as well.  Sometimes Hasbro will want something changed, to reflect the toy line better.
Robert Atkins first experience as an artist for G.I. Joe was with Devil's Due Publishing (DDP).  While he was there he was an inker and colourist on a couple of G.I. Joe books.  DDP lost the license to G.I. Joe in early 2008 and Robert was approached by IDW to work as a penciller on the new G.I. Joe book.  He created some character designs for the comic.  Which he tries to pay homage to the original look and feel to the character, but with a modern touch.  He also looks for real world inspiration for the character designs.  He works hard to have the characters look practical with their uniform and accessory design.
After IDW received his character designs, Robert received a script by Larry Hama.  At that time IDW's plan was to have two G.I. Joe titles come out.  One title was written by Chuck Dixon about the G.I. Joe team in the present time.  The other title, G.I. Joe Origins was written by Larry Hama and it would provide details about the origin of the G.I. Joe characters.
Robert said that Larry Hama produces a script differently than other comic book writers.  With Larry's style Robert had to design the page and panel layout.  Other writers have a very detailed account for what will happen in each panel.  Larry Hama will take the finished page, then adapt the script to what is happening on that page.  Sometimes the script can change from the original depending on what the artist has done.  Larry Hama has said multiple times that he doesn't know what will happen on the next page, and that is where it comes from.  A lot of it has to do with the artist working with Larry.
Now the G.I. Joe title has been split up between 3 books (G.I. Joe, Cobra and Snake Eyes).  Robert said that Chuck Dixon will meet with the editor and they will come up with a story plot for the next 6 issues.  Sometimes he will be able to sit in on the editor's meeting, but most times he will get the script after it's been edited and Hasbro has given their approval on the script.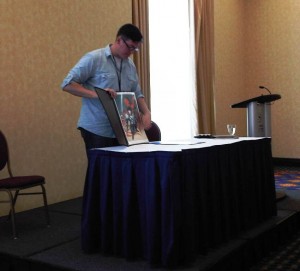 Robert works on a traditional 11″x17″ storyboard.  His focus is on clear story telling and compelling action.
Robert told the group that technology has made the job of a comic book artist easier.  An artist can live anywhere now and be able to send his artwork on to the next step with the aid of a scanner.  He said that he lives in Springfield, IL (ironically Cobra's fictional headquarters is Springfield as well) and his inker resides in Mexico.  Within minutes he can have his pencilled page in his inker's hands for the next step of the production process.  With the technology of colouring a comic book now, a colourist can finish the page much quicker now.
It takes Robert approximately one day to finish one page.  The production team works on a 3 to 6 month schedule, so he is working on material that will not come out for months, so the creators can keep ahead.  Robert works 12 hours a day, broken up into two 6 hour blocks.  He has a young family and this allows him to spend more time with them.
Robert Atkins is a G.I. Joe fan.  He has loved it his entire life.  He used to be a collector when he was a kid, but he has found that he is a toy collector now.  One example he told us was he had to draw an Awe Striker, which is a G.I. Joe jeep.  The frame on it has some weird angles and he couldn't visualize it to draw it.  He purchased an Awe Striker and had it in his hands and was able to draw it more accurately.  Now his studio is filled with toys.
The toughest character to draw within the G.I. Joe universe is Snake Eyes.  Since he doesn't speak, the only way he can communicate with others is through body language.  A slight tilt of Snake Eyes head could have a bunch of different meanings. It is tough to get it just right.
Robert said that during one meeting with IDW he asked if any characters from the comic would come out as an action figure.  He was told there weren't any plans for IDW designs to become action figures.  One that he'd like to see become a toy is the new Cobra Commander.  During the Cobra Civil War story arc, Cobra Commander was killed and Cobra Command had a contest to see who would become the new Commander.  Krake, a character he helped design became the new Commander.  Robert was able to redesign Cobra Commander and he'd like to see it come out as a toy (many collectors would like to see it too).
Robert Atkins is a freelance artist and is not under contract to IDW.  He is able to work for any company or publisher he'd like.  IDW has been offering Robert work since they have had the G.I. Joe title for the last 4 years.
He owns the physical artwork that he produces.  He said that he has drawn 54 covers for G.I. Joe.  Out of those 54 covers, he only has 2 left for sale.  He will sell those covers for $500 and up.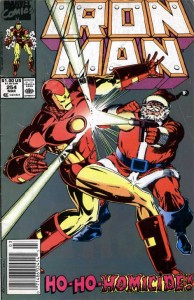 I asked Robert what was the first comic he read.  He said he remembered clearly that is was Iron Man 254.  He remembered that comic clearly because the title on the cover said "Ho Ho Homicide".  He purchased it while on his paper route when he was a kid.
To see more of Robert's work, please visit his website or follow him on Twitter.