Wow….
This has been one busy week.
I am only getting the opportunity to sit down now and bang out this column.  I'll try to get some comic talk into this column, but it's basically going to be a bunch of random ramblings because I have a lot on my mind.
This week started off trying to replace my wife's microwave (stay with me, I have to get this off my chest).  We owned our microwave for eleven and a half years and it finally died.  I never thought it would be a chore finding a new one, but it was.  My wife and I tied up two days searching every where for something that would work for us.  The ridiculous part about the whole ordeal is we found one at a big box store for the price we wanted pay: we should have stopped there first.
Halloween Stuff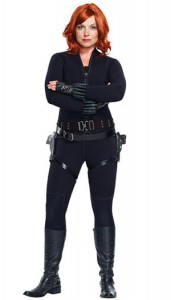 During our travels we stopped at a costume store to see what was available for Halloween costumes.  This year there are lots of "pre-made" costumes for your super hero needs.  And some of them are kind of expensive.  Black Widow and Catwoman (TDKR version) are the newest additions to the Halloween catalogue.  While I was at the store I was looking at some of the super hero accessories.  The one that caught my eye was the movie version of Mjolnir (Thor's hammer) from Avengers.  It is made to scale and I thought it would look cool on display on my shelf.  I checked out the price tag and it was priced around $20.  I passed on it.  I like it, but that is kind of expensive for something that will collect dust.
We then headed over to Value Village to check out the racks for more costume ideas.  I was amazed on how much "new" stuff they had in stock.  Yes, Value Village is a thrift store, but they are focused on being your #1 Halloween destination.  They have lots of new costumes in stock, at lower prices than your other retail options.  I saw Mjolnir on the rack there so I thought I would check it out.  I was floored by the price tag.  The exact same prop, same manufacturer and it was new and the price tag was $12.88.  I couldn't believe it.  I grabbed it immediately.  That price made me very happy.
Value Village also had a poster with costume ideas (you can view it on their website with more tips too).  I really like this because they don't tell you "buy this item on rack C", they give you tips and hints to make your costume on a cheap budget.  They also don't use the real names for the characters they are representing.  For example Black Widow's listed as "Avenging Girl".  I guess this is the easiest way to get your point across without infringing on a licensed name.
I'm still working on my Halloween costume.  I've picked up a couple hard to find things on eBay and I hope it comes together for the party we are going to this year.  I still have a month left to go.
Road Trip Stuff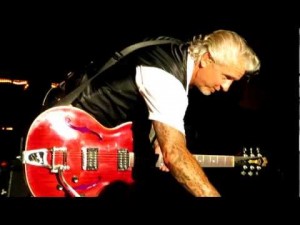 This week was also busy because I had a "rock n roll" road trip planned.  I won tickets to see Journey, Loverboy and Pat Benatar at Copps Coliseum in Hamilton on Tuesday.  I booked the day off of work and headed to "The Hammer" to spend the day hanging out in Steel Town.  CBD alumni Brent Chittenden drove me around Hamilton and we headed over to Big B Hamilton.
I was looking forward to the trip because I have never made it to the Hamilton store before.  And to be honest it was a strange experience for me.  I am a regular at the Barrie store, so when I walked into the Hamilton store I saw a lot of merchandise I recognized… but it was in a different place.  After a couple of minutes I became more familiar with the store and found some cool stuff.
I didn't get to see Walt this trip, but I did chat a bit with Marc.  They are always great to talk to, I just don't get the opportunity to see them face to face that much.  Hopefully I'll make it to Hamilton more to see the Big B's down there, and also visit with Brent more.
By the way… the concert was good.  I had some issues with the sound in Copps, but Journey rocks like always.  This is the second time I've seen them but the highlight of the night for me was watching Neil Giraldo perform.  He is Pat Benatar's husband and an unbelievable musician.  I would see Pat Benatar and Neil Giraldo again in a heartbeat.
Deadpool Stuff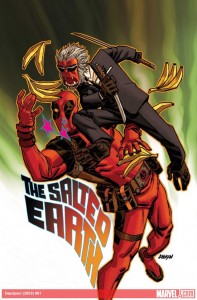 After my trip to Hamilton I headed to Big B Barrie for my usual comic book night.  I got my books from my box and started looking at the new releases.  There were some interesting new DC #0's on the shelf but I passed on them.  I went back to the counter and saw Deadpool #61 sitting there.  I am on the fence when it comes to Deadpool.  I don't hate him, but I don't love him either.  I guess you could say I'm vanilla when it comes to 'Pool.
He is a character that I think translates better to the tv screen than a comic book.  I enjoyed Ryan Reynold's portrayal in Wolverine Origins and Nolan North's portrayal in Hulk Vs.
I just don't buy or read Deadpool.
But this cover caught my attention.
How can you go wrong with Hit Monkey?
Hit Monkey is one of those characters who you can easily laugh at, but the Hit Monkey limited series had a great origin for a "bad-ass" character.
I wish Monkey was featured more in this comic.  There was a lot of back story for other characters that will come after Deadpool.  But I could see there is a story line leading up to the end of the comic before it is relaunched with Brian Posehn as the writer.
In the issue Hit Monkey puts down his guns and runs off, but I hope this isn't the end of our Simian Psychopath.