This past Sunday I attended the final day of TF Con (Transformers Convention) held in conjunction with the Collectible Toy Expo.  It was held at the Delta Hotel and Conference Center in Mississauga.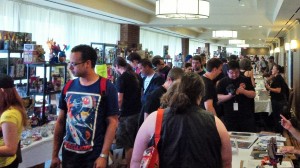 I was unable to attend the convention on Saturday, but from all the accounts I heard it was an extremely busy day and the vendors were very happy with their sales.  Sunday showed lighter crowds than expected for TF Con and Collectible Toy Expo.  Usually the floor is packed by 11:30am and it is very difficult to navigate around the vendor floor, but the GTA experienced heavy rains on Sunday morning so that may have led to the smaller crowd.  That was only for a short time though.  By 2pm there was still a steady crowd of people (which usually the crowd starts leaving), and by 4pm there was still some convention goers scrambling for deals as vendors were packing up their booths.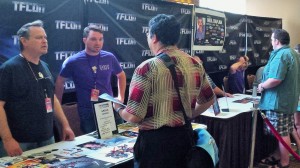 If you were looking for Transformers merchandise, this was the show to attend.  There was everything you could imagine related to Transformers.  There were vintage Transformers from the 80's, right up to the latest toys from the movie franchise.  Even imported 'bots from Japan and third market manufacturers.  It was overwhelming how much Transformers stuff was there.  And for a wide array of budgets as well.  You could buy some Transformers for a couple of dollars, or several hundred.  It was a virtual cornucopia of "vehicular trans-morphing toys"… and some Go-Bots too!
The special guests were well received by the convention goers too.  Many times there were long lines waiting to meet the featured voice actors.  Their panel about Voice Acting 101 was very popular as well (coverage of that panel coming later this week).  The artists in artist's alley sold prints and did sketches.  They were reasonably priced too.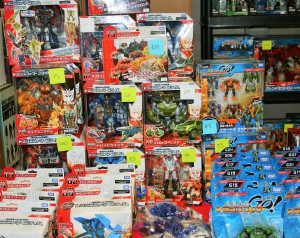 On a previous column about toy shows, I had mentioned about more vintage toys showing up at toy shows.  I'm not meaning old Transformers, He-Man or G.I. Joe.  Obscure and oddball toys.  Ones that I remember from the 80's, but didn't think anybody collected.
This show also had those vintage toys too.  Super Naturals figures were everywhere.  They were the toys from the 80's that were holographic images shown on the front of a shrouded figure.  I haven't seen them in over 20 years.  But they were everywhere.  Other forgotten toys there were Small Soldiers, Starship Troopers, The Shadow, and Last Action Hero.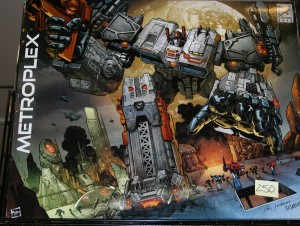 All in all TF Con is a well organized show and the interest in Transformers isn't going anywhere soon.  Kids and adults alike were excited and energetic for all the convention fun.
The next show for the organizers of TF Con is the 11th Annual Action Figure Expo on September 28th, 2014 at the Delta in Mississauga.  The special guest at that show will be G.I. Joe icon Larry Hama.