As you have read previously, I've been sorting and re-reading my comic collection.  The other day I found a comic in my pile that made me think of why comics are awesome.  That comic is Mr. T and the T Force.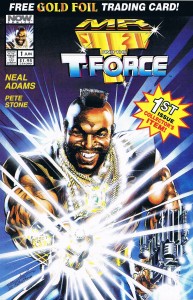 Mr. T and the T Force was written and drawn by comic book legend Neal Adams.  The comic is about Mr. T trying to clean up the streets.  While he's trying to stop drug dealers, he also tries to make a difference in these dealers lives by showing them there is a way out of the lifestyle.  He tells them about hard work and getting an education.  When he helps someone, he attaches a watch to their wrist that also doubles as a communication device.  Mr. T can talk to his new "T Force" member, and locate them any time, any where.  The T Force all work together to make this world a better place.
It's a great idea, isn't it?
The reason why comics are awesome is because this is the only place we'll ever get to see Mr. T in action again.  I can't see this idea ever being picked up for a TV show or movie.  Actually, I can't ever see it being picked up for an animated series either.  Nobody would ever watch it.  But with comic books we get to see something we would never see anywhere else.
Comic books are cheap to create, compared to television shows and movies.  In a comic, you can have your story take place in any environment.  If you want it to take place in outer space, you can.  Downtown Detroit… no problem.
Special effects are easy to do in a comic as well.  All you have to do is draw it.  You can have as many explosions or car chases as you want, and you don't have to worry about the safety of actors or the physics behind the special effects.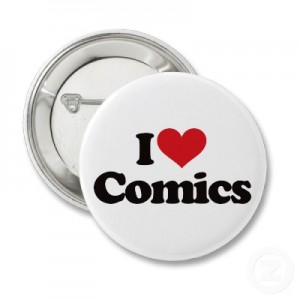 If you have a great idea, it is easier to make a comic book about it rather than a tv show or movie.  With a comic book, you can approach the publishers with your idea.  If they like it, it will be made.  If you can't get anybody to "green-light" your idea, and you are still passionate about it, you can self publish your comic series.
If it isn't successful, you can quit publishing the books at anytime.
If that same idea was to be turned into a television show, you still have to approach producers, but there are more people you need to talk to to get your idea approved.  You need a pilot, distribution deal, and several shows already made before it ever hits the airwaves.  There is a lot of cost involved to do this.  If it isn't successful and needs to be cancelled, you've already invested a bunch of money into the show.
Comic books can also serve as a sequel or continue the story of some of your favourite television shows or movies.
One of my current favourites is IDW's Ghostbusters.  Ghostbusters follows the movie continuity.  In the last couple issues, events from Ghostbusters 1 and 2 have been referenced in the comic books.  Ghostbusters 3 has been in development hell for years.  If it never comes out, this is the closest thing we have to a sequel.  We don't have to worry about the actors getting older.  They can be drawn any way the artists want, forever.
Several years ago there was a Ghostbusters comic come out called Ghostbusters: The Other Side.  This comic showed the Ghostbusters being killed by a group of ghostly-gangsters.  The Ghostbusters then went to purgatory and had to find a way back.  It was only a four issue story arc.  The idea of the Ghostbusters dying and coming back from the dead seems far fetched, even for a Ghostbusters comic.  But with comics, creators can take chances.  If it works, great.  If it doesn't, it can be forgotten really easy.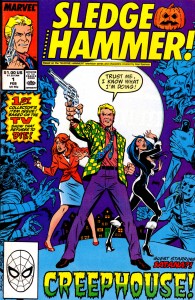 If you haven't looked before, check out the back issues or trade racks at your local comic shop.  There is a good chance you will find some of your favourite television and movie characters in comic book format.  Some of my favourites I have picked up have been Snake Plissken, Army of Darkness, Indiana Jones and Sledge Hammer!.  That's right Sledge Hammer!  Back in the 80's Marvel came out with a 2 issue mini-series about Sledge Hammer!
Sledge Hammer was one of my favourite TV shows in the 80's.  It was a comedy series about an ultra-violent police officer, who loved his gun more than anything else.  It was a great show and this 2 issue series is just a different take on a character I like.  It's something that could only be accomplished in a comic.