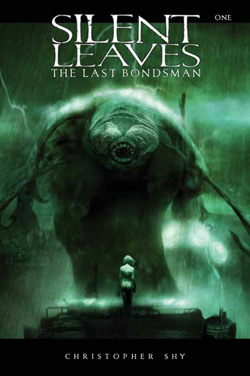 For those of you who like your graphic novels infused with a plethora of content comparable to H.P. Lovecraft and set in a rich world of insomnia-inducing science fiction, read on about the highly-anticipated series, Silent Leaves.
Christopher Shy is the brainchild behind this operation, as well as the founder of its publisher, Studio Ronin. Picked up by Canadian-based DMF comics, this four-part mythos will be available for the first time in its complete, uncut form; to put it candidly, this series should be to the comic world what a Penfolds Grange Shiraz is to the discriminating wine connoisseur. It's a story you want to sip at and absorb thoroughly, even though the craving to devour it within minutes is completely understandable. Within the bountiful 150+ pages of each work, Shy gives readers a beautiful, apocalyptic atmosphere coupled alongside a story that broods with quiet, daunting intensity.
The premise of the story is as follows: Many moons ago, a merciless group called The Preymen nearly exterminated the human race and the only power able to defeat them was a force known as The Bondsman. However, 500 years later, The Preymen have returned, and humanity has to figure out how to survive impending doom and gloom once again. Ian, our beloved female protagonist, knows the secret of The Bondsman, but finding them before all hell is unleashed might be tricky since no one has seen a Bondsman since their betrayal 400 years ago. (aha! The plot thickens.) The last dregs of Humanity protect themselves inside a colossal fortress called The GodWall, which is ground zero of the Great Decay. In other words, the world of Silent Leaves.
Sound awesome? If you have a pulse, it should. If you want to overdose on even more promotional eye candy, Ronin Studios has created a hypnotic trailer comprised of artwork from the book. Admittedly, one cannot help but feel a slight nod in the direction of the Silent Hill franchise while watching, but Silent Leaves, although similar in title, stands strong entirely on its own.
The first two installments of this epic fantasy, The Last Bondsman and Exceptions to Life, are available for purchase now, while Man To Leaves and Seven Leaves will be at comic stores near you in late 2010 and 2011, respectively.
Darah is a creature of space and sea temporarily gone walkabout on planet Earth. She recruits elite female soldiers for the Gears of War army and updates her Twitter after each successful head shot. You can discuss tips, tricks, and tactics for surviving the pending apocalypse with her here: darahcreature[at]gmail[dot]com