Being a slow reader with many interests means that my "to-read" list is an ongoing work in progress. I recently made a push to chip away at my massive list and so, in another two part write up, I thought I'd share with you some of the highlights. Many of these books have been properly reviewed already by fellow CBD writers, and there's no shortage of more in-depth reviews out there. However, some reviews can be vague and often overly "wordy". I've tried to be more concise and to-the-point by offering up the premise, followed by the reasons why I feel the book is worthy of your time… and hard earned dollars. As such, all the books featured here are recommendations. With the holiday season fast approaching, the idea here is to help you cut through the clutter and get to the good stuff quick. "Good" is a subjective term of course, but I feel that many of these works are under appreciated and worthy of your attention.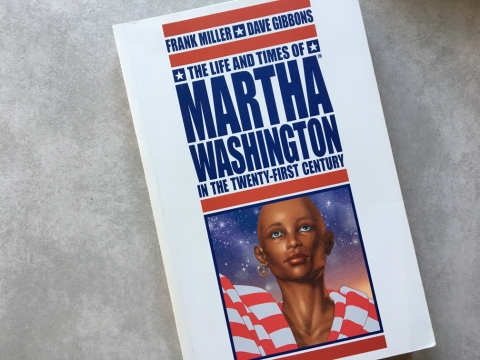 The Life and Times of Martha Washington in the Twenty-First Century
Story: Frank Miller, Art: Dave Gibbons
Fresh off the success of Dark Knight Returns and Watchmen, Miller and Gibbons collaborate on a new series of mini's about a black female soldier who rises from the slums to become an idealized symbol of hope in a future dystopian society. Although I collected the original books from the 1990's, it took me over 25 years to finally get around to reading this series in a collected softcover compendium.
Why you should read this: This is classic Frank Miller. A society lead by corruption, desire, duty, hypocrisy, the romanticized underdog, the destruction of God or utopian ideals… it's all here. Admittedly, I think I would have enjoyed this series more if I had read them at the time of publication. However, after 25 years, the stories still hold up. I'm not a Dave Gibbons fan but his work is competent, although not as nice as his effort on Watchmen. If you're a child of the 80's and missed the Martha Washington series while growing up, this series is still worth reading, especially if you're a Miller fan. If you like to collect, the original floppies are cheap and can be readily found in the cheapie bins around town. If you're more of a reader, pick up the compendium.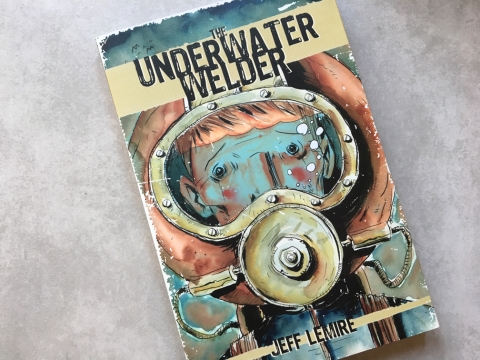 The Underwater Welder
Story and Art: Jeff Lemire
Canadian talent, Jeff Lemire is well known for his works for both Marvel and DC, but his name may be better associated with his independent works. Underwater Welder is a story about Jack, who works out on an oil rig off the coast of Nova Scotia. On one particular dive, he has an experience that has him re-living his relationship with his father, all the while being pulled away from his wife and unborn child.
Why you should read this: The introduction, by Damon Lindelof, compares this story to the Twilight Zone. This is because it contains aspects of a supernatural experience. But woven into this poignant human study is a tale of a man dealing with various pressures. The Underwater Welder has a somber tone and is paced slowly. Lemire takes a melancholy approach to characterization and the unveiling mystery of Jack. I especially liked the transitions from one scene to the next, and how smoothly the story develops. The black and white illustrations are loose and sketchy but skilled enough to capture the maritime atmosphere of a small town in Nova Scotia. The ending is somewhat unoriginal but overall Underwater Welder is an excellent read.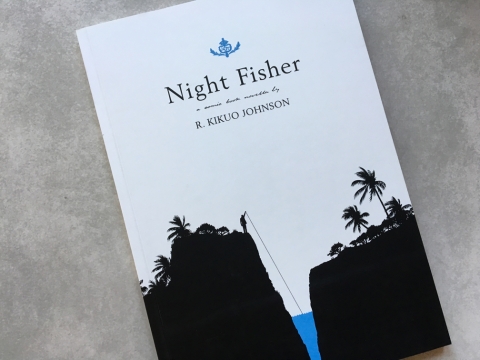 Night Fisher
Story and Art: R. Kikuo Johnson
Set in Hawaii, Night Fisher is a tale about a high school student, Loren Foster who struggles to find his footing while growing up in a tropical paradise. He is swept along by the momentum of his adolescence, experimenting with drugs, dealing with gossip, rumours and hijinks that ultimately lead him to trouble with the police. All the while, he struggles to make sense of the distance between him and his best friend Shane.
Why you should read this: I think many of us can relate to this isolated feeling while growing up, and all the dumb things we did for no seemingly apparent reason. I really like this story because it illustrates this awkward stage in our lives where we are simply trying to fit in. I especially like the way the story ends, without much fanfare or revelation. The art is graphic, simple and almost nondescript. I think this is a reflective story that may get the reader thinking back to their own adolescence.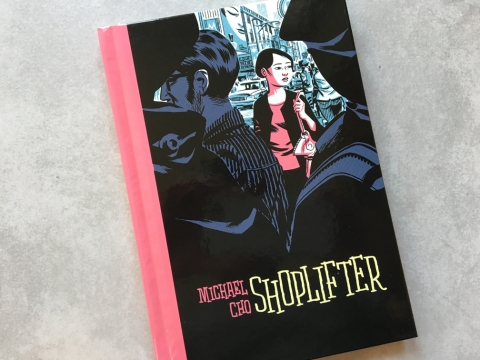 Shoplifter
Story and Art: Michael Cho
From another local talent, Michael Cho gives us the story about Corrina Park, an English major with high hopes who ends up working at an advertising agency. Frustrated by her life, she begins stealing from a small local convenience store.
Why you should read this: I had lots problems with this book. The story, the characters and the portrayal of advertising all felt clichéd to the point of being false. The art was overly tight, overly self-conscious, and there were some production issues that bothered me; like being able to see the bit mapping from low resolution scans and the overprinting of black over magenta in order to achieve a richer black, resulting in a pink halo around everything. However, I'm a big Michael Cho fan and the art is still gorgeous to look at. The story is somewhat enjoyable as a passing read and the production issues probably won't bother the average reader. As such, I'm recommending this book, especially if you enjoy Michael Cho's retro style.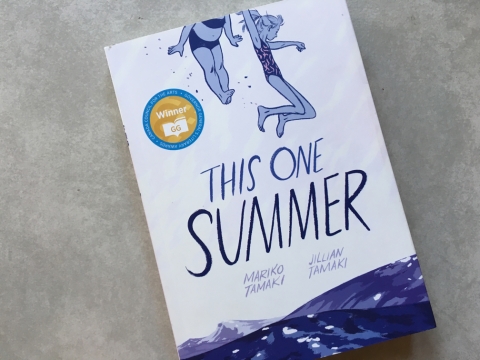 This One Summer
Story: Mariko Tamaki, Art: Jillian Tamaki
Local talents, Mariko and Jillian are cousins who collaborate on this poignant tale of a young girl name Rose and her friend Windy who spend their summers in the small town of Awago. On this particular summer, Rose is apprehensive about her trip, but they make it to the cottage and Rose meets up with Windy. Together, they spend their days hanging out at the beach, watching horror movies and hanging around the local store, while at the same time, being drawn in by local teenage gossip.
Why you should read this: I'm not a manga fan but I would always see this book every time I walked into a book store. So, I finally picked it up and… wow! It was pretty amazing. This book is often discussed as a coming of age story by many reviewers but I think this is misleading. It does have aspects of kids coming into their own but there are several threads that run through the book, which become connected towards the end. It's not so much about growth as it is about people trying cope with a situation. The story is beautifully composed and the art is sensitively drawn. Jillian Tamaki's rendition of summer at the cottage is rich and layered that I felt immersed in its setting. She captures expressions and gestures so well that the characters really do feel alive. There is one thing I would have liked to have happen differently towards the end for added impact but to discuss it any further would be to take away the joy of the initial read.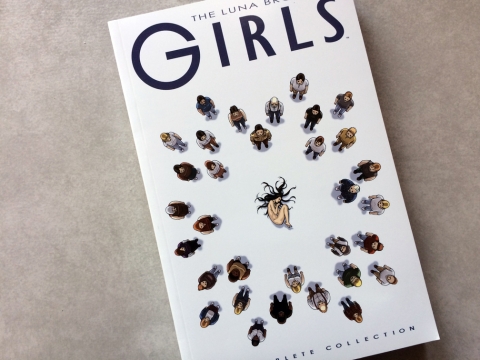 Girls
Story: Joshua Luna, Art: Jonathan Luna

Oftentimes, I hear from young, aspiring, wanna-be comic creators about their own idea for a comic. However, when it's described to me, I can't help but roll my eyes at some of the crazy, and seemingly nonsensical ideas I've heard over the years. This is one of those stories come to fruition and I'm delighted to have been proven wrong. Girls is a 24 issue series that started way back in 2005. I picked up the compendium on a whim about 10 years ago and have just gotten around to reading it. Girls features the people of Pennystown, who are unable to leave due to a mysterious barrier that surrounds their very small town. While trapped inside, beautiful naked ladies appear… then stuff happens. How this story unfolds is incredibly entertaining so I wont elaborate on this basic premise, other than to say that this is an insane idea that works so well, on so many levels.
Why you should read this: Others have describe Girls as a monster story, a mystery or a sci fi epic. I would add social study, humour and characterization to this list. It's all these things… and more. Girls takes it's time to set up the people of Pennystown and eases the reader into the mystery. The dialogue is written extremely well and is hilarious at times. Although there are lots of naked women, innuendo and sexual symbolism, this is not an erotic story. It is however, refreshingly original, which is no small feat these days. I've read how some people were really turned off by the art but I thought it was well done. It's simple, and each panel feels like a Jap-animation film cells due to blurred background. I liked that it was consistent and help me to recognize all the characters. If you like Twilight Zone and studies about people, you'll love this book. It really was a blast to read.
This ends part of one of my two part list of recommendations. I think most people will enjoy this eclectic mix of books, if not the story, then hopefully the art, or the ideas conveyed by this talented group of storytellers. If you have any further thoughts on the books mentioned here, please feel free to comment, and stay tuned for part two of more equally entertaining reads.