If you want to hear me answer questions in my lispy muppet-like voice you can check me out on vyou. Try to come up with something better than "What's your favourite comic" I get that one a lot.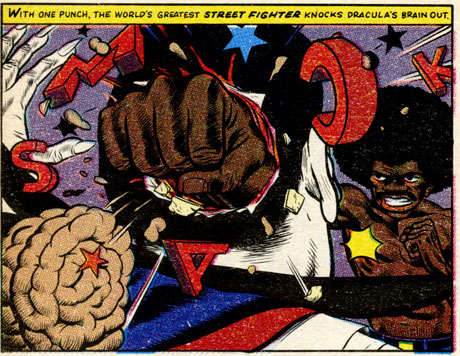 I feel like my life is lacking in Street Angel lately. Jim Rugg has always been a personal favourite of mine (I have a few Afrodisiac Poster Prints hanging at my place) and I feel like I'm going through withdrawal. For those of you who are unfamiliar with Rugg's stellar line-work and dynamic way of incorporating sound effects into panels (see pic above!) I'd strongly suggest picking up Street Angel or last year's phenomenal Afrodisiac at your local comic shop. If you want to see what the man is capable of right now go check out the award-winning Rambo 3.5 over on his flickr. (Click pic to go to there.)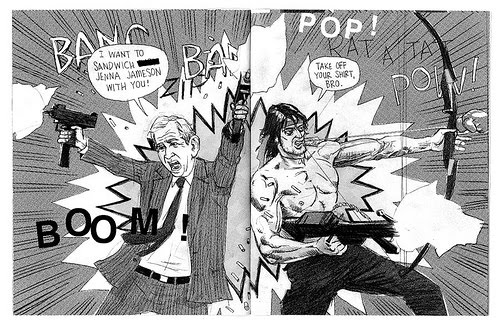 Not Really Comics But Still Cool Item of the Day! Brett Lamb takes Toronto's famed Queen Street West and turns it into a time travel side scrolling adventure! Complete with 16 bit Silver Snail!
At the 2:10 mark he's even included those giant bugs on the building across from Aji Sai Sushi! For more information visit the Torontoist.
About a year ago I bought the Moore/Davis Captain Britain Omnibus, since then I've tried to read a large chunk of it. (Minus the Claremont stuff, most of his writing is instantly and inexplicably dated.) As much as I loved and mourned the loss of the Cornell/Kirk MI-13 series, it wasn't until I re-read Thor, The Mighty Avenger #4 by Roger Langridge and Chris Samnee that I realized how much I really enjoyed and missed that specific part of the Marvel Universe.
Specifically it was this page, something that probably did more character and world building for Captain Britain than any six issues miniseries would largely overstep: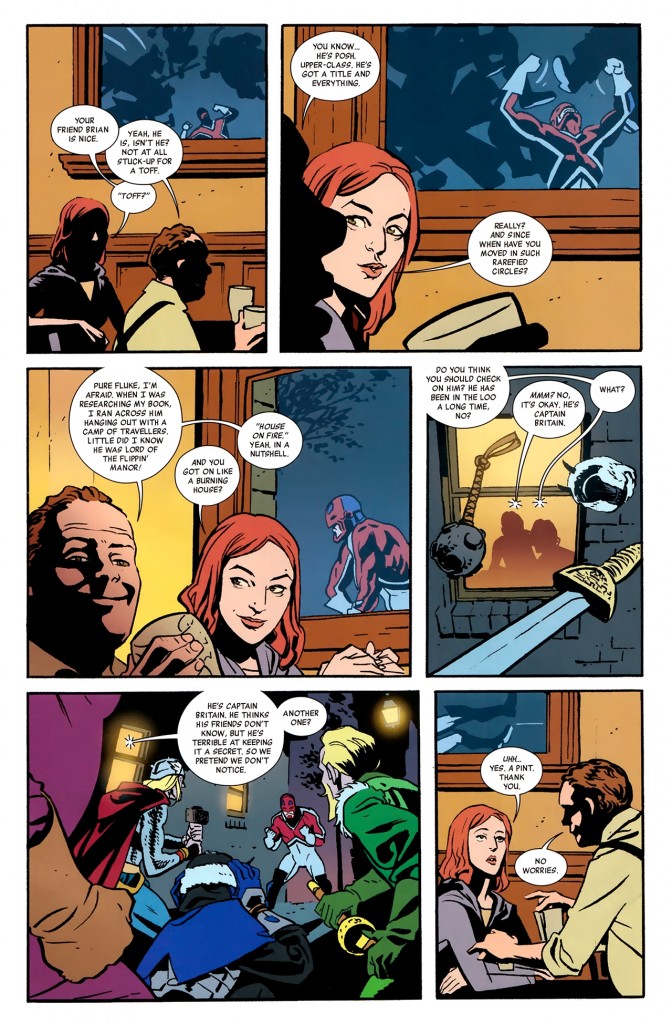 That's absolutely perfect. It completely – at least in my opinion and my experiences with my British friends – sums up the British culture. They're totally not phased by the notion of 'celebrity' and in fact rather wish it would go away. While it's most definitely a love hate relationship (see any episode of Never Mind The Buzzcocks) it's an interesting dynamic and one that really deserves to be explored more.
That said I'm enjoying the hell out of Knight & Squire. I think that the last issue with
Richard the 3rd trying to take over the world through twitter and Facebook was probably one of the strongest issues of 2010. The fact that Richard spends more than a few pages soliloquizing about his evil plans in an aside that keeps getting interrupted is a brilliant gag and one that Mel Brooks would totally have loved.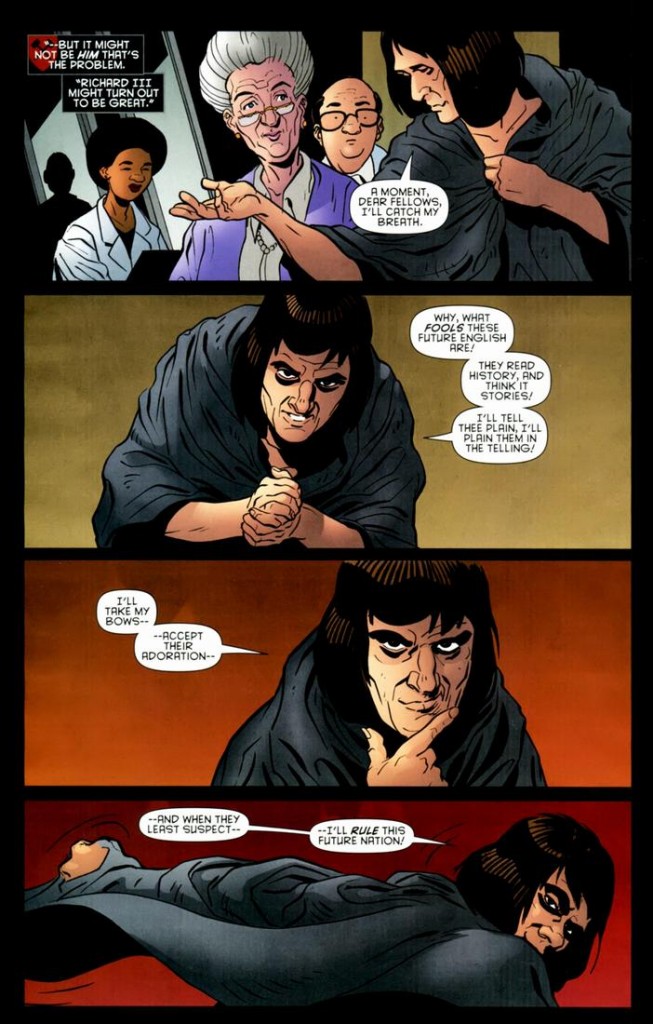 How did I not know that Toby Cypress had a new book out? Toby Cypress is a beyond dope artist: he's like a looser, jazz version of Paul Pope. (Paul Pope of course being the Rock & Roll version of Paul Pope.) I've been following his through his work on The Tourist with Brian Wood and caught some of his work filling in for Rocketo's Frank Espinosa on the Killing Girl miniseries.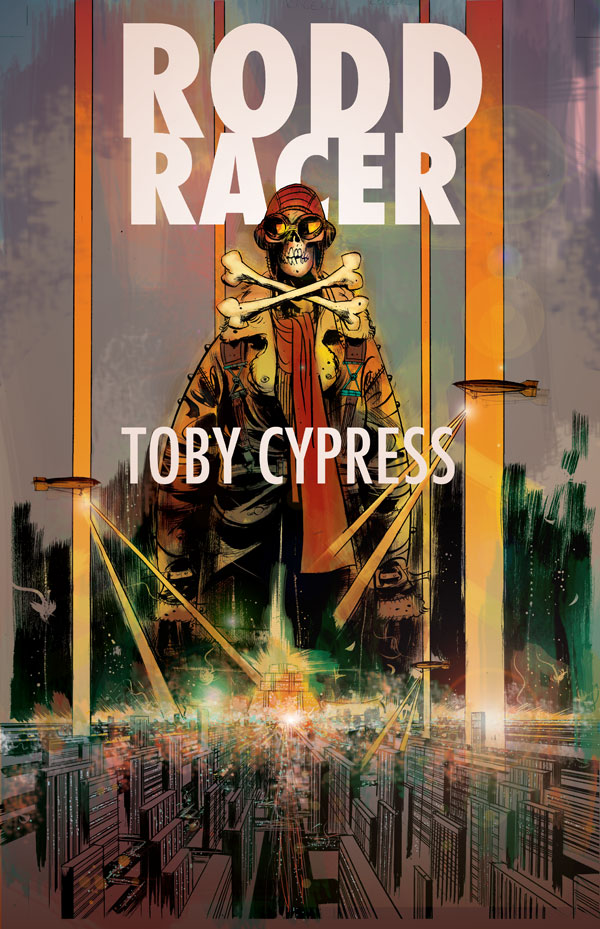 His book Rodd Racer looks breathtaking; a dirty sci-fi story about Rodd, a stunt driver who shifted course to become a legend in the world of underground street racing. If you check out his blog you can see some of his concept artwork that just totally blows me away. We're talking about world building on such a scale that it'll make Kubrick furrow his brow.
This is a top-notch creator who is producing some of the most energetic artwork in comics. These are the people who need our support!
Speaking of Rocketo – When are we getting the next book? I've tweeted Image Comics but they haven't responded. I'm guessing there's some conspiracy going on.

Obviously this is going to lead to a much deeper case, probably involving the 1963 annual and Miracle Man. Either way just know that no matter how I die, it will be murder.