A few months back, I wrote a column called "Barry Smith, On the Road to Windsor". I recently revisited this column and noticed that I had, except for a one word mention, given his work on Ka-Zar in Astonishing Tales #3-6 a total pass.
I am going to make up for that slight now. Barry took over the Ka-Zar run from Jack Kirby when he departed Marvel for the new horizon of DC Comics to get to work on his Fourth World vision.
Barry was widely receiving recognition on the incredible pace that his artwork was not only improving, but that it was developing into something totally unique.
During this four issue stint on Astonishing Tales, if you look back on it now with the luxury of hindsight, I think that that was where the most growth and advancement came until the very end of his Conan run, when he was putting in so much detail he was missing deadlines and was inked by sometimes several inkers per issue or in one case at least, shot directly from his pencils .
The Savage Land rarely looked better than under Barry's stewardship ,with perhaps the exception of John Byrne on X-Men. Check out this splash from #5. What a beauty!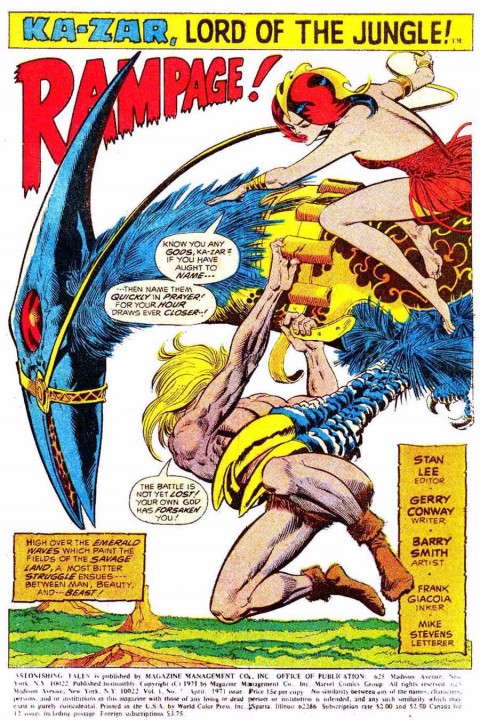 Barry was probably at his most prolific at this time .He would have been doing 30 pages per month between Conan and Ka-Zar. For him that was prolific!
The following, his last, was inked by industry veteran Bill Everett, who really merged with Smith's work to create what to me is some of the nicest pages of that era of Smiths' artwork. Here is the original artwork for the splash from Issue #6.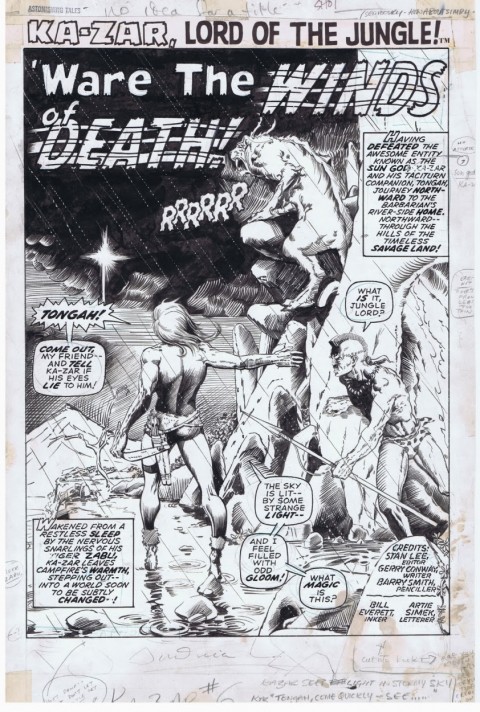 Now isn't that a beauty?!!
So if you have never read these issues they are really worth looking for. You will not only see some eye-popping artwork but the story is one of my favorites from Gerry Conway, who didn't always do it for me.
I am betting that if your favorite comics store has a decent back issue section you will be able to pick these up for reasonable prices. They may even the next Bronze Age title to get noticed by the folks in Hollywood.
Can you just imagine the Savage Land portrayed with the attention to detail of say Jurassic Park? It would be a great playground for further growth of the Marvel Universe, and has some great storylines and characters associated with it.
X-men, Sauron, Garokk the Petrified Man, and the list goes on.
Continued Happy Collecting!