One of the most ignored Marvel Comics of the Silver Age is Daredevil. Oh he gets a lot of attention for the Frank Miller years, and the "darkening" of the character, Bullseye, Elektra and the Kingpin . But before this era there was the devil may care persona. The unrequited love of Karen Page era, and yes the really goofy villain era. Remember the Leap Frog, Matador and the Stiltman?
The first eleven issues was a who's who of artists of the times. Bill Everett, Joe Orlando and the incredible Wally Wood. Daredevil had a cleverly designed shoulder pouch. Miniaturized spy-type recorder in his billy club and in issue 7 he donned his trademark red costume.
It was a simpler time. In issue 12 John Romita Sr. took over the artistic duties and everything changed. The whole look and feel of the book seemed to come together as Jazzy Johnny made the character his own. Kazar, Zabu, and the Ox, gave Daredevil some badly needed continuity, and Karen Page suddenly looked real good! In issue 16 and 17 the Marvel Universe shook!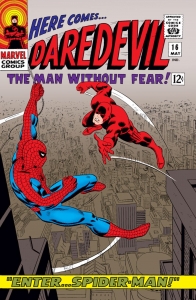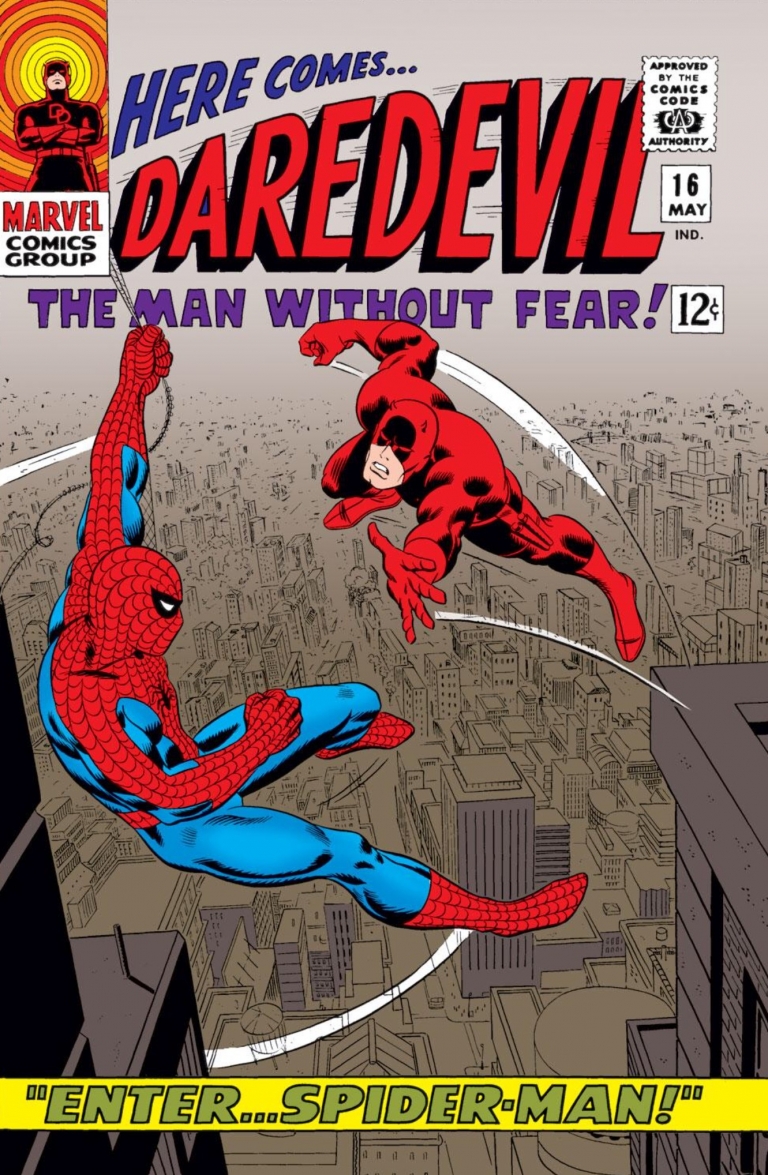 "Enter… Spider-Man!" An item on the Marvel Bullpen Bulletins page in that month of comics shouted "you'll stand up and cheer when you see the brilliant interpretation that jazzy Johnny Romita gives to everybody's favorite web spinner!"
John Romita thought that when he took over the reigns of Spidey that it was only temporary. Stan had other ideas though and he was right. Romita breathed new life into Spidey after Steve Ditko left. No one can argue that, but I really forgot how radical the departure was.
Daredevil # 16 and 17 are important for a few reasons. Daredevil really looked great in these issues. Romita was inked by Frankie Ray (nee Giacoia), and he really gave a clean look to Romita's pencils and it was apparent how much Romita enjoyed drawing Daredevil.
Spidey suddenly looked modern. Ditko's Spidey looked like he lived in an earlier time period .More of a 40's and 50's vibe. Not only did the cast of Daredevil look great but so did Peter Parker , Aunt May and J. Jonah Jameson. It was definitely the swingin' sixties!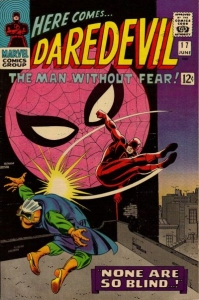 It's great to see the growth of an artist on a character and his approach to it, and it was interesting to see how Spideys web pattern on his suit changed from what we would grow accustomed to. Issue 18 and 19 would be Romita's last two issues before he took over The Amazing Spider-Man with issue # 39.
With issue 20 Gentlemen Gene Colan would take over the reigns of DD for 100 or so issues. I'll address Colan's stewardship of this title at another time!
This was a simpler time. Good versus Evil. And good won. No anti-heroes, no deaths, no scantily clad women and a wholesomeness that you could, well … let a kid look at.
Now I am no prude by any stretch, but I miss the Silver Age. I love more adult themed books but not at the expense of great books that kids can read.
When I was a kid, there was continuity. Remember when Crisis on Infinite Earths for DC came out? Well how did that work out.
New 52??? Secret Wars II…. argh!
Try putting together a run of Daredevil. There's Volume 1,Marvel Knights back to original numbering. Volume 2 etc, etc, etc.
I have pretty well lost interest in the majority of Marvel and DC titles because of this.
If you haven't looked at the early Daredevil run for awhile, go back and take a look at it again. It's fun, It's affordable and it is some great art! Oh and did I mention, your kids can read it! It was a simpler time indeed!
Continued Happy Collecting!