As many of you probably know, I am the artist here at CBD who created the series called Crash!!! and Galloway Park. My dream as a kid growing up was to be a professional comic book artist. I am currently working on a roughly 100 page Graphic Novel called Splashdown.
As I was working on layouts for the story today, I was reminded what happened along my journey of life that took me away from that goal. In the mid '70's I was part of an advanced art class in Valley Heights Secondary School. My art teacher was Ross Bateman, younger brother of the famous Canadian wildlife artist Robert Bateman. He made it possible for those who were seriously considering a career in art to have 2 periods per day where we could work on whatever field we intended to go into. You guessed it: for me that was drawing comics. I have a very large box of work that I have saved since I was about twelve.
For that two year period I drew comics to my hearts content. Totally without any comic art instruction mind you, just the time to draw. When I look back at what I did, there was definitely some promise but nothing to set the world on fire.
Near the end of grade 12 my art teacher made arrangements for a day trip to Sheridan College in Mississauga to get a feel as to what Art School would be all about. I just about fell over when I found out that the guest who would be at the College was…Berni Wrightson! We were going to be able to interact with Berni while he would be working at his drawing board. Now I seriously was excited about this. Berni was super hot at that time, and it had just been announced that he would be leaving Swamp Thing after issue ten. It had not yet come out at this time. I really don't remember who else came on that trip or how many were involved, although it was a small group of probably 5 people. None of the other attendees had a clue who Berni Wrightson was, so it is no wonder that I don't recall them. My focus was on seeing the great Berni Wrightson!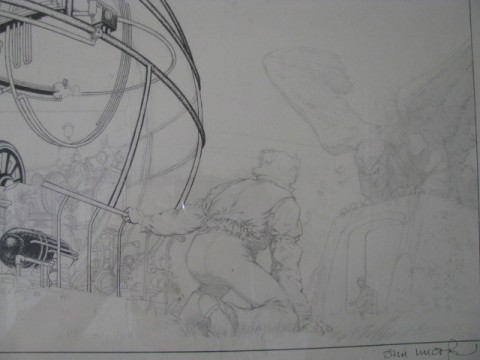 I stood beside him at his board and marvelled at how smoothly the work flowed from his pencil. He was very friendly and took the time and had the patience to answer any and all questions.
His answer as to why he was leaving Swamp Thing was simple. It was time to do other things. He then asked me a very straight forward question. "Why do you want to be a comic book artist". My answer was just as straight forward. "Because I want to make lots of money". His answer was "well then don't do this. Not unless you are as fast as Jack Kirby or John Buscema because otherwise you won't make much."
Honest advice from someone at the peak of his popularity. I took that to heart and thanked him for the honest answer. I had until that time always figured you could make a good buck drawing comics. Now I have had people say things like " it wasn't right for him to steal your dream". He never stole my dream: he gave me a real, uncluttered answer. He said he was far too slow as an artist to be able to really get rewarded for his work and therefore he was going to try other things beside a monthly comic which he always seemed to be behind when it came to deadlines.
The industry has changed immensely since that time, but this was before creator's rights and comic shops came along let alone the internet or the convention circuit. This was just when the industry was beginning to hear from Neal Adams and his crusade for creator owned properties. The Silver Age artists still had not received their original artwork, and Kirby was battling for recognition of the universe he had co-created.
Needless to say , I choose a totally different career path and have in the last 5 or 6 years returned to creating comics and am really enjoying it.
About four years ago I went to the Baltimore Comic Con and as I was walking toward the large crowd at the Neal Adams booth when I look beside me and here in a single booth is Berni Wrightson and his wife showcasing some original artwork for sale and various books. I spent about a good half hour to forty-five minutes and related the story I just shared with you. He obviously didn't remember me or the event at Sheridan College it was after all 30 plus years ago. He did say " boy, I hope I didn't steal your dream". My answer was no. It was an honest answer to my statement. I thanked him for his honesty. I went and raised a family and built a successful career, and now when I am getting to the winding down of that career in a few years I hope to be able to have created some interesting and hopefully profitable stories.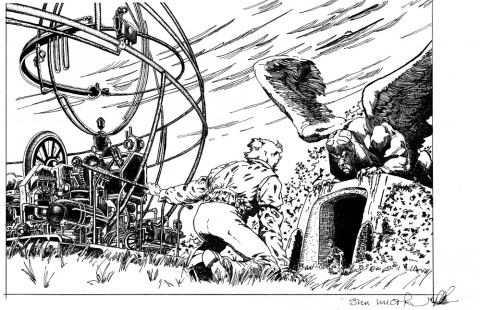 Attached is a pencil piece with a small amount of inks of a Berni Wrightson original piece of art I bought a year or so after the Baltimore Con. It is an image of H.G. Wells' Time Machine. Also included is my inked version. I thought it was the perfect piece for me to purchase. A walk down memory lane, and now I can say I actually inked a Berni Wrightson piece! I hope you like it!