Back in the late 60's there really wasn't anyway to connect with you favorite comic book creators. The only glimpses you got were Stan Lee's Soapbox and you would perhaps glean something from the letters pages. I can't remember which book it was, I am sure one of you will tell me, these pics appeared. Suddenly there were actual faces behind the people who created these stories that transported me to other realms. Grainy faces…but they were faces.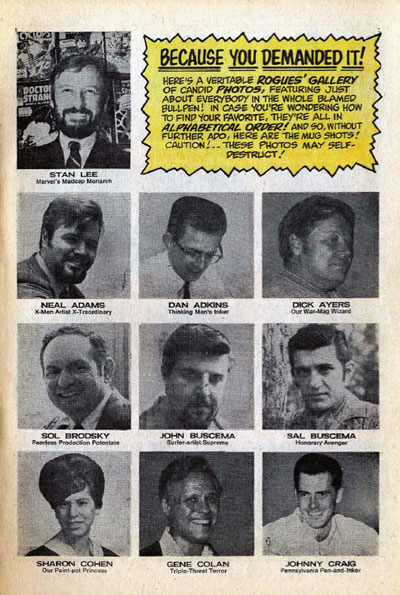 Hey, they looked normal. Like real people. But that was almost the extent of all we knew. There weren't comic shops, there certainly wasn't the internet and there wasn't any info you got outside of comics themselves.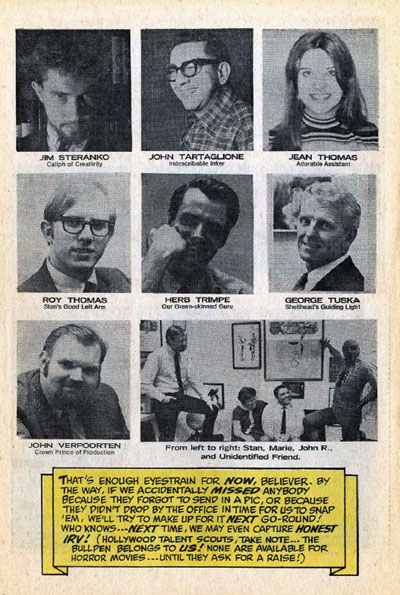 I saw these ads in the comics that looked interesting. A "Fanzine" called Alter Ego which was put out by Roy Thomas. I never saw one of these until decades later when I had a little more expendable income.
So really, an awful lot was left to the imagination. Fast forward to today.
Today there are innumerable ways to "get to know " the creators of your favorite comics. With the advent of Facebook and creator owned websites, as well as the ever expanding list of comic conventions, it isn't difficult at all.
One really interesting publisher has dozens and dozens of books published regularly and also available digitally. TwoMorrows Publishing continues to publish the aforementioned  Alter Ego magazine. I have since gone back and ordered back issues of extensive interviews with Gene Colan, Marv Wolfman, Joe Kubert, John Buscema, Gil Kane, and on and on. It is a fantastic resource!
They regularly publish magazines called Draw!, Back Issue, Jack Kirby Collector, Creator, Write Now! As well as a series called Modern Masters, which are in depth interviews and dialogue by the industries brightest talents. From Cliff Chang to Lee Weeks to George Perez and so on. They have 32 volumes of the Modern Masters series as of this writing. All featuring tons of never before seen artwork and alternative covers.
Whatever turns you crank, floats your boat, turns your light on about comics, writing drawing or just entertaining there is something there for you, and all very reasonably priced.
So now there really isn't any reason to not be able to get to know your favorite creators. For me it has been great getting to see and read all these interesting interviews I would have loved to have had at the beginning of my comic book journey.
But thanks to these great publications, I can return to zero. Back to when I started collecting comics and  get to know all those great creators that have gone on to meet their Creator.
Ask your local comic shop about these mags or go to  www.twomorrows.com.
Get your comic fix today! Happy Collecting!