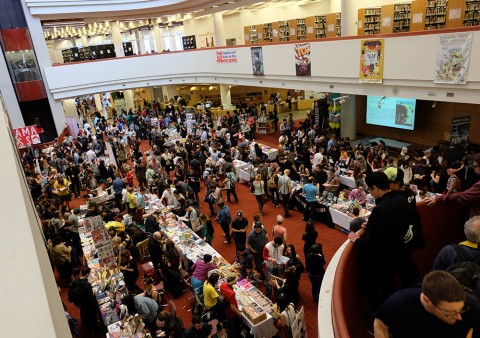 This week started off with seeing the documentary "Lost Heroes" again at the Carlton Cinema as part of TCAF 2014. Remember this film is about "lost" superheroes from the Canadian war-time comics that ran from 1941-46. These heroes simply fell of the surface of the Canadian shortly after they appeared and are just starting to be properly remembered and appreciated now. At least the first part of the movie is about them. The rest of it is about a lineage of super heroes that appeared starting in 1974 who suffered the fate of becoming vagabonds lost on the foggy landscape and recurring trope of Canadian identity (The new Captain Canuck may be breaking the cycle). The first group simply disappeared like a $10 bill through a hole in your pocket while the latter group was, and is still, lost in the sense wandering around with arms outstretched in the dark trying to determine who they are and why they are in any way Canadian. In addition, this latter group "has" lost in the sense that it has never been able to win that "holy grail" break through the 49th parallel and wider American acceptance.
This makes me think that the only way to get a group of truly Canadian superheroes again is to follow that first and tested pattern: ban all foreign comics from entering the country, then we'd have a captive audience and a bunch of publishers dedicated to producing a set of characters and books for these Canadian readers that could really stand out as something different.
Anyway, the screening was well attended and the audience asked a number of interesting questions to our panel which was moderated by Robert Pincombe. For me, however, the best part of the evening  was having a light bite to eat with James Waley, Jim Craig, and Mark Shainblum–the first two being the creative force behind The Northern Light in issues of Orb Magazine and pre-dating Captain Canuck and Mark being the writer/creator of Northguard about a decade later. Some interesting back stories on these two superheroes and some great new projects they are working on.
On Saturday morning I headed into Toronto for the events going on at the Toronto Reference Library. I attended Jack Tremblay's talk which was led in interview fashion by comic book journalist Jeet Heer.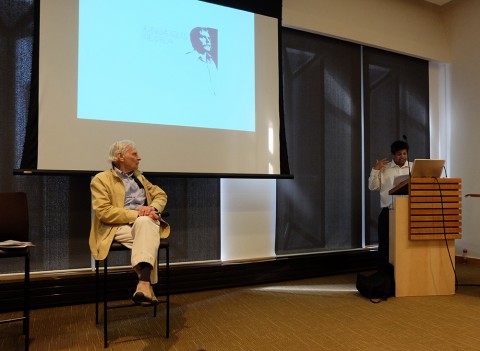 It was great to meet Jack and his son Rick Trembles in person and to hear Jack talk about his life as an artist and his start in comic books.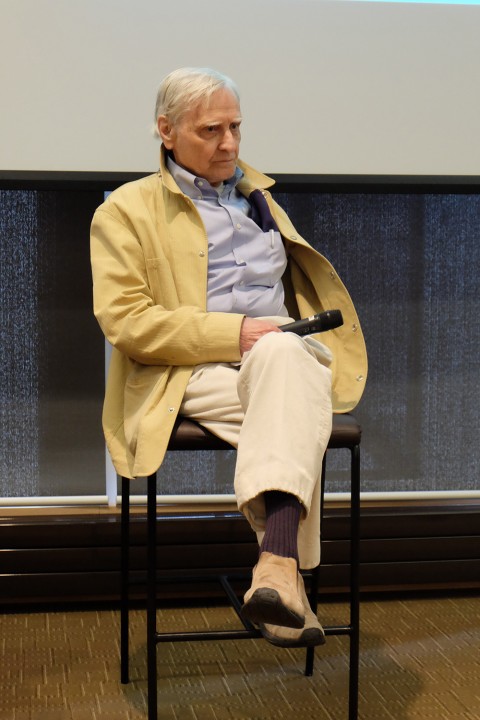 After the talk Jack and his son set up a signing table as part of The Beguiling booth and received a good turn-out.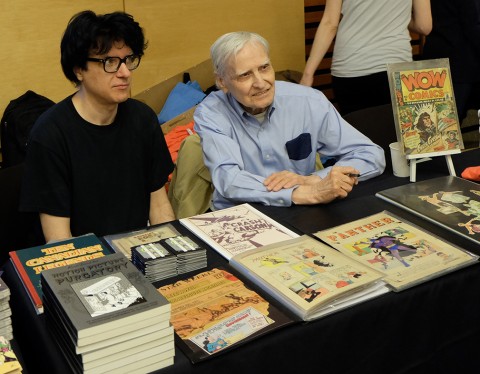 I managed to get my Crash Carson splash page in Wow Comics No. 10 signed.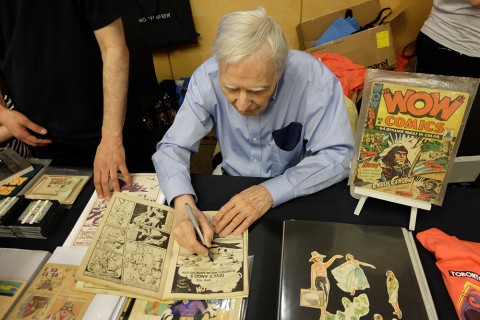 Peter Berkemoe (owner of The Beguling) was just behind me in line with 3 issues of Wow Comics from his own collection that he was having signed. Cartoonist Bob Kain, who now teaches in Barrie, was one of the people to come up to the table and expressed his clear excitement at meeting an artist who drew for the Canadian Whites.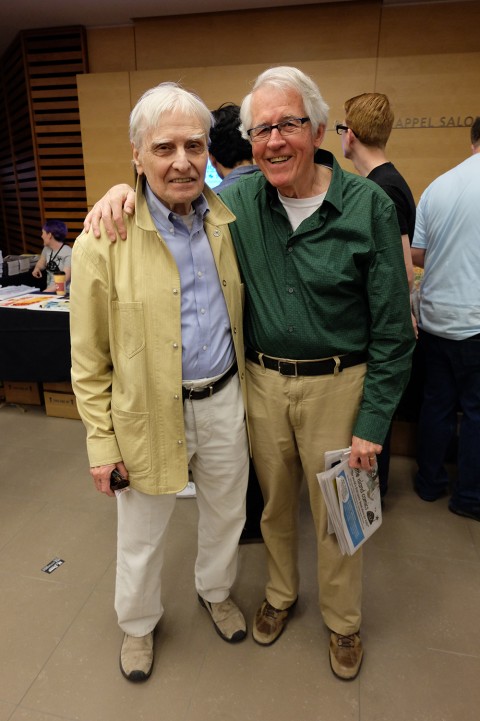 Hope Nicholson and Rachel Richey each showed up at separate times to get signatures.  They were in charge of their own booth selling copies of their new Nelvana collection reprint book. Hope and Rachel also announced the good news that they had been picked up by IDW for broader world-wide distribution.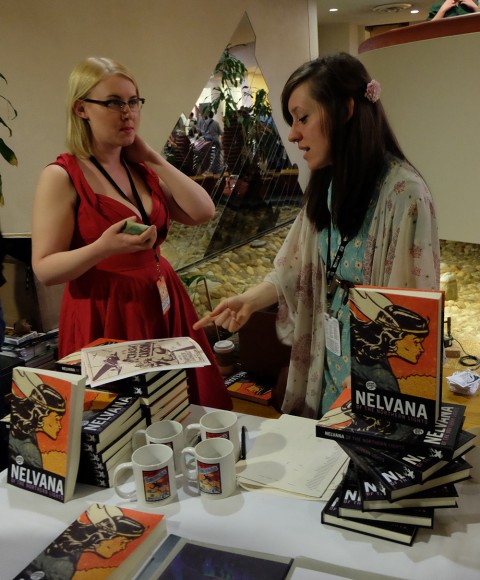 Rick was selling some of his own work at the table and he had brought along part of his father's portfolio and some examples of his father's work prior to the time he did Crash Carson for Wow Comics at 15 years old and just turning 16. One of these was a hand-coloured "Batman" type of superhero called "The Panther."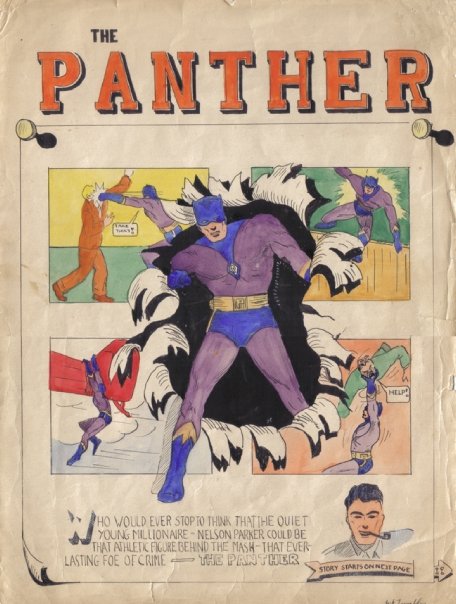 Later, prowling the floor, I ran into one of our own Dynamic Duos in the form of Scott VanderPloeg and Anthony Falcone. Scott had a pint-sized sidekick of his own in the form of his son tagging along. Also was able to have a short talk with Trina Robbins at her table.
Just before the Doug Wright Awards at 7 pm I managed to get together with Jack and Rick again but this time we were joined by Gerald Lazare and his wife Setsuko, as well as with James Waley who has been a long-time friend of Gerald Lazare. This was an opportunity for two Whites creators, Jack Tremblay and Gerald Lazare, to meet for the first time.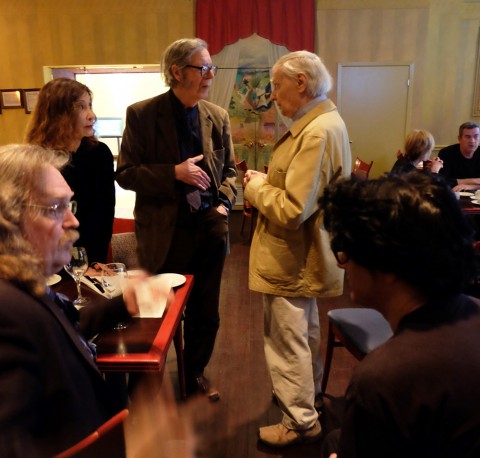 Just after the war both of these artists started off their commercial arts careers at engraving houses–Jack at rapid Grip and Batten in Montreal and Gerald at Bomac in Toronto (working alongside Mel Crawford, in fact). Both did book and magazine illustrations throughout the fifties and sixties and both began fine art careers in the seventies.
A little later at the Doug Wright Awards some preliminary milling around before the ceremony began produced an encounter between Chris Dingle, one of Adrian's sons, and Gerald Lazare.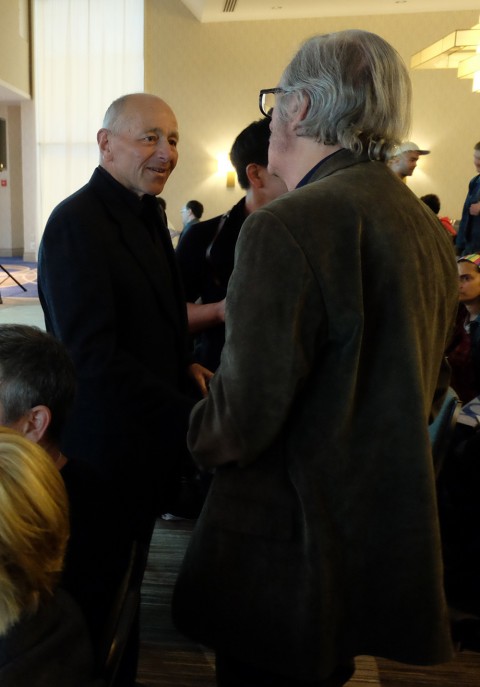 I did have a chance to chat very briefly with Chris Dingle and he did say that the family does indeed still have a number of the original pages done by his father for Bell Features.  Here is quick shot of Seth with Rick Trembles and the Wright family a little further along in the row.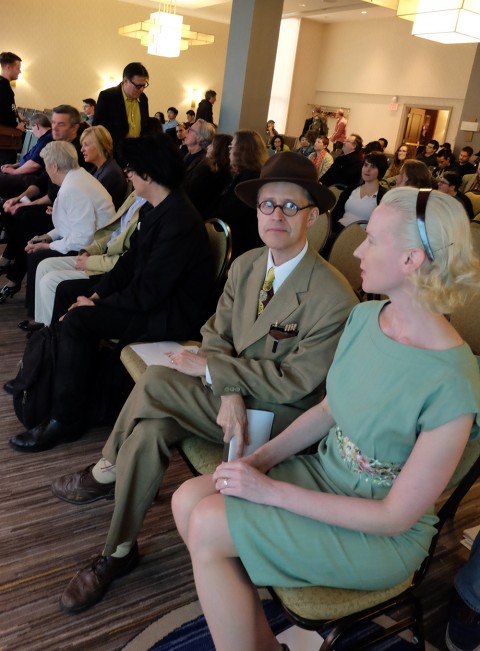 You can also see Michael Hirsch greeting Gerald Lazare in the background.
The ceremony itself first introduced all the nominated artists and here they are, all happy in a row, as well they should be. Apart from the fellow in the Fedora, I can't identify them but I don't want to diminish the contribution that their work has made to Canadian cartooning.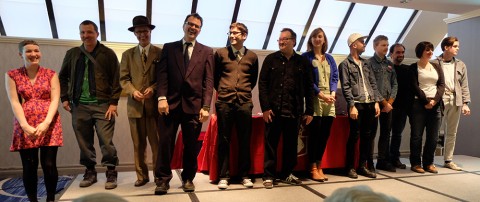 After a number of awards presentations, which must be documented somewhere online, we got to the Giants of the North Hall of Fame inductions. This year the four living Whites artists, Murray Karn, Mel Crawford, Jack Tremblay, and Gerald Lazare, as well as the late, but great dean of them all, Adrian Dingle, were all inducted into this extension of the Doug Wright Awards. On hand to receive their awards were Jack Tremblay, Gerald Lazare, and Chris Dingle on behalf of his father.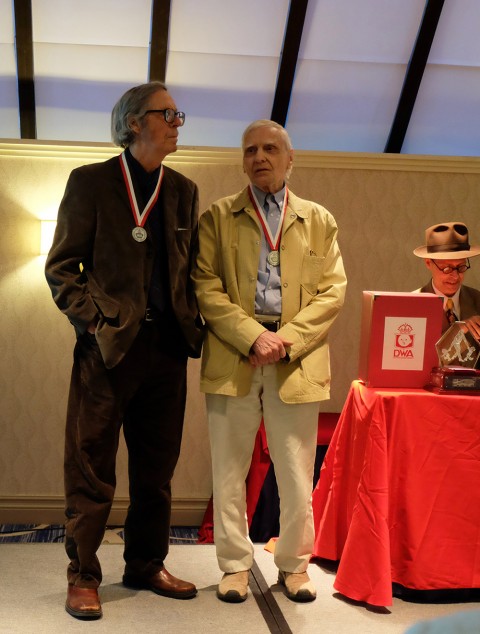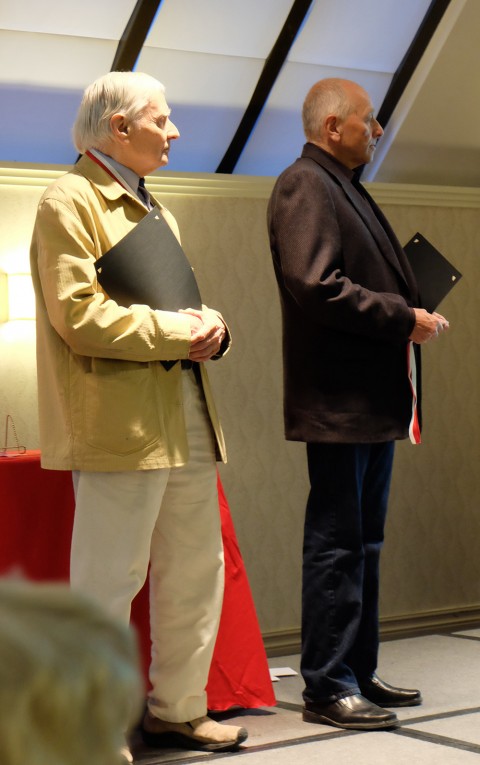 These individuals are truly "giants" in the history of Canadian Comics and illustration and repeated recognition and appreciation of what they did at the start of the cultural phenomenon of what has become the Canadian Comics Landscape is the least that should be done for them. Even though, at the time, all of them were struggling to put food on the table at a few dollars a page in an era of war time scarcity and couldn't afford to see beyond the next deadline, now, seven decades later, we can begin to appreciate how they made this small, precious, six-year run of comic books truly Canada's own comics.
It was heartening to see that these individuals got the warmest and broadest applause of the evening when they took the stage and well deserved it was. More and more people are coming to know how significant their contribution to our Canadian comics soul was and more and more people are beginning to properly appreciate it. I look forward to seeing the list of this year's inductees into the Joe Shuster Hall of Fame.