September 1st would have been Gene Colan's 90th Birthday. And September 18th would have been Joe Kubert's 90th Birthday! In my last couple of columns I spoke of Jack Kirby's legacy in what would have been his 99th Birthday. There is a pattern here. Times stands still for no one and the older we get the more fantastical the passage of time seems.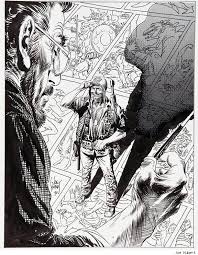 So what is my point? Nothing really, other than an observation of how short a lifespan really is and how vital these artists were and are to the hobby we all love. If I had to pick my absolute favorite artist, which really isn't a fair exercise at all, since it depends on exactly what genre we happen to be speaking about, I would have to say Gene Colan overall.
I don't say this lightly, as I am a huge John Buscema fan as well as Kirby's and Romita, but Gene made everything look real in a way that is hard to describe. Not really photo realistic real, but stylized in a way, by using light and shadow, to make even the strangest creatures look possible.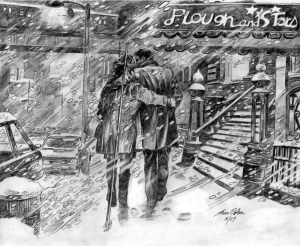 If you look back to his earliest work from the 40's he always had his unique style, one that never copied whoever was popular at the time, whether it was Joe Maneely, or George Tuska in the 50's or Kirby in the 60's, Gene was always Gene.
His fantastic layouts, unique perspectives and angles were always recognizable. Gene was not mistaken for anyone else but Gene Colan.
I almost met the man, but unfortunately he passed away just before the New York Comic Con that I was set up to meet him at.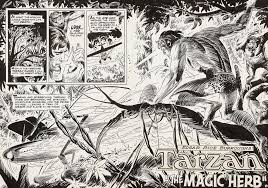 Fortunately we have his body of work that is timeless. He could draw anything, although he wasn't crazy about Science Fiction or walls of machinery, he was a natural at Westerns, Romance and Horror and an incredible storyteller.Whether it was Dr.Strange, Daredevil, Iron-Man or Dracula, the real always met up with the amazing!
Joe Kubert also could draw anything.To me it will always be his Tarzan that springs first and foremost to mind, or his mastery of the War story. Way back in the Golden Age he drew Blue Beetle as well as the Golden Age Flash. His name was synonymous with Hawkman .In the 50's he pioneered the 3D comic books and in the 60's turned the War comic into a work of Art!  Sgt. Rock, Enemy Ace, Tor and Tarzan…I could go on and on.
Recently the Artist Editions have shown Kubert's art in a whole new light and I hope that someday soon Gene Colan will get the Artist Edition treatment. I would love to see Colan's Nathaniel Dusk 2 series shot from his pencils.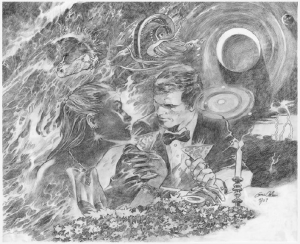 So here we are in September, caught between the seasons, remembering the incredible body of work by these two great artists. And like the transition between the seasons, their artwork straddled the real and the fantastic, and still all the while entertained us and entertains us still.
These are two artists that produced great work right up to their passing and if you haven't seen some of their last works, Check out Gene's work on Tales of the Slayers and Hell and Hot Water. And for Joe look at Dong Xoai, Vietnam 1965 and Sgt. Rock, The Prophecy.
Till next time…continued happy collecting.