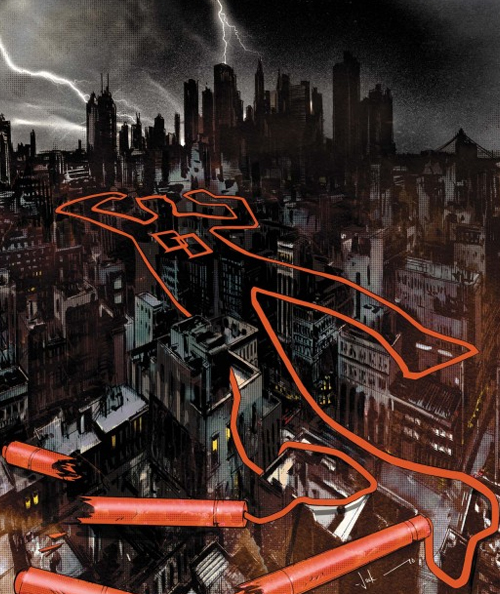 A rose called by any other name wouldn't be as sweet. Yet that seems to be what Marvel is up to.
With Daredevil #512 last week, it will be the final issue (at least for now) to feature the renowned "Man Without Fear" as the central character. Yet, that isn't the end for the title, much less the moniker between now and when Daredevil Reborn begins in January. Although #512 came out last week and was clearly the end of Murdock's story, Marvel decided that since Hell's Kitchen still needed protecting it would be an idea to bring another character into the city to defend it and act as its guardian. Enter Black Panther, the former king of the African nation Wakanda. As of issue 513, Black Panther will assume his place in Hell's Kitchen as the series is retitled, Black Panther: The Man Without Fear. The series will maintain its current numbering.
Here's where I take issue.
I don't feel like this is something Marvel can or should be passing around. The moniker has been an ingrained piece of the Daredevil mythology since the character's first issue back in the 1960's. It's very much a key, core component of who the character is and how we define his actions and life. In addition, to face himself at the end of Shadowland and face death as he did; to fell himself upon a blade as he did out of disgrace and to do so fearlessly, that falls within what we should expect from that characterization.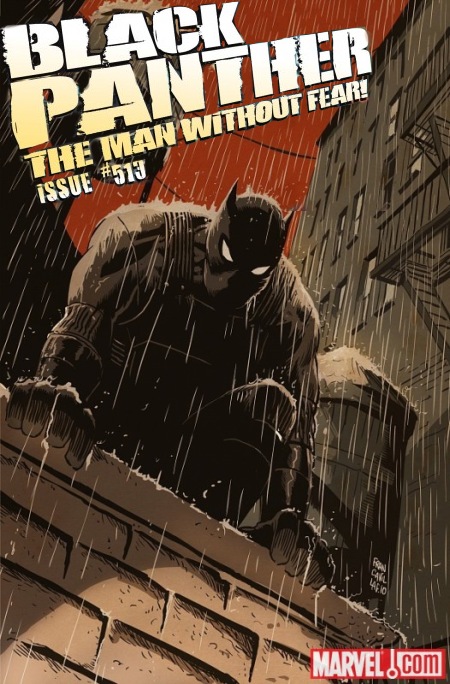 Explain how the moniker can be passed like it is, and more, what in Black Panther's life thus far even comes close to bearing any worth or would allow that moniker to become more expansive. Is it because he's a character of a different race/culture taking guardianship over a city that isn't his own? Does Marvel really want to play that card at this point when we've made so much progress socially? Is it because he's breaking out of his regular habitat and starting over? What makes him specifically a man without fear more than any of the other half-dozen characters that were considered to take up the title role in Murdock's absence? Why is he believable in this position?
With a new team coming in while Diggle writes Reborn, the tone seems primed to shift with new antagonists joining the fray along with the new title character. It begs the question. Since this is hardly the same title, why continue it other than to bridge the gap between the end of Shadowland and Murdock's obvious and eventual return to Hell's Kitchen? I understand that, but I feel to even refer to Black Panther as "The Man Without Fear" cheapens Daredevil, and more, cheapens the ending of Shadowland immeasurably. It's forced, and is an underhanded way to move Black Panther units (for a potential TV show?) when the character has never been a consistently successful property for Marvel, much less a critically successful one. I feel it's disingenuous to piggy back off the Daredevil title, and Marvel should be ashamed.
I don't feel like this is a moniker you can just pass around like a cape and cowl, it's an attitude and way of life more than anything and I don't feel Black Panther as a character is deserving of it. But if you disagree or feel otherwise, leave a comment and we can continue the conversation like civilized folk.
Otherwise…
Until next time, over and out.