And now it's time for a trip down the rabbit hole, over the rainbow and through the wardrobe. At least, if you happen to be named Alice, Dorothy or Peter. In that case, you may be a namesake.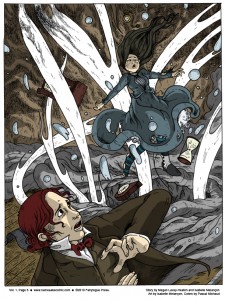 Namesake by Isabelle Melançon and Megan Lavey-Heaton is an example of the sort of meta fantasy story proliferating currently. From Neil Gaiman to Fables to James A. Owen's Chronicles of the Imaginarium Geographica. Playing fast and loose with characters, settings and stories, they weave new stories playing about with existing stories.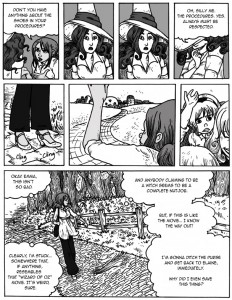 In the case of Namesake, the heroes of the stories are ordinary people, pulled into those tales to take up the mantel of their namesake.
Except poor Emma, named for no one, who finds herself in OZ. She may not be named Dorothy, but she will have to take up the role and save the Emerald Kingdom once again.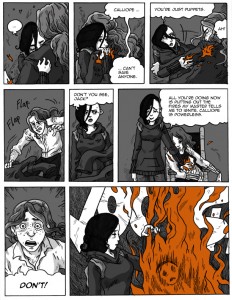 The story is large, sweeping and complex. Familiar characters are in new situations and you can't assume their motivations or actions. And there are the characters from our world, Emma and her friends and family as well as the embers of Calliope, and organization that knows of and helps the Namesakes.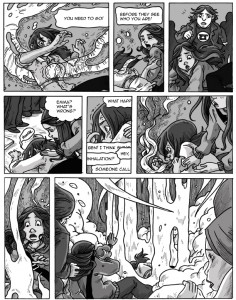 The art is a sort of blend of illustration, cartoony, manga and animation. Okay, I can't describe it. What I can say is it's quite strong, with a flow-y line and confident drawing. The art is a mix of black and white with greys, colour, and black and white with spot colouring.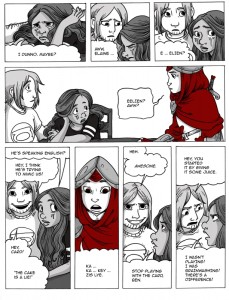 The only artistic criticism is the lettering.  First, dialogue is done with what is normally considered thought balloons. While you can overlook this over time, going against what is such a strong part of the language of the comic page seems like an odd decision. As well, the lettering doesn't always sit well within the balloon, having uneven spacing or alignment.
This is obviously a large story, and it will be fun to follow it, to whatever lands it might travel.