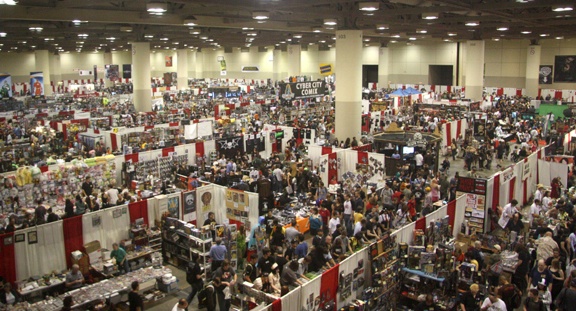 I can feel the excitement in the air as we are only two days away from Fan Expo, the biggest and baddest nerd gathering in the Great White North. While the summer may be drawing to a close there is still a last hurrah for every trekkie before they need to trade in that tricorder for a set of pens and back to school clothes.
Fan Expo has grown larger and larger every year and I would expect this years show to have the highest attendance yet. The show has once again moved to the larger South building and the question on everyone's mind is has Hobbystar fixed the ticketing and overcrowding issues that plagued last year's event? The shift to a larger venue and the huge push on advanced ticket sales will hopefully ensure a smooth ride, but let's face it, all of us are wondering if we will see crowds of angry stormtroopers and steampunk wizards locked out of the con due to capacity issues.
Those of you who have looked at the floor plan will note that a lot of major companies have very large sections for retail or promoting their product. Marvel, DC, Disney Interactive, the Space Channel, Warner Brothers, LG, Sony, and Microsoft all have booths set up. In addition Zellers will be back again selling things for full price plus tax and joining them will be EB Games. I am still on the fence about these larger companies being involved. On the one hand they must pay a premium for space, which aids in bringing in guests and having more events, but really, I can  go to an EB Games pretty easily and I don't need to pay admission to do so. Also, paying tax at a con just seems wrong.
The guest list is pretty solid as well. Some great sci-fi guests (Shatner returns) and a very solid group of comic book creators. I am looking forward to getting my complete Bone saga signed by Jeff Smith and I always like to meet new faces in artist's alley. Ed McGuinness, Butch Guice, and Olivier Coipel are all going to be no-shows. They have been "postponed" until a later date. The real big winners this year though are the horror fans. Freddy Krueger, Martin Landau, and John Waters!
I can't wait to see if Nerd Speed Dating is successful. Pre-registration is already filled up but don't worry if you missed out; you can still sign up on the day of the event. I think that we will see more events like this in the future. It costs Hobbystar very little to set up and fans love this kind of thing. For those of you who think that the con is full of antisocial rejects I say for shame! While that might be true they are meeting others just like them so the nerd nation has a way better chance of getting some this weekend than any guido fist-pumping in the entertainment district.
Scott has pretty much said all there is to say about haggling, but I will add one more point about shopping at the con: you should have a budget and stick to it. Buyers remorse for your Spider-Woman statue stings even more with no way to make a return. On a related note for any who are new to cons please remember that all sales are final. Don't try to return something you just bought because you found it for cheaper on the other side of the room.
Anyway, myself and the rest of the Comic Book Daily crew will be providing full coverage of the convention starting Thursday so be sure to check back often for all the doings a transpiring at Fan Expo 2011.