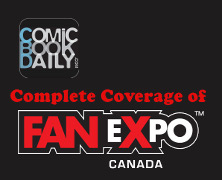 Over decade ago when the Canadian Fan Expo made the big leap to the Metro Toronto Convention Centre (MTCC) I really didn't like our booth placement on the convention floor. We were placed out of the "comic book alley" where most of the other vintage comic book dealers set up.
The Big B Comics booth seemed even more disconnected to the "comic book alley" when the ever growing Fan Expo expanded into the much larger south building of the MTCC.
Looking back at the just completed Fan Expo 2012 I couldn't be happier about the placement of our booth. We were situated near the middle of the room with the DC Comics display just on the other side of the south end of our set up. This is really the heart of the room, kind of bordering all the sections (corporate, anime, horror, old comic, and toy) on all sides, like a crossroads.
To me the Vintage Comics segment of Fan Expo is getting less and less relevant each year, it seems a smaller portion of the crowd coming in is specifically coming in to look for old collectible comic books. This phenomenon has already happened to a greater degree in San Diego. They say that if you want to escape the crowds at San Diego Comic Con just duck into the Vintage Comic section.
That said we still sold a truck load of old comics but as the Expo has changed so has our booth. This year we carried many different lines of products, products that are more pop culture and less niche collectible. T-shirts were flying, new graphic novels were selling out and the latest toy lines were being snapped up fast. Fans were in the room looking for the latest cool pop culture offerings and the booths that invested in these products were rewarded for it in strong sales.
My quick dealer survey (done in the trucking bay as we passed each other loading up to go home) showed that many dealers exclusively selling new pop culture products did very well.
Conventions like the Fan Expo are still growing and the mix of patrons is ever changing. Much like comic shops, convention booths must keep adapting to the changing demands of the crowds if they wish to succeed.