I tried something new for Friday of Fan Expo… Cosplay.
I have written before about portraying Captain America at different comic events.  But this time it was my first time being in Cosplay at the biggest comic event in Canada.  It was a new experience for me and I enjoyed it immensely.
My idea of being in Cosplay as Thor stemmed from my experience at the Celebrate Barrie festival earlier in the summer.  I was in my Captain America costume, and I spent the day down by the beach with She-Hulk.  During the day I talked to Stephanie (She-Hulk) about my desire to be Thor in Cosplay someday.  She already has an Enchantress costume, and an amazing Loki costume.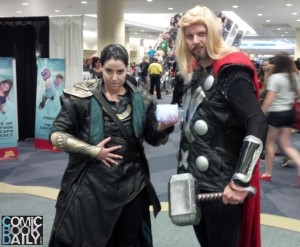 A few weeks later she messaged me and asked if I had started my Thor costume yet.  Unfortunately (but turned out luckily) I hadn't.  She asked if it was OK if she tried to throw something together.  I had no objections, because it would take something off of my already over-filled plate.  Within a couple of weeks she had a costume based on the new Thor Dark World movie assembled.  I couldn't believe what she was able to pull off on a very small budget.
Fast forward to Fan Expo Friday.  Thor and Loki hit the convention floor.  At first I was very hesitant and a bit shy.  But after only having the costume on for a few minutes, I was asked for several requests for pictures.  I couldn't believe how many people wanted to get our picture.  It was an awesome experience.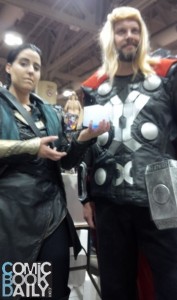 We walked around the convention floor and I was humbled by the amount of requests to have my picture taken.  I was more than happy to have people pose with me.  On multiple occasions I let people hold Mjolnir.  It was so much fun.
But what made it truly rewarding for me was the kids.  I had so much fun interacting with the kids and talking to them.  One little girl who was only 5, said she loved my costume.  I joked with her and said "What costume? I dress like this every day."  She started to laugh and made faces at me.
I have heard many times from many Cosplayers that being in costume can be very daunting.  You never get a minutes peace.  This can be true, but with it being my first time, I was humbled and very honoured when people wanted just a minute of my time.  There was a lot of hard work that went into this costume, and I can never repay Stephanie for the amount of work she put into it.  She did an amazing job.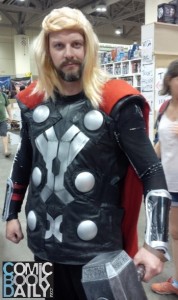 On a side note, she had the opportunity to meet Stan Lee in her Loki costume.  She had the greatest compliment from him when he said to her "You did good girl." after their meeting.  I echo Stan's sentiments.  She did "do good".
I will have my Thor costume with me for the rest of Fan Expo.  If you see me, stop me and say Hi!  It will be awesome to meet up with our CBD readers.  And if I run into Beta Ray Bill again… this time I need a picture of us with my camera 🙂