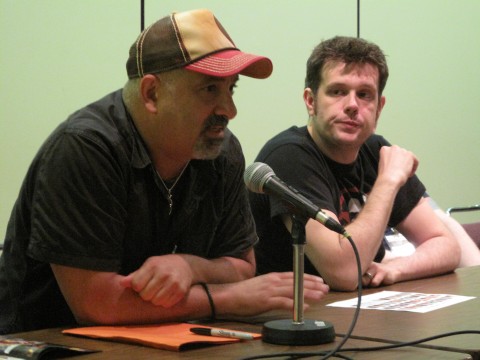 Hundreds of DC fans congregated on Aug. 27 at Fan Expo for a packed, standing-room-only panel featuring DC's brightest creators, but while many of them were on hand to talk about their new projects, the panel announced a new title scheduled for release after the 52-relaunch.
During the panel, DC co-publisher Dan Didio teased fans that there was one other title in the works that hadn't been announced yet, before turning it over to James Robinson for the project's official confirmation.
"As you know there are other books planned after the 52, I'm doing the Justice Society of America," Robinson proclaimed amid roaring applause. "We're actually bringing back Earth-2 as well."
Robinson said fans can expect to see a lot of characters flying around and simply fighting crime on the streets.
Didio confirmed that they didn't want to make an announcement right away because they wanted to have the right teams in place, and it's something they had been discussing within the last week.
Artist Nicola Scott will be joining Robinson on the title.
The New 52
Each creator in attendance also spent time talking about their part in the relaunch, such as Francis Manapul who promised not only a fast and fun Flash title, but one that really explored what it's like to be Barry Allen.
"A lot of the things we've had to do is devise ways to stop him," said Manapul, who's creativity has been tested throughout the process.
He said one of the exciting parts of the project has been delving into Barry Allen's mind in such a way that readers are also sucked into his world and can look at it from his perspective.
"What's it like to be the fastest man alive?" he said. "We really want you to relate to a guy that can do a million things at once."
Manapul jokingly promised the series' action to get bigger and bigger until he runs out of ideas, but assured fans he has a lot of fun things planned for the title over the next year.
Tony Daniel spoke next about his work on the new Hawkman series, promising some very action packed, violent stories.
"He's going to be chopping people's heads off," he said. "He's going to be killing his opponents."
Daniel noted this rendition of Carter Hall is going to be flying around carrying both a mace and an axe, leading to some violent battles with his nemeses.
"He's going to have some pretty intense foes who are only going to be stopped by that type of weapon," he said, noting some large monsters and aliens as potential villains.
He said his version of Hawkman is very gritty, but also very smart and different from any other version of Hawkman we've seen so far.
"I'm really excited about it," he said. "I'm really happy to see this book come out."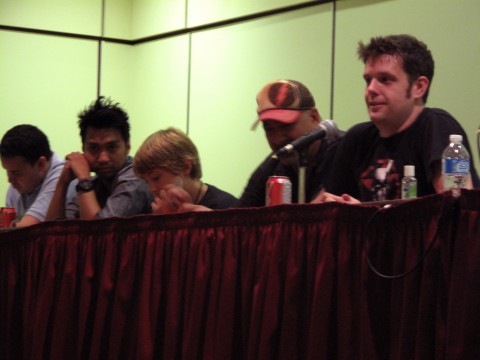 Dan Didio then turned fans' attentions to Action Comics.
"When we looked at Action Comics, we tried to find everything we thought was the core of the Superman character," Didio said, using Grant Morrison's All-Star Superman story as a template for what they've tried to do with the version of Superman featured in the Action Comics relaunch.
Didio said Action Comics will essentially tell the origin story of Superman, chronicling his move to Metropolis and how he came to be Superman, including very early costume designs reminiscent of Smallville's Clark Kent.
"So much of the DC universe is built around who Superman is. With Action Comics, it's really basically issue zero," Didio said, stating the comic's stories take place well before both the Superman and Justice League stories.
He said it's a stage in his life where he feels very alone, without his parents to guide him while trying to adapt to life in a new city.
"The story is about how Clark Kent develops as a character," said Didio, who added we'll also see the development of the costume and what it means to Clark.
Tony Daniel took the panel's helm again to talk about his work on the Detective Comics relaunch, and is very excited to be working on a Batman title featuring Bruce Wayne underneath the cowl.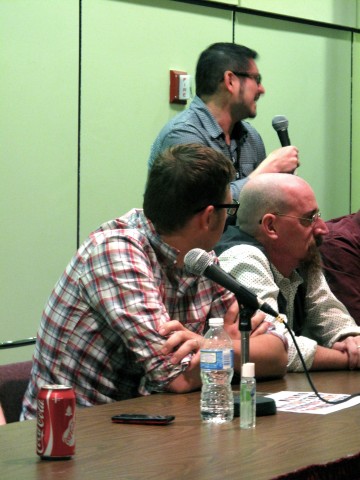 "This is my first time writing Bruce Wayne," he said. "There's so much history there. I'm extremely excited to be writing Bruce Wayne stories."
Daniel said many of the stories will be solo arcs featuring Batman, Alfred and Commissioner Gordon as the three primary characters, while also introducing a new love interest to the mix that isn't Catwoman. He additionally noted that they're trying to maintain large story ideas for the characters with an immediate pay-off for readers.
"We're going to have big character concepts in short story arcs," Daniel said, noting he's aiming to create "hardcore" Batman stories. "We're going towards something big and powerful next year."
Daniel teased that the first issue of the new Detective Comics has one of the best cliffhangers of the relaunch, which Manapul quipped will literally "blow your face off."
Additional Notes
DC Executive editor Eddie Berganza confirmed Sinestro will be taking care of earth in the new Green Lantern title, and that he will be working with Hal Jordan. He compared the team dynamic to that of the Lethal Weapon movies where the two main characters don't like each other and don't get along, but they need to work together out of necessity.
The Animal Man series is poised to be a very dark rendition of the character, which will explore not only his own powers but those developed by his daughter, and how that impacts Animal Man and his family. Fans should expect some crazy, dark things coming out of the first issue.
Didio's OMAC series will focus very much on the idea of control, analyzing how much control you really have in your life; perhaps we find we don't have as much as we'd like to think. Didio hinted that Brother Eye will play a central role, and the title character will be troubled with the idea that something is manipulating his every move. He also praised Keith Giffen's artwork on the series, while Giffen himself believes the work to be the best of his career.
James Robinson spoke about his 12-issue Shade maxi-series, which will delve into the history of the character across three different eras, working backwards towards the late 1800s where we will discover the origin of the character in the final issue. He said he's looking forward to having Shade travel around the world to different locations. Robinson is really enthusiastic about the project and hopes fans like it because he would like to tell more Shade stories in the future.
Didio confirmed the follow-up to Superman Earth One will shift along with the new 52. Didio said they're going with the dorky Clark Kent, but that he will have a love-interest that isn't Lois Lane. The book's artist, Shane Davis, confirmed Parasite will be the main villain in the sequel, and that J. Michael  Straczynski wanted to explore a fresh look at the character and that they really have some really cool stuff planned with him.
Barbara Gordon is Batgirl. Didio confirmed though that characters like Cassandra Cain, Stephanie Brown and Speedy will still have places in the DCU.
The new Firestorm series will feature both Ronnie and Jason as Firestorm, but with the added twist of their becoming something greater when they merge together.
Booster Gold will star in Justice League International, and will become a Canadian citizen.
"This is about the long-term health of DC Comics," Didio said of the 52-relaunch.