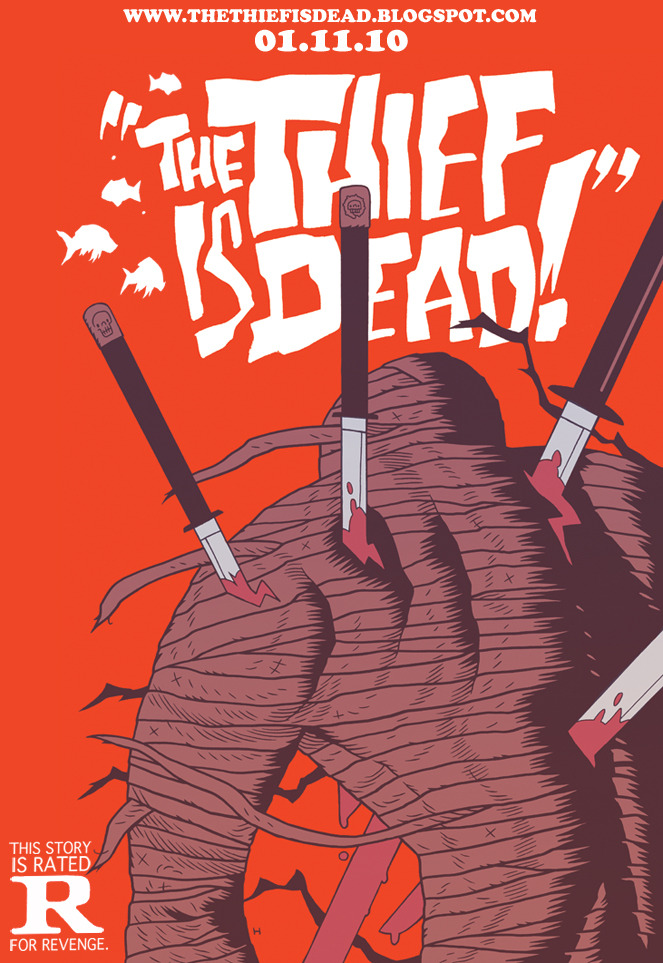 Gyakushu was a TokyoPop series of graphic novels. But after the publisher's retrenchment, creator Dan Hipp decided to put all three volumes, including unpublished work, online. That's well over six hundred pages of spaghetti western sword fights and misery porn, available next week, for free. Dan Hipp, you may know from his work on the Amazing Joy Buzzards – the wonderfully bizarre series about an awesome band with a knack for attracting action, adventures and the supernatural.. they're repped by the CIA and are protected by a ghost Luchadore.
Gyakushu! is among the finest series I've gotten to read the past few years, and is packed to the brim with storytelling abilities that deserve to be noticed. Seriously, it's often that someone apes the beginning of Once Upon A Time in The West.. but it's not often that's it's GREAT and serves to further expand a story.
Gyakushu! is about, and stop me if you've heard this one: Reformed outlaw finds the peaceful life in the arms of the woman he loves violently stripped away when remnants of his previous life return, leaving him scarred, angry and out for revenge. Technically speaking, it's a very straight forward revenge story.. there are a few twists and turns, and a omniscent narrator who has to constantly remind you that no matter what – this is a sad tale and that there is no happy ending. It's a brilliant concept.. because Hipp does have a knack for taking characters you've no doubt seen before and making you like them all over again, just for this narrator to inform you that this is a revenge story.. don't get attached.
On January 11, WWW.THETHIEFISDEAD.BLOGSPOT.COM will be going live.

Posted on it will be the first two volumes of GYAKUSHU!, with some "red" extras, along with the EXCLUSIVE first 75 pages of Volume3. Every day this week I will be posting a brand new image, like the one above, as a reminder.

LIMITED TIME SPECIAL OFFER!!!: If anyone reading this blog takes the above image, or any other GYAKUSHU! image posted this week, and re-posts, or links to it somewhere else on-line (blog, livejournal, messageboard, etc.), then emails me a link at [email protected], I will send you an early invitation this week to view WWW.THETHIEFISDEAD.BLOGSPOT.COM before it goes live.

Anyone re-posting images out of the goodness of their heart gets a ghost-hug. GHOST-HUG'D!

Any bloggers or reviewers that might be interested in doing a write-up this week, or have any questions, please email me and I would be happy to send you an early invitation to the blog. THANKS!