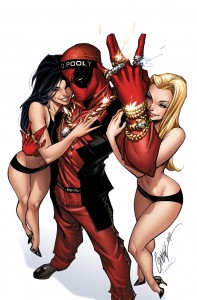 Official press release
Marvel is proud to unveil superstar J. Scott Campbell's Siege #3 Deadpool Variant, as part of the groundbreaking program aimed at providing assistance to retailers by turning unsold comics into cash.
Retailers – for every 50 stripped covers of the following comics sent to Marvel, you will qualify to receive one FREE Siege #3 Deadpool Variant. The 50 stripped covers can be any combination of the comics listed below and all submissions need to be received at the Marvel office at the address below by Tuesday 2/16/2010. Also included with the stripped covers must be your store contact information including Diamond Account # and email address. With boxes of covers arriving every day, Marvel urges retailers to get theirs in by the due date to guarantee themselves copies of this stunning variant.
Please note: No second printings are accepted as part of this promotion.
Stripped Covers To Be Sent:
Adventure Comics #4
Booster Gold #26
Doom Patrol #4
Justice League Of America
#39
Outsiders #24.
R.E.B.E.L.S #10
Address To Send Submission:
J Nausedas
Marvel Entertainment, LLC
417 Fifth Avenue, 10th Floor
New York, NY 10016
Information To Be Included With Submission:
Store Name
Store Address
Contact Person
Email Address
Phone Number
Diamond Account #
List of stripped covers being returned and their quantities
All the directions above must be adhered to in order to receive the free Siege #3 Deadpool Variants and the submissions must be received by Tuesday 2/16/2010 in order to qualify.
Please note that this is not a Diamond-affiliated promotion and Diamond should not be contacted. Retailers will be contacted via email once Marvel receives the submissions. Retailer with further questions should contact [email protected].