The big draw for me at Montreal Comiccon 2011 was the bandes desinee artists that would be attending the show.  I've been reading a lot of translated European material and was hoping to pick up some original art.
Overall it was a small creator space, two rows of tables and a few more at the end wall.  For North American creators it was heavily stacked to older creators: Stan Lee, Neal Adams, Sergio Aragones, Herb Trimpe, Stan Sakai.  Added to that were Pia Guerra, Joe Benitez, Dan Parent, Dale Eaglesham, Tom Fowler, Ty Templeton.  It was a real mix of classic creators but no "A" list or big timers.  Yes I know Stan Lee is the most famous comic personality alive but that doesn't mean he's done anything great lately, or this century.
Because of space and travel times I only brought a few books to get signed, all by Stan Sakai. He was gracious enough to sign and quickly sketch in all three books I brought.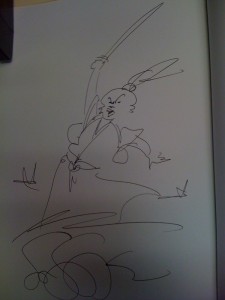 I wandered the floor during the first hour to map out my purchases. Joe Benitez was set up and had pages for sale and a commission list going. I requested a full page Lady Mechanika sketch and spotted a wonderful clown page.  All his pages were pencil only; forgot to ask his process for finishing in the comic but he probably sends scans to the inker.  Crazy clowns are a theme of comic art I should pay more attention to.
I wandered up and down the La Gallery setup where the bandes desinee artists were working but there was a line for each.  I stopped at Maly Siri, who was doing wonderful good girl art in the front of her sketchbook.  They were amazing so I bought one and waited in line: it took about an hour but was well worth it.  Siri used pencil, wide Sharpie and white-out.  Yes, she looks remarkably similar to the woman in my sketch.
Next stop was Jacques Lamontagne and a sketch of his female lead in Aspic, "detectives de l'etrange" which is a great byline for any book.  I asked about an English translation and he was hopeful for something next year.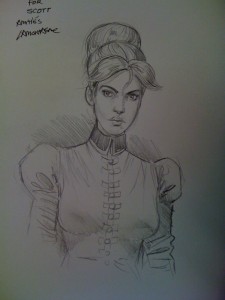 While purchasing Aspic so I could get it sketched I started flipping through original art for sale and quickly came across a vast amount of Saverio Tenuta penciled pages and painted pages from Legend Of The Scarlet Blades.  The painted pages were stunning but at $2000 each far out of my budget.  I started through the penciled pages and picked this one; who knows if I'd ever come across these again?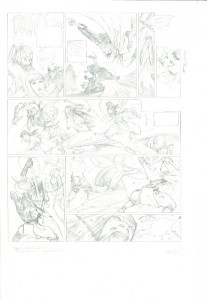 I wandered around a little longer but nothing caught my eye.  I went through Tom Fowler's art for sale but it was a little pricey.  Dan Parent was doing some nice sketches but the Archie style isn't for me.  Working my way back to La Gallery I saw everyone had cleared out: apparently they were on a schedule and not for the entire show.  Next time.
Pia Guerra was busy the entire show so I missed out on a sketch there; same for Ty Templeton.  While the guest list was small I managed to keep busy and enjoy the artists, although I spent a lot of time chatting with Kevin Boyd at the Joe Shuster Awards table.