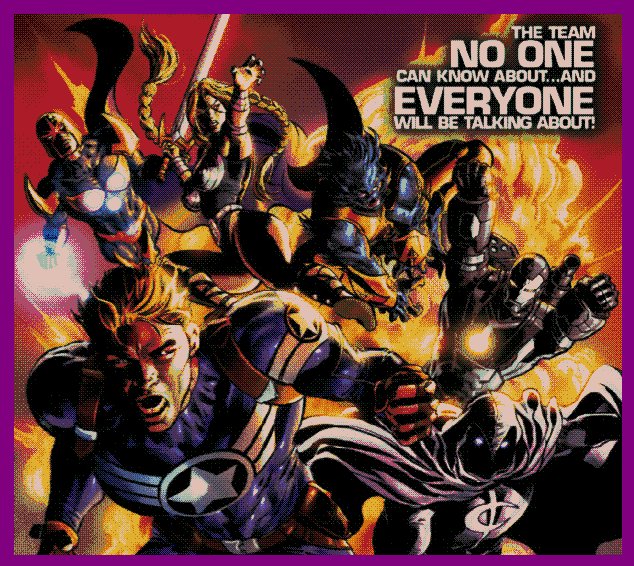 Do you know what I honestly thought was going to happen after Siege? I thought that Steve Rogers would be head of SHIELD, have his own little private black-ops team (made up of War Machine, Moon Knight, Beast, Marvel Boy & Scarlett Witch – none of this Nova and Valkyrie crap) and would eventually be made into acting-President of the United States.
Bucky would still be Captain America and Black Widow's series (which I read yesterday and I have to tell you is all kinds of awesomeness) would have her eventually take over the reigns of SHIELD when Steve Rogers becomes President.
Okay.. so maybe it's a little bit of fan wank, but hey – a guy can dream can't he?
Well, either way – it looks like we've got a four issue mini-series coming from Ed Brubaker and current Fantastic Four artist Dale Eaglesham (whom I'm hoping will still be on the title, as when I interviewed Mr. Eaglesham before he really seemed genuinely jazzed to be taking on the FF.) Here's the press release
Award-winning writer Ed Brubaker and artist Dale Eaglesham of FANTASTIC FOUR join forces this July to debut a new life, a new role and a new mission for the man formerly known as Captain America.

STEVE ROGERS: SUPER-SOLDIER, a four-issue limited series, reintroduces one of Marvel's longest-running characters in an entirely new light. No longer Captain America and with his old sidekick wielding the famous shield, Steve Rogers must forge ahead and carve out a new place for himself in the Marvel Universe.

Brubaker explains the thought process that went into Steve Rogers' latest foray into action following the blockbuster Siege.

"It felt like Bucky was doing a great job as Cap, fans dig him in the role [and] I enjoy writing him as Cap," he says. "And it occurred to me that Steve was going to get put through the wringer on his way back to the present, and may have reasons for not wanting to put the Cap uniform back on and go all public for a while, if not forever."

Those reasons remain classified information for now, but conjure up questions concerning Rogers' long-time career as Captain America, his brief sojourn as Nomad and how he'll acclimate to his new role.

"You'll have to read SUPER-SOLDIER to find out," Brubaker suggests. "Those questions are part of his journey, things he has to ask himself."

Steve Rogers does not exist in a vacuum, of course, and the Marvel Universe's reaction to his new mission may prove to be significantly different than their attitude towards his previous one.

"I don't think the public at large will know anything about what he's doing," Brubaker says. "He'll be more like a James Bond for the Marvel Universe, operating covertly to save the world."

Perhaps one of the most exciting aspects of STEVE ROGERS: SUPER-SOLDIER may come in waiting to see if Steve takes on a new look or codename. Brubaker says that too will be revealed in the series.

"Definitely a new outfit, one that more suits his current role," he promises. "But most people are just calling him 'Steve' so far."
So what do you think?
Pete DeCourcy is EiC of ComicBookDaily.com. He tumbls over at You Practically Rock and writes for The Simple Art of Crime. If you have any questions or demands of him, he can be reached via email at pdecourcy[at]comicbookdaily[dot]com