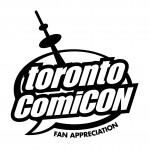 My second day at the Toronto ComiCON 2011 was full of wonderful art acquisitions.  The show ran from 11:00 AM to 5:00 PM and the crowds were a little thinner than Saturday: Hobbystar needs to crank the PR machine into high gear for all their shows other than Fan Expo.
I drove to the show on Sunday so I had two bags of collected editions to get signed by Templeton, Darrow, Pham, McLeod, Sprouse and Gleason.  Everyone was very hospitable and courteous about signing; Gleason was the only artist with a specific signing time that day but he was ever the gentleman.  Pham and Darrow did quick sketches in my books which is always appreciated.
Darrow is one of those artists who don't like to sketch at the show so they bring completed pieces for sale.  It's great because you can see what you're buying: convention sketches can be hit and miss.  The funny thing is he does quick sketches in any book you bring him to sign; best of both worlds I guess.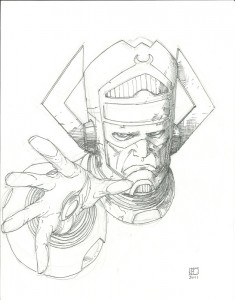 I had spoken to Pham and Sprouse about getting sketches and landed on their lists.  Pham was at the table directly behind Comic Book Daily so I had the chance to see him working on all his show commissions: they were all stunning.  I requested a Galactus head shot but asked, as always, for the Kirby hand to be included.  Wow.  Sprouse had me on the last spot of his list and he stayed past the show closing to complete it: greatly appreciated.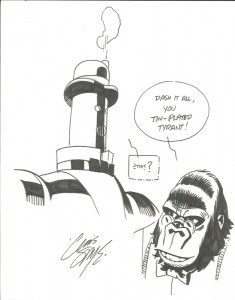 Van Sciver and Gleason were sketching but there wasn't room in the budget; I maintain a list of sketch pricing by artist at my art site.  I overheard Van Sciver saying to Gleason he had no pages to sell; he had been selling whole books to collectors for the right price.
This show marked an interesting turn in original art: pages and even covers were going for very low prices, mostly lower than the price of a full body sketch.  I had switched to sketches two years ago because page prices had skyrocketed but perhaps that's finally hit its plateau.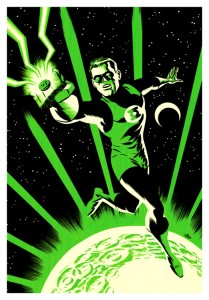 As well I was finally able to pick up a Green Lantern piece Michael Cho had completed for DC last year: he didn't want to sell until it was published but I believe it was passed over for the Green Lantern Omnibus Volume 1 cover.  It's an amazing gouche painting; very vibrant.