Now that fall is upon us, images are popping up on the interwebs of the toys that will be coming to Canadian retail before Christmas and early 2012.  As you know from my other columns, I collect toys.  G.I. Joe is my main collecting passion, but I am becoming a huge fan of the new Marvel Universe figures.  The early Marvel figures were very disappointing but their articulation and detail has improved greatly.  I plan on buying more Marvel figures.  Here's my Pick 5 of the figures I can't wait to get in the next couple months.
#5 Cable (Marvel Universe)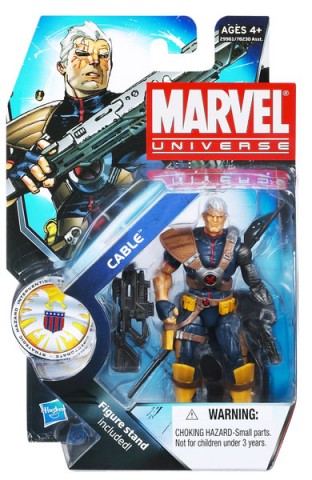 This Cable figure looks… well… awesome.  Cable is one of my favourite X-Men and this is one figure I would love to have on my shelf.  My favourite parts of this figure are the armour and his bionic arm.
#4 Steve Rogers (Marvel Universe)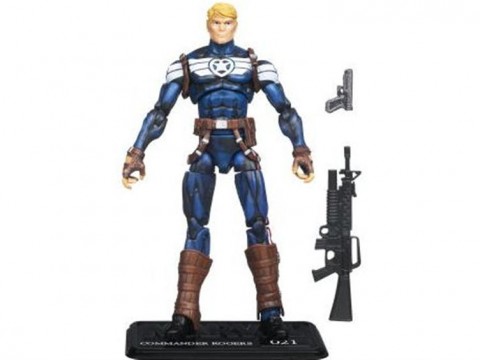 This is the upcoming Marvel Universe release of Steve Rogers.  This is the uniform he wore when he returned from the dead and Bucky was still Captain America.  This Steve Rogers figure could easily stand on my Marvel shelf or with my G.I. Joe figures.  His design is that versatile, he could fit in anywhere.
#3 Fandral (Thor Movie)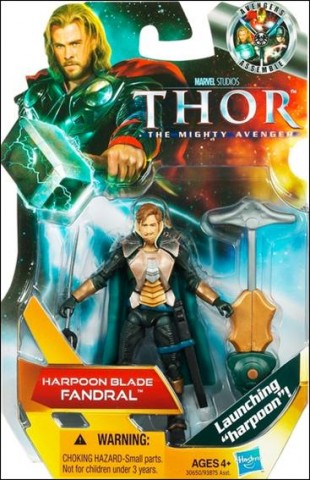 Originally I didn't like the Thor movie figures.  The design of the heads didn't impress me.  Then I bought Odin.  Who would've ever figured an Anthony Hopkins action figure would impress me.  Now I have a Thor and Loki.  Later this year (hopefully) the new Thor figures will be coming to retail.  Many of these figures can be found already at toy shows and conventions.  I have already seen the repaint of Odin, Thor with his battle helmet, Hogun and Volstagg.  I want to own the Warriors Three.  Sadly I've only seen Hogun and Volstagg.  Fandral has not showed up anywhere yet.  So I have passed on Hogun and Volstagg for now, so I can get the complete collection.  Hopefully I will not have to wait until "Ragnarök" to possess my Warriors Three.  (Game Time – google Ragnarök to find out what I am talking about)
#2 Cobra Commander (G.I. Joe Renegades)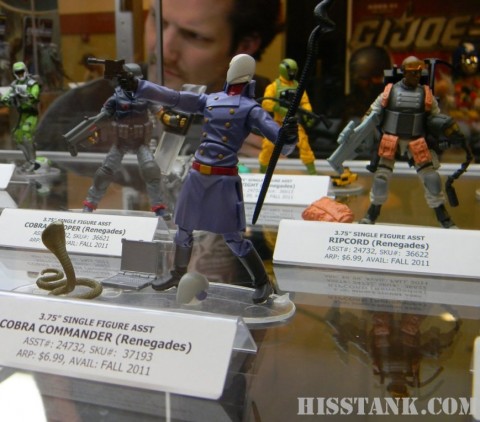 Now I know what you're thinking, "Ed, you are a die hard G.I. Joe fan.  Why isn't Cobra Commander #1 on your list?"  Well there is a reason for that… you just have to wait to see #1.  This Cobra Commander is one of the better releases.  Usually the Commander has a hood, or he has a shiny face plate.  This one is different.  If you look closely his left eye is exposed.  This is how he is shown on the G.I. Joe Renegades cartoon.  It is a radical redesign of an iconic character (not as radical as the Rise of Cobra movie version) and is a figure I can't wait to get.
#1 Beta Ray Bill (Marvel Universe)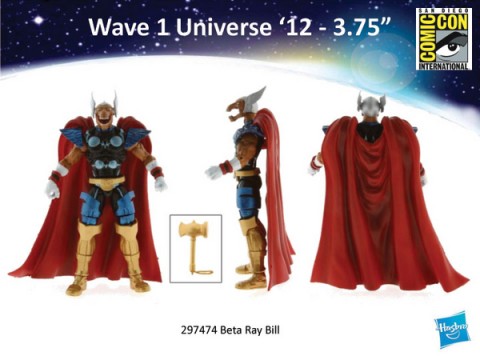 When I read the news recently that Hasbro was going to release a Marvel Universe version of Beta Ray Bill, I did a (very pathetic) happy dance.  Brent Chittenden and Ryan P can tell you how much of a fan I am of Beta Ray Bill.  At Fan Expo I searched every table trying to find the Marvel Legends version of BRB (which thankfully I found on-line yesterday).  So when this one comes to retail and you can't find one on your shelf, I've probably bought it*.
* Crystal Ball Rule In Effect – I heard this at a CanJoeCon.  I overheard a guy say every Crystal Ball (G.I. Joe figure) is mine.  He bought every Crystal Ball no matter how many he had or the condition they were in.  I fear that may happen with me and Beta Ray Bill.
If you have any action figures that you can't wait to grab, let us know in the comments below.  Also you can swing by the Comic Book Daily Facebook page and join the discussion there of what you can't wait to pick up.  If you haven't "liked" the page yet, make sure you do.  It's good for you.