ComicLink October 2011 Focused Auction
The ComicLink Focused Auction has just ended. OK I thought September's ComicLink Auction was Marvel heavy but boy this was even worse!
There was only 1 DC in the top 75 and that of course was our old standby Green Lantern #76. A nice CGC 9.6 GL #76 went for $6,110. There were two old Atlas Tales of Suspense copies (which are kind of Marvels) that make it into the top 75 and the rest were Marvels!
The bell of the ball this month was a very nice CGC 9.6 copy of Fantastic Four #12, it fetched a smooth $43,777.
As always there were some interesting results, so let's have a peek.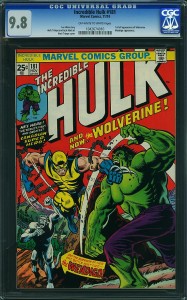 Incredible Hulk #181, Marvel Comics, (November 1974) Graded by CGC at 9.8 with Off-White to White pages sold for $11,752.00 on ComicLink on October 26th.  Overstreet price guide value for this comic at 9.2 is $1,700.00.
The 9.8 price for a CGC 9.8 Hulk #181 continues its long slow decline. Consider that as of this post there are over 800 high grade CGC graded copies (I'm calling a 9.2 or better high grade) and 47 of these at 9.8s.
I'm note sure if this is statistically correct but I'm going to say that Hulk #181 is probably still over performing if we measured its supply vs. price. In other words there are 47 graded copies available and they still trade in the $12 K + range.
I expect at least a dozen more CGC 9.8s to populate the census over the next few years and expect White page copies to trade at or just above $10 K while Off White copies will settle in below $9 K. Advantage Seller due to page quality.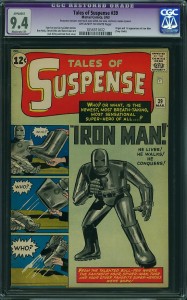 Tales of Suspense #39, Marvel Comics (March/1963) Graded by CGC at 9.4 Restored with Off White to White pages sold for $8,200.00 on ComicLink on Octover 27th. The Overstreet price guide value for this comic at 9.2 is $25,000.00.
OK here's a tough one. Purple (a purple CGC label means the book has been restored in some way) has been the kiss of death for CGC graded books. So how should we interpret this result? On the surface one third of the Overstreet 9.2 price looks pretty solid but when we realize that $147,000 was the price the last CGC 9.4 un-restored copy sold for we realize that Purple is still the kiss of death. The restored copy did not even realize 6% of the un-restored sale price.
The CGC grading comments say that restoration includes: color touch, piece added, tear seals, reinforced, staples replaced and they describe the restoration level as moderate. All thinks are cyclical and I do see a softening of attitudes toward restoration coming, remember you can't turn any rag into a CGC 9.4 through moderate restoration. Advantage Buyer.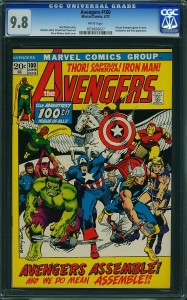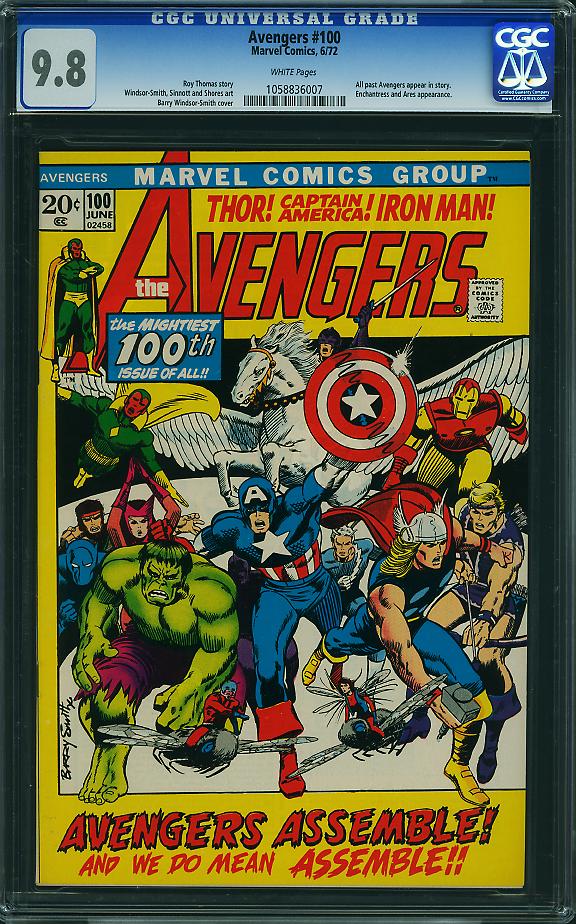 Avengers #100, Marvel Comics (June 1972) Graded by CGC at 9.8 with White pages sold on ComicLink for $$1,111 on October 25th. The Overstreet price guide value for this comic at 9.2 is $165.00.
I chose this one in honor of my 100th Undervalued Spotlight. This is a great comic, it was one of the must haves for all the kids collecting comic books in Hamilton, Ontario in the mid 1970s.
100th Anniversary issue, Smith art, all past Avengers Assemble and all roads leading to the Avengers movie next May make this comic even more of a must have.
There are only 15 CGC 9.8s and no 9.9s so this copy with its White Pages makes it the best possible copy. Advantage Buyer (at least for the next 6 months).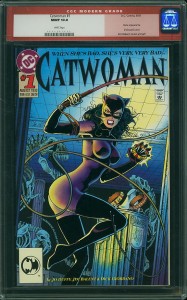 Catwoman #1, DC Comics (August 1993) Graded by CGC at 10.0 with White pages sold for $929.00 on ComicLink on October 25th. Overstreet price guide value for this comic at 9.2 is $3.00.
So 310 times Guide! Well it is a one of a kind and will most likely remain so.
I suck at 10.0s, I mean what is the buyer paying for here, the book or the grade? Catwoman has been enjoying some interest and notoriety since her sex infused series launch in DCs new 52 line up.
The way I see it Batman is never going away and since the Comics Code Authority just recently did go away we're likely to see more raunchy rendezvous between Catwoman and Batman. The rise in Catwoman's stock is directly correlated to the rise in Batman's umm, temperature. Advantage Buyer.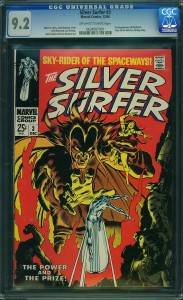 Silver Surfer #3, Marvel Comics, (December 1968) Graded by CGC at 9.2 with Off White to White pages sold for $251.00 on ComicLink on October 27th. The Overstreet price guide value for this comic at 9.2 is $400.00.
This is one of the auctions I won. I really liked the quality of this book structurally, I'm convinced by the scan at least that this is a strictly graded 9.2. I bought it with resale in mind and historically I've sold quite quickly every copy of Surfer #3 I've ever had. The cover sells itself!
The math looks to be in my favor too, 62.75% of Overstreet for a solid 9.2 of an in demand comic seems like a winning combination. Advantage Buyer 🙂
So there you have it. Please chime in with your thoughts. Did you win any books at this auction? Let us know below in the comments field, I'll dispense my opinion of advantage at no extra charge.