I can't remember an auction event this awesome!
The Billy Wright collection has just been auctioned on Heritage Auctions and the A list lot of 300 plus books broke all expectations. Pre auctions estimates pointed towards the $2 million mark but the final tally of the February 22nd session hit $3.5 million (this included the buyers premiums).
Original owner collections are always special and Mr. Wright's seems even more so considering he never mentioned anything about his comics to his family. A relative who was cleaning up Mr. Wright's basement found the books neatly stacked; apparently they were untouched down there for 17 years.
The story of the Billy Wright collection is big news all over the world, bbcnews.com ran the story on their front page as did most of the international news sites.
It's not too often I get the chance to do an Auction Highlight on such an important and diverse group of books. Initially I thought of looking at some of the more unique issues like that Detective #32 that I bid to just below double guide on and didn't get (I really like Detective Comics #32), or like that Funny Picture Stories #1 – wow, but then I changed my mind.
This many big keys in one auction is truly an event so I'm going for the jugular and will pass judgment on 8 very important comics! I figured these 8 can act as a pretty good barometer on the state of the high end market.
All results below are for the Billy Wright Collection auctioned off by Heritage Auctions on February 22nd 2012. All references to number of graded copies refers to CGC Universal grade (blue label) meaning non-restored and excludes any Signature Series copies.
Will too many good books coming to market all at once be too much to bear? Let's find out.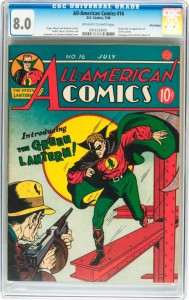 All-American Comics #16, DC Comics (July 1940) Graded by CGC at 8.0 with Off White to White pages sold for $203,150.00. The Overstreet price guide value for this comic at 8.0 is $130,000.00.
This is a very tough book! Only 17 have been graded and the lone 9.4 is the only copy better than this one. The selling price is over 1.5 times guide and to me it seems right. There really is no reliable sales data on this book but here's the thing, 9.0copies list at $265k and for all intents and purposes this is a 9.0 to the 9.4s role as 9.2. What I mean is that this is the second best copy out there, it may well settle in as such for a long time since this book is truly scarce. We can't split hairs on guide grades when we have no representation of books for those grades.
For me personally the character of Green Lantern is too much a niche comic book character, very hard to bust a character like that out into the mainstream. It's scarcity and its lore as one of the toughest Golden Age keys should protect this books value though.
Advantage Buyer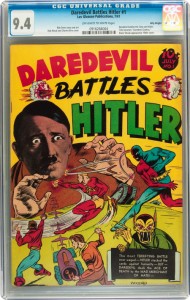 Daredevil Comics #1, Lev Gleason, (June 1941) Graded by CGC at 9.4 with Off-White to White pages sold for $38,837.50. The Overstreet price guide value for this comic at 9.2 is $23,500.00.
This book is relatively plentiful in high grades. Of the 33 graded a healthy 14 are graded 8.0 or better including 6 at 9.4. Back in 2007 the 9.4 Mile High copy fetched over $41k while a mere 2 years ago another of the 9.4s fetched just below 17K. This copy selling for over double what the last 9.4 sold for seems problematic but I think the jump in price is more indicative of a macro shift back towards the Golden Age over the mast 2 years. Is that shift able to account for the whole increase?
The relative abundance of high grade copies and their recent auction performances points towards this book over achieving by just a bit, I also don't like the fact that the character is no longer relevant. What a great iconic cover this book has though!
Advantage Seller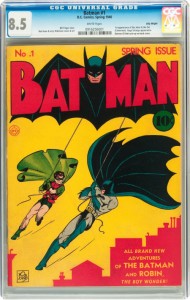 Batman #1, DC Comics (Spring 1940) Graded by CGC at 8.5 with White pages sold for $274,850.00. The Overstreet price guide value for this comic at 8.5 is $146,250.00.
There was an 8.5 that sold 6 years ago for just over $100k but that was a lifetime ago when it comes to back issue comics. A 9.0 copy sold on ComicLink for $315K not too long ago as well. Of the 69 graded 10 are above 8.0 while there are only 3 copies better than this one.
I've always thought this book to be undervalued anyway, the Batman title is the most collected of all the DC titles. Catwoman and Joker make their 1st appearances in this comic. This book will remain one of the pillars of the collecting and investing hobby and while I think the price was a bit high I still like the long term prospects.
Advantage Buyer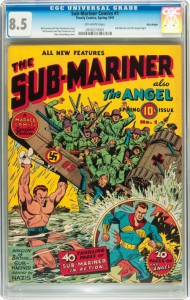 Sub-Mariner Comics #1, Timely Comics (Spring 1941) Graded by the CGG Group at 8.5 with Off White pages sold for $44,812.50. The Overstreet price guide value for this comic at 8.5 is $33,500.00.
The Captain America run has always been the most collected of the 3 big Timely character books. The Sub-Mariner and Human Torch titles enjoy strong demand but just not at Cap's level. I think the future demand for this book will to a large extent depend on the future viability of the character. Of all the Marvel characters Sub-Mariner is the oldest and yet he is the least developed. Human Torch's second coming in Fantastic Four, Cap's rebirth in the Avengers have both those characters firmly entrenched in today's broader pop culture. Sub-Mariner remains somewhat confined the the world of comic books.
Time for me to make a bold prediction. Marvel will develop this character further and attempt to bring him into the larger pop culture light that Captain America and the Human Torch are already basking in.
Advantage Buyer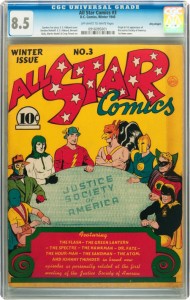 All-Star Comics #3, DC Comics (Winter 1940) Graded by CGC at 8.5 with Off White to White pages sold $49,293.75 The Overstreet price guide value for this comic at 8.5 is $48,000.00.
Only 2 of the 34 graded copies of this comic are graded better, one at 9.4 and one at 9.6. Again this one here could be easily acting as the 9.2 or 9.0 since it is the 3rd best out there. This is a very tough book to find in this grade.
All Star Comics #3 features the 1st appearance of the Justice Society and that fact alone will keep this book one of the most important keys of the Golden Age.
Honestly I think picking this book up for around guide is a good buy!
Advantage Buyer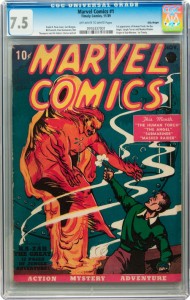 Marvel Comics #1, Timely Comics (November 1939) Graded by CGC at 7.5 with Off White to White pages sold for $113,525.00. The Overstreet price guide value for this comic at 7.5 is $117,000.00.
This book has a lot of room for appreciation. I think Marvel Comics #1 has lost a lot of ground to the big DC keys over the past decade and I do see this books fortunes changing. This is the flagship Timely/Marvel book, this book represents the whole company, this one started it all. Sub-Mariner's Motion Picture Funnies Weekly appearance shouldn't detract from the fact that this was the first actual appearance to be circulated to the general public. And the book still boasts the intro of The Human Torch! Only 4 copies are better than this one and a mere 22 copies have been graded.
Picking up one of the nicest copies of a book this important for under guide is a good deal.
Advantage Buyer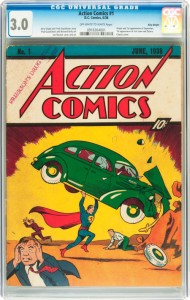 Action Comics # 1, DC Comics (June 1938) Graded by CGC at 3.0 with Off White to White pages sold for $298,750.00. The Overstreet price guide value for this comic at 3.0 is $135,000.00.
Who the hell knows where and when this book will stop! For now its safe to assume that this book will continue to rise in price as it is deemed THE comic book to have. No other comic book is revered like this one is.
My first reaction was that this is too much for a 3.0 but honestly I'm not sure. The legend of this book just grows and grows. This books value will be fueled by non comic book money like no other. Interbational press on every record breaking sale of this book is extensive and I think every Tom, Dick and Henrieta with a few extra Euro/Yen/Peso/Pound/Dollar will want to have this book in their portfolio. There are only 34 graded and I'm positive there are more than 34 very affluent people with this book in their sights.
Weird to say but I think the book still have room!
Advantage Buyer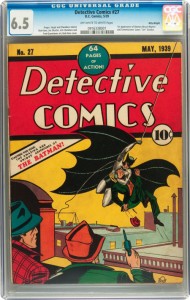 Detective Comics #27, DC Comics (May 1939) Graded by CGC at 6.5 with Off White to White pages sold for $522,812.50. The Overstreet price guide value for this comic at 6.5 is $330,000.00.
Copies of this book better than 8.0 do not exist graded as of yet. Of the 28 graded copies of this comic only 6 are better. There are actually only 3 grades higher than this one making this copy kind of making this copy an 8.0 to the existing 8.0s default role as 9.2.
This comic comes 2nd to Action #1 as the high end collectible comic to own. All its fame rests on the broad shoulders of the Batman. Batman is perhaps the greatest superhero ever created and the character that has the brightest long term future.
The buyer may have to keep this one for a while buy the money is safe!
Advantage Buyer
Man what a wuss I am! I've gave the advantage to the buyer in 7 of the 8 books mentioned. Many of these prices seem high compared to the last comparable data but these things come up for auction so rarely that using data from one sale that may have occurred 2 years ago just doesn't cut it. The important books of the Golden Age are being reconsidered and reevaluated and I believe most will see healthy increases in demand and price.
So? Where did I get it wrong?