First debuting in 1963, it has taken nearly 50 years for Earth's Mightiest Super-Heroes to reach the big screen.  By all accounts, it has been worth the wait. The  movie is a smash hit, receiving rave reviews and setting box office records. This weekend it achieved over $1 billion in worldwide ticket sales, just the twelfth movie to do so. Hopefully excited fans will want to explore more Avengers stories at their local comic book store.
As expected, collectors (or, perhaps more accurately, speculators) are trying to capitalize on the buzz generated by the movie by listing their copies of Avengers #1 on the major auction sites. I have noticed that the number of Avengers #1 listings have increased over the last few months leading up to the movie's release date.  It's common to see descriptions such as AVENGERS MOVIE BUY IT NOW ~HOT~!!! and Movie out, collector's dream, buy now! on eBay listings. Somewhat amusingly, sellers have even tried to infuse their non-Avengers listings with a bit of movie excitement; AVENGERS MOVIE SOON was recently seen next to an X-Men #94 listing.
But, as they say, the proof is in the pudding. Hype aside, has the movie translated to higher prices for Avengers #1? To answer this question, I averaged the results from pre-movie auctions  for each grade and compared them to the completed auctions that have occurred after the international release date of April 29th.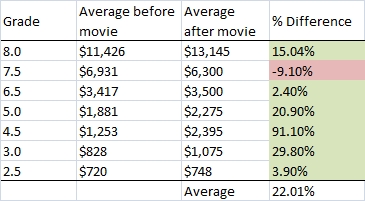 With the exception of the 7.5 grade, every grade has experienced a bump. The average increase for all the grades is an impressive 22%. The 91% increase for the 4.5 grade seems to be an outlier. However, even after excluding this grade, the average increase is 11%.
So the key question: will values fade back or can an argument be made that the record-setting results from the movie justify these somewhat higher values? Even if one believes that these values reflect only fleeting enthusiasm, it's clear that the hype train is just leaving the station. Avengers #2 and Avengers #3 are already guaranteed to release over the next few years, not to mention a new Hulk movie, Iron Man #3, Thor #2, and Captain America #2. It's clear that the momentum is just starting.
I'm going to closely monitor the auction results over the next few months. It's going to be interesting to see whether or not these values hold!