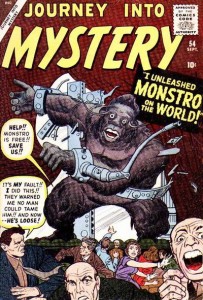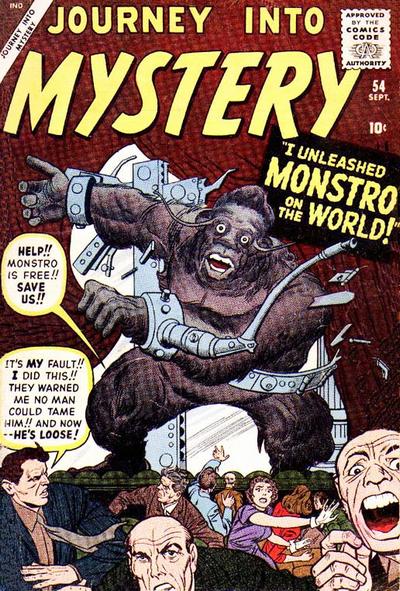 Journey into Mystery #54, Marvel Comics, September 1959
The Undervalued Spotlight has touched on the relationship between the comic book's artist and the comic books collectability before. The 1st time a prominent artist has drawn his signature character is always a sought after comic as is the 1st time an artist had his work published.
This week I thought I'd spotlight a little gem that features no firsts, just the sheer weight of the talent involved makes it a must have.
A few years ago I sold a mid grade copy of Journey into Mystery #54 at a local comic con. It was part of a nice group of pre-hero Atlas I'd picked up. I remember there were some great Kirby covers in that little batch of books. A guy buying a small pile of these books and I started chatting about this era of Atlas comics and how you can find Ditko and Kirby in many of the same books etc. He pointed out Journey into Mystery #54 to me and told me about the all star line up of talent within just that book. I was joking when I asked him if it was too late for me to raise the price; well kinda joking. I've always remembered that deal and was thankful for learning something new. Of course I haven't had another copy since!
Collectors and connoisseurs of comic art know about books like this but these books seem to be out of the radar of investors and key issue collectors, so if I can convert one reader to the fact that books like these are desirable then I'll feel like I've done my job!
John Severin, Steve Ditko, Al Williamson, Joe Sinnott and the mighty Jack Kirby all in the starting line up! This starting five would have given Jordan's Bulls a run for their money!
I Unleashed Monstro on the World! This 1st story features 5 pages of pencils and inks from the great Steve Ditko. In three years time Ditko's Amazing Fantasy #15 was flying off the shelves.
I Dared to Defy… the Idol's Curse! This story features 5 quality pages of pencils and inks from Joe Sinnott. Most would agree that Joe Sinnott is the greatest inker of the Marvel Age. Sinnott's inks on Kirby's Fantastic Four set the standard in the mid 1960s; he also had large runs on The Avengers and Thor. Some of Sinnott's more notable works were his inks on Kirby's pencils for Journey into Mystery #83 and Fantastic Four #5. Sinnott was an excellent penciler in his own right drawing the mammoth 64 page story for the Dell Giant Beatles in 1964 and many Atlas horror and fantasy stories like I Dared Defy…
My Other Face! This 4 page story is penciled and inked by the legendary Al Williamson. Al Williamson is a giant! Anybody good enough to have Frank Frazetta ink their pencils is good enough for me. Williamson is best known for his stellar work for E.C. Comics especially on titles like Weird Science and Weird Fantasy.
I Knew the Gargoyle's Secret! John Severin penciled and inked this 4 page story. Severin is best known for his great work on E.C. war comics like Two Fisted Tales while his work on Marvel's western titles is legendary. Severin was also one of the founding artists on E.C.'s Mad.
I am the Menace from the Purple Planet is the last story in Journey into Mystery #54 and it features 5 pages of art from Jack Kirby. No use even me trying to sell you on Jack Kirby, he is simple King Kirby!
Oh and let's not forget the great Kirby cover that seems to be swiping a scene right out of King Kong!
As of this post there are only 4 CGC Universally Graded copies on the census: an 8.0 and a 9.2 are the best. Based on this limited supply snagging a nice high grade copy and sending it to CGC has high profit potential. Buying a nice solid mid grade copy for yourself and enjoying its bounty will be just as rewarding.
The 41st edition of the Overstreet Price Guide shows $159/$317/$475 as the splits at the 8.0/9.0/9.2 grades.
Strengths that make this comic book a good long-term investment are:
Great Jack Kirby cover
Pencil contributions from Steve Ditko, Al Willaimson, Joe Sinnott, John Severin and Jack Kirby, all in the same book!
Pre-hero Atlas monster issues have always enjoyed high demand, especially in grades of 8.0 or better
4 of these 5 industry giants are inductees in the Will Eisner Hall of Fame (Sinnott will get there too!)