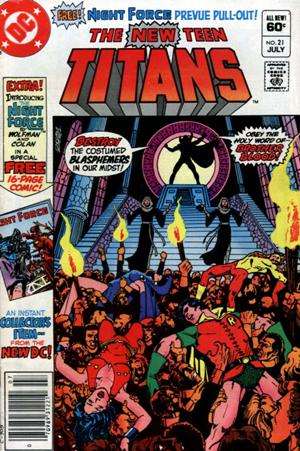 New Teen Titans #21, DC Comics, July 1982
This week I thought I'd go light in honor of the fact that most of us blew our whole wad for Christmas.
We comic book lovers are a generous lot and while the gift of giving has its rewards it sure does put a dent into our comic collecting this time of year.
Now I'm sure most of us can still scrounge up $5 bucks. I know we can do it gang! I for my part will keep driving past my local Tim Horton's for the next two mornings (Starbucks lovers only have to skip one morning). What I'm trying to say is that this week's Undervalued Spotlight is cheap; it will not hurt the budget and it will still leave us an outside chance of tackling that dreaded January Visa bill when it comes in.
New Teen Titans #21 is indeed this week's Undervalued Spotlight, it's a great comic that comes out of a great title. Surely one of the best Copper Age titles was New Teen Titans. Marv Wolfman and George Perez created a powerhouse title that deserves a second look; there are other gems in this run.
New Teen Titans #21 features a lovely George Perez cover and boasts a 25 page Titans epic titled Beware the Wrath of… Brother Blood! Scripted by Marv Wolfman and drawn by George Perez the story featured a slew of 1st appearances including Monitor and Brother Blood.
That would surely be enough for most comic fans but much like us New Teen Titans #21 keeps on giving. As a bonus we are given The Night Force, a 15 page Marv Wolfman story drawn by CBD favorite Gene Colan. This occult story features the introduction of the Night Force, a group assembled by a mysterious sorcerer named Baron Winters to fight strange paranormal threats. The group  includes one Vanessa van Helsing who is the granddaughter of the slayer of Dracula.
This was a good premise that for some reason never really caught on. I haven't given up on the Night Force just yet, as I've said I like the premise and I love the team's name! Night Force! We live in an age where properties matter and where long dormant properties can easily come to life. We saw DC come out with that 7 part Night Force mini-series back in 2012, let's hope they have other stuff brewing.
I'm not saying the Night Force are on the verge of a huge comeback but I am saying they're 1st appearance is something worth collecting.
Nice tight, high grade copies are getting anywhere from $3 to $6 on eBay while CGC 9.6 copies can be had for about $20. Head out to a con, lots of those bulk comic dealers have great $3 bins these days, pick out all the copies they have, haggle a bit but if he doesn't budge buy them all and tip him a buck!
The 43rd edition of the Overstreet Comic Book Price Guide shows $5 as the 9.2 price split.
Strengths that make this comic book a good long-term investment are:
This whole New Teen Titans is undervalued
1st appearance Night Force
Creator team of Wolfman/Perez/Colan
Way too cheap