When I began my quest to rebuild my comic book collection, the world of collecting had changed in a big way. Walt at Big B Comics in Hamilton was a big help in getting me reacquainted with grading and CGC. The internet and eBay made it possible to get anything you wanted, in any shape you could afford, on any given day.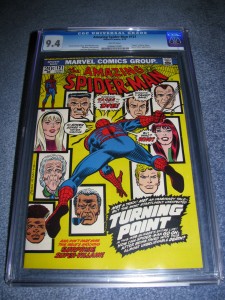 Since I was starting out from virtually zero I had no place to go but up. I started with (surprise, surprise) The Amazing Spider-Man and The Fantastic Four. I was even a bigger fan of the FF than Spidey, if I was put in a corner and had to choose, so that was where I started. I was primarily buying raw comics and checking the scans on eBay to see if I could get some real bargains.
Most of the books were available as auctions so it was not unusual to get some great copies at reasonable and sometimes downright steals.
Being the entrepreneur that I am I soon discovered buying and selling books myself on eBay and helped to finance my habit. It wasn't long before the long boxes entered the picture and I started getting books I never had before. I was also started getting better copies than the collection I had to sell in the '90s. As any collector knows, there is nothing like holding a book in your hands that is 50 years old and flipping the pages! I was having a blast and it wasn't long until I joined CGC and began slabbing books and reslabbing.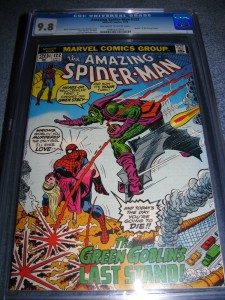 As I am sure many of you know, CGC can be a frustrating animal. As collectors, we all have scratched our heads at some of the inconsistencies in grading we have seen, or when we resubmit and get a lower grade or even (oh the horror!) a purple label for a book that was a Universal grade when you sent it down to be reslabbed. Or worse yet, a purple label and a lower grade! The only word to describe this is aarrgh!!
I am not a gambler by nature, but I will risk some money on comics as it is a subject I am familiar with.
One of my favorite stories of an eBay win is two Spideys, #121 and #122, I bought raw for $100 each. Now these were beauties! I have attached pics of the books that came back a 9.4 on the #121 with White pages and #122 came back a 9.8 with ow-white pages.
The win on this was huge! I netted about $3500 on Comiclink. I re-invested about half and bought killer seats for Paul McCartney and the Eagles and took my 2 daughters with me!
We had a great time! I love comics!!