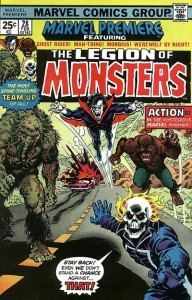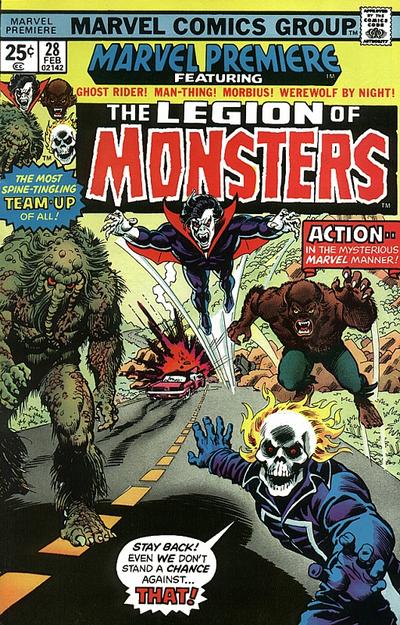 Marvel Premiere #28, Marvel Comics, February 1976
Can't figure out why but I was compelled to a Halloween theme this week.
In my Undervalued Spotlight #84 I mentioned the proliferation of horror based characters right after the Comics Code Authority relaxed some of its very stringent restrictions on all things macabre at the start of the 1970s. Morbius was the first out of the block for Marvel and even he was a concession, being a "living vampire". Within a couple of years Morbius was joined by Dracula, Son of Satan, Frankenstein, Werewolf, Ghost Rider and Man-Thing among many others.
Like any new wave of characters a team of them is always sure to follow and with Marvel Premiere #28 we finally got the 1st appearance of the 'Legion of Monsters"!
I've loved this comic book forever! I remember reading it when I was 11 and I remember getting all mad at the Marvel monsters.
See Starseed didn't want to fight; he was a long lost earthling that with his people had escaped captivity by an alien race. By the time Starseed made it back to earth he was the sole survivor.
Monsters being monsters and werewolves being werewolves our motley crew attack Starseed and kill him. Before Starseed dies though he lifts the curses off each of our characters and each returns to their human form. Alas Starseed's power to cure our monsters dies with him and his killers turn back into the monsters they so detest being.
I remember thinking as a kid that had they heard Starseed out they could have been saved!
There are many collectible comics that owe much of their collectability to the appeal of their covers. The cover to Marvel Premiere #28 is one of my favorite covers of the 1970s and one that was once on the wall of my room. It's a great Bronze Age snapshot.
The 41st edition of the Overstreet Price Guide shows a paltry $19/$29/$38 as the splits at the 8.0/9.0/9.2 grades.
Strengths that make this comic book a good long-term investment are:
1st appearance Legion of Monsters
Classic cover featuring Ghost Rider, Man-Thing, Morbius and Werewolf
The Legion was sort of like a crescendo for the Marvel monsters of the 70s
Super cheap for a great piece of the Bronze Age