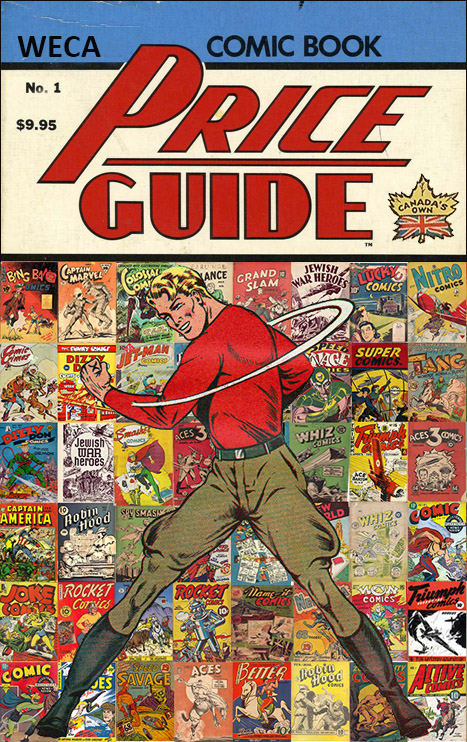 Now that the latest Overstreet Price Guide has included an article on the Canadian war-time comic books and now that the books themselves are beginning to realize handsome price ranges, is it time to put together a Canadian WECA Price Guide, or Canadian Golden Age Price Guide, or Canadian "Whites" Price Guide, or whatever we want to call it?
Two very early efforts tried pricing Canadian comics back in 1986 when little was really known about the Whites. These were a section of John Bell's Canuck Comics and Theaker's two part pamphlet set called an Introduction to Canadian Comic Books.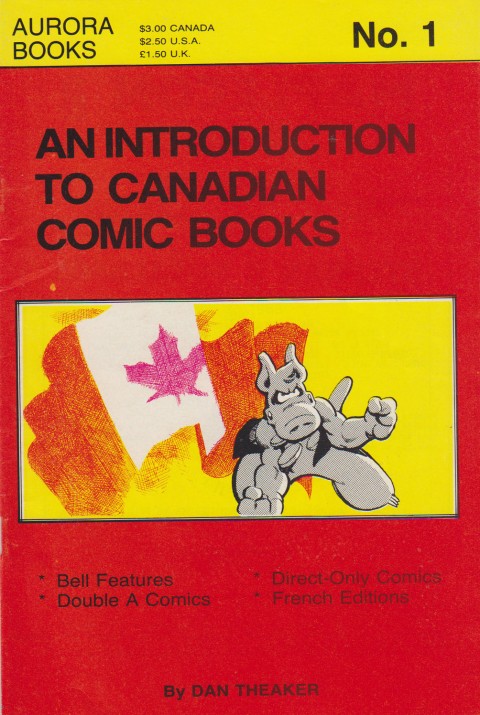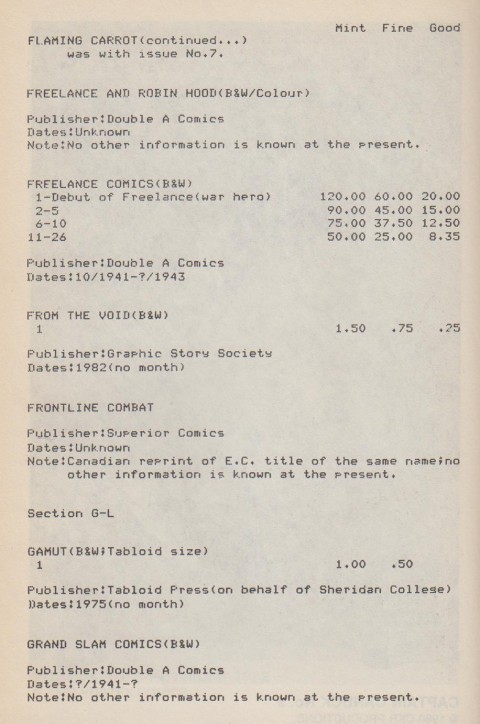 The next question to ask is "Should this Canadian Guide be included as a sub-section of the existing Overstreet Price Guide, such as the Platinum books or Promotional books already are, or should it be a stand-alone book, or an e-book, or just have some sort of online presence such as being part of our existing web site database (www.canadasowncomics.com) that's currently being completed and populated?"
The guide itself would comprise roughly 750 books (maybe even up to 800) but this is significantly less than the run of Action or Detective Comics alone. At the very least it would be the best checklist for these books produced so far. But could the prices listed mean anything real at this point?  They would certainly be the best estimate we could come up with given the sales data we have now and it would be the necessary starting point for where we would need to eventually get to—a solidly accurate indication of the market value for these comics.
Let's take as an example of a possible starting point the price of one of the purchases listed by master Whites collector Stephen Lipson books reported as purchased recently in this year's Overstreet Comic Book Price Guide. Remember that the seven books Stephen lists were all purchased in 2013 before this year's ComicLink auctions (see my earlier posts on the 1st and 2nd of these).
The first book on Stephen's list is Freelance Comics Vol. 1 No. 1 (June –July 1941) which was the third WECA title to appear after Better Comics, Robin Hood Comics, and Union Jack-Lucky Comics and probably just before Triumph Comics No. 1 (August, 1941). Stephen bought this key in 2013 for $1,000 and the Overstreet breakdown would be:
| | | | | | | |
| --- | --- | --- | --- | --- | --- | --- |
| | 2.0 | 4.0 | 6.0 | 8.0 | 9.0 | 9.2 |
| Freelance Vol. 1 No. 1 | 1,000 | 2,000 | 3,000 | 7,500 | 12,750 | 18,000 |
This would put the book in the range of an Action Comics 11, a Detective Comics 40 or a Captain America 5 from the Golden Age and within the range of an X-Men 1 or Tales of Suspense 39 from the Silver Age.
But now let's compare this with a couple of books from the first CLINK auction in February.  Wow Comics No. 1 (3.0 at $1600), Active Comics No. 1 (3.5 at $1425 – which was a bargain grab because this was the first book in the auction) and Triumph Comics No. 17 (4.0 at $1750) all, more or less, fall within the range of the Freelance 1 mentioned above. In fact if that Freelance 1 would have been in this auction, it would have probably handsomely bettered the price that Stephen originally paid for it a year or so ago.
If the 1945 Nelvana 15 cent one-shot compendium from the same auction, which at 6.5 went for $13,750 wasn't an anomaly, then we get the following type of spread:
| | | | | | | |
| --- | --- | --- | --- | --- | --- | --- |
| | 2.0 | 4.0 | 6.0 | 8.0 | 9.0 | 9.2 |
| Nelvana 1945 one-shot | 3,000 | 6,500 | 10,000 | 22,500 | 50,000 | 75,000 |
This is unbelievably in line with Marvel Mystery No. 2. To me it can't be right, but is this the gradient that should appear in the price guide? My own belief is that the newly exploding awareness of these Canadian war-time comics at the time and a curious back story tug of war bidding frenzy produced this, to me, unwarranted price point… but I may be wrong.
Where then do some of the WECA books we have to consider the most valuable fit in such as Triumph No. 1 (six known copies), Better Comics No. 1 (maybe 4 or 5 known copies), Top Flight Comics, and the yet to appear Robin Hood Comics No. 1? Sales of these books are so rare that you have no back data to base a price point suggestion on.
Also, should a curious 5 cent newsprint comic like Ted Steele's Rocket No. 1, which came out right after Better Comics No. 1 and has a super hero (Wolf Savage) but isn't paneled, be included in the guide?
However, the point is that we need to start somewhere and "somewhen" even though accuracy may suffer at the start but we should have the confidence to believe that over time, and as knowledge and appreciation of these books becomes more widespread, and as we find more market place price points and sales to incorporate into our data, we should be able to offer more precision and concreteness in the suggested ranges that these books should fall.
However, a good price guide is not just about dollars and cents, it should be informative and "tag" or profile those books that have significant and historic content. Here's a list of what I think a quality comic price guide should also offer information on:
Significant first appearances and origin issues (heroes and villains).
First and last work by a creator (artist and/or writer).
Start and end of significant arcs.
Use of historically significant personages (Hitler, Mussolini, Tojo, appearances).
Significant covers (e.g., first Nelvana cover and which books have Nelvana covers, Nazi covers, bondage covers, etc.).
Collectable "themed" stories such as robot stories, dinosaur stories, zombie stories, etc..
Changes in format or production values in a title (e.g., the tabloid appearance of Robin Hood Comics No. 1, the gradual transition of Wow Comics from full colour in issue No. 1 to two-colour and black and white by issues No. 8 and 9, the multi-pastel colour of paper used in early issues of Better Comics, the transition into full colour production at the end of the war, etc.).
Historic background publishing decisions and changes (e.g. the folding of Hillborough Studios and the move of Adrian Dingle to Bell Features in the spring of 1942, the licensing and redrawing of Fawcett heroes by Anglo-American at the start of 1942, the printing and publishing of some later full colour Anglo-American comics in Cleveland, etc.).
Variants and possible multiple printings.
Number of known existing copies leading perhaps to a Gerber-type rating.
Any crossovers or cameos.
Artists drawing themselves into the story.
Those are points I can think of off the top of my head. I'm sure readers have some additional suggestions that are well-taken.
On the other hand, I could imagine that some people could be against setting down a price guide for these books because dealer prices (Bruno in Montreal is amazing, isn't he?) may significantly escalate and non-collectors who discover some of these books in their attics and barns may start demanding, as they invariably do, unrealistic first prices for their finds. But it's up to buyers and dealers on the receiving side to explain how guide prices relate to real market and resale values. Some people are not going to warm up to a price guide for these books because the bargains that were available in a previously uniformed and unhyped market may no longer be there, but if you've been a collector for as long as I have (over 50 years), you know that you can't hold back the inevitable and make this your own secret collectible kingdom forever. It happened to Golden Age collectors when the first issue of Overstreet came out with its black and white paper cover in 1970 and in every subsequent decade as the Silver Age and Bronze Age markets grew and later when proper comic book movies started appearing. (Don't Fear) The Reaper.
Remember that some of these Canadian books are already priced in the guide. For example there's the giant Captain America 128 pg. Canadian reprint collection (which is listed in Overstreet as mistakenly having 132 pages.) which, at this time is probably the most expensive Canadian war time comic. The partner of this book is the Canadian Marvel Mystery 128 pager which is also in the price guide.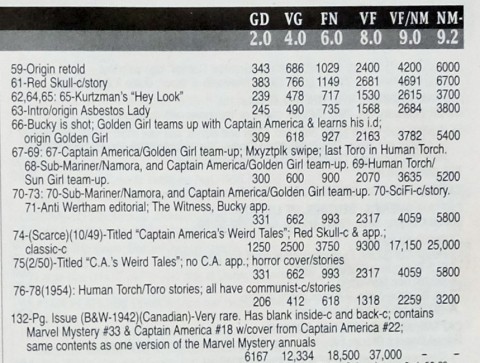 Dizzy Don also has a presence in the current guide as well but instead of the first twenty issues being properly listed as The Funny Comics and published by Bell Features, they are incorrectly called issues of Dizzy Don Comics. The Funny Comics became Dizzy Don Comics when Manny Eason, the creator, broke away from Bell Features and formed his own publishing company called Dizzy Don Enterprises. Both issues 21 and 22 were in full colour.

Some Canadian Rucker Publications books such as Scooter Comics (though it overlooks the existence of a second issue) can also be found in the guide, but the existing listing for Weekender Comics is much more interesting even though it gets the date of issue No. 1 a little wrong and also makes no mention of the of the newspaper type sections called "The Illustrated News" and reporting Canadian news that were in the middle of each book.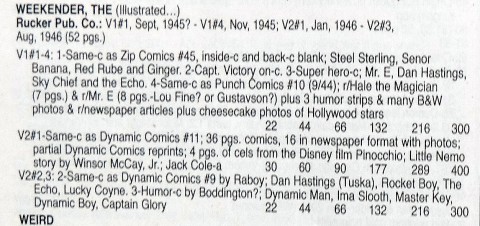 In the end, the question remains, "Is this the time to put together a first, working price guide for these Canadian war-time comic books?" I'm not even sure that Overstreet would want a price guide section for next year's guide, but we have the people in place that could assemble a solid first effort. Should one appear in next year's Overstreet guide?