1) Downloads.
Download 2 things immediately: Bottom of the Ninth  digital comic app and The Orbiting Pod  Podcast.
Bottom of the Ninth  is a digital comic app created by Ryan Woodward and should be shared with any person whom is interested in seeing where comic art will possibly go (eventually) on screen.  Ryan's obviously got his own design for it but… pull it, look at it, see how it feels.
Such a giant separation between Print and Digital would clearly validate both platforms if something like this were employed by the big publishers.  Really exciting stuff and worth knowing about on the art side.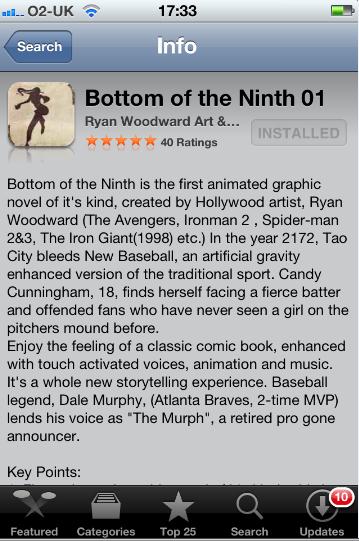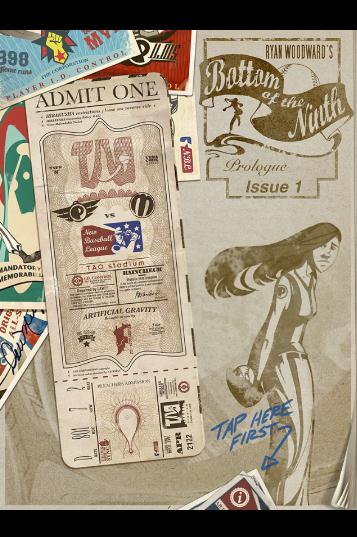 I also found The Orbiting Pod  Podcast recently and wanted to share it here as it's a really nice snap-shot of what's going on in comics… in London.  The shows are mostly a hash of the week's books from guys and girls whom love them dearly and also work at Orbital Comics in Leicester Square.
It's like Chris and Walt's 'New this week' segment for a whole show and it works really well.
There's no replacing Chris and Walt (clearly :-)) but it's nice to find more and more quality comics content available for our listening pleasure… and from one of the best comic shops in London too!  Score.   I'd start from the 2012 review show (the first pod in January) and listen from there.  There's also interviews with creators and recordings from panels and meetings at UK Cons, which are really useful and insightful as an amateur creator myself.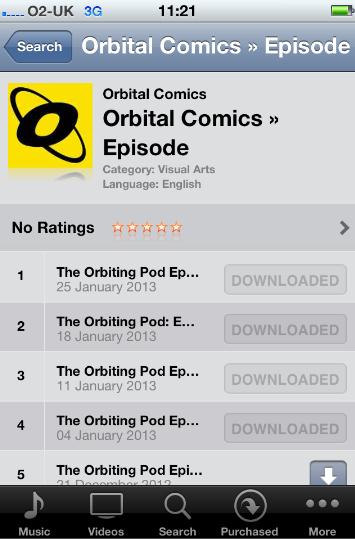 Mostly, I'm just happy that the guys at the shop have put this together for us.
Cheers indeed.
If I'm being picky, It would be nice to get a quick intro from everyone at the top of the show for new listeners, as the cast does vary from show to show.  But, the content itself and the wealth of knowledge and passion on offer is exciting and basically… it's cool.
So please share this around with fellow podcast lovers or even tweet the guys if you get a chance.
Get listening – @TheOrbitingPod
2) Comics are amazing.
Last week I wrote a piece about how comics are bad and If you were a part of that in any way – either active or passive — then you'll remember the fiery passion it fueled and the heated debate it prompted.
As a result, surely this week's post (from myself) needs to appease that or redeem it, or something… right?
Well, in addition to the above, I just wanted to conclude the point of last week's post (though the debate will rage on forever no doubt), my point was:
There is room for 'amazing' in comics… so when will it happen again?
In the meantime I will continue to read, support, love and create comics at every opportunity and that will never change.
To make the assumption that someone — of my creative ilk with a skew towards mainstream — is not aware of the sheer scope that's currently available in comics is… too easy.
"This guy's all about Marvel and DC so… obviously he won't like what's on offer if that's all he reads."  That leads me to 2 little question marks.
1) Why is it the default opinion that the big publishers 'obviously' don't tell good stories?
2) Why was only 1 actual book (Sharaz-De: Tales Of The Arabian Nights) suggested to make the point of… the really good stories happening outside the big publishers?
Which – by the way — was sadly not the shining example of storytelling that I'd hoped for.  It was very impressive indeed visually and written quite nicely but on the storytelling side… it was very compartmentalised and devoid of any real character of emotional investment.  The hunt goes on.
I'd just like some exceptional and extraordinary stories from the big publishers to accompany the exceptional and extraordinary artwork that's churned out weekly.
There IS so much out there to discover in comics — including the above — which is fantastic! Could we even go so far as to say that we're currently experiencing the 'New Golden Age'? with the comics industry dominating popular-culture generally and the internet making the creation of comics so much easier and faster.
Jury's out.