It's time for another update from BIFF SOCKO, TWO-FISTED NEWSHOUND. Biff Socko covers Comic Book News like zits on the A-V Club. Faster than Perry White! Stronger than J. Jonah Jameson! He is…BIFF SOCKO!
DATELINE: NEW YORK – Marvel Sources have revealed that the next character to join the second phase of their movie strategy will be Doctor Strange. The Sorceror Supreme has been added to the slate along with Ant-Man and Guardians of the Galaxy.  The initial promotional barrage was  stymied when Marvel had to recall 50,000 posters that had used the somewhat ill-advised slogan "WE'RE GETTIN' SOME STRANGE!"
DATELINE: DC UNIVERSE – DC is gearing up the merchandise machine for the new JUSTICE LEAGUE OF AMERICA book by Geoff Johns and David Finch. Products announced so far include:
–THE CATWOMAN SCRATCHING POST
–THE KATANA LETTER OPENER
–THE STAR SPANGLED GIRL BE-DAZZLER
–THE HAWKMAN BIRD-FEEDER
–THE VIBE (Batteries not included)
DATELINE: HOLLYWOOD – Filming is underway for the sequel to AMAZING SPIDER-MAN. Director Marc Webb spent the first day brushing off puns about his name. He spent the second day making sure  Jamie Foxx didn't pull a six-shooter on anybody. Unfortunately, filming on the third day had to be halted when it was determined that it was actually the mind of Alfred Molina doing all the acting in Andrew Garfield's body.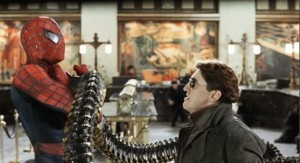 STAY INFORMED, DISCERNING READERS! STAY ALERT, INVOLVED CITIZENS! STAY CLASSY, ETERNAL VISHANTI! FOLLOW BIFF SOCKO ON TWITTER @bsocko