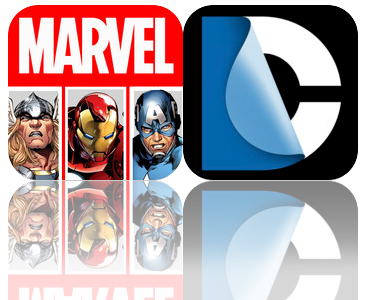 How do we do things?
Firstly, I buy the on-going monthly's that I'm reading in print, obviously I do.  I visit the comic shop every Wednesday like a kid on Christmas.  I like the comic shop like a fat Englishman likes cake.  The smell, the buzz on a Wednesday, the general nerdery/wonderment and the comforting comics-chat with the other hard-core comics people.   Best place in the world.
While I'm in the shop, I also buy anything that generally looks cool or anything that has a blatantly beautiful cover and after making my considered selections and returning home,  I bag and board these books and park them in a small box next to my growing collection of old-school JLA's.  I also buy signed books wherever possible and adore the very special, personal attachment that comes with that, even if I didn't get the signature myself I definitely think that personal touch is invaluable in comics.  You'd never ask a creator to sign a digital copy of anything, how would that even work?   But, in spite of the digital books never quite achieving that personal vibe, I still buy the digital versions and mostly of the same monthly comics that I'm reading buying in print.
Broadly speaking, there's something to be said for the nature of a digital image VS print.  An RGB image for Screen is made up of red, green and blue pixels and is backed-up by light.  RGB images have a completely different look and feel to a printed CMYK image which is made up of cyan, magenta, yellow and black pigment and quite obviously, a physical sheet of paper will have no light source behind it.  When you really start to think about what you're holding in your hand on a mobile device in terms of its potential, you may start to wonder why they haven't yet tried to be a bit more experimental with the images we're looking at.  I appreciate there's a fine line between comics, motion-comics and animation, but if the movement was subtle it could really enhance the digital-read beyond a simple and exact copy of what we see in print.  I also appreciate the importance of the day-and-date release and how adding further, more complicated elements to the digital books could play havoc on the general management of that.  But why can't we have things like actual pouring rain and flashing police sirens on screen?  Digital books could also be updated in real-time.  Say for example there's scrolling news feed on the side of a building in Time Square, make it actually scroll with relevant and current news too.  You could even mention creators and fans in something like that.
There is a gaping chasm of untapped resource in the digital comics world and the sooner the big boys start to experiment with that, the sooner we can tell them what we don't like.  That's how it works, right?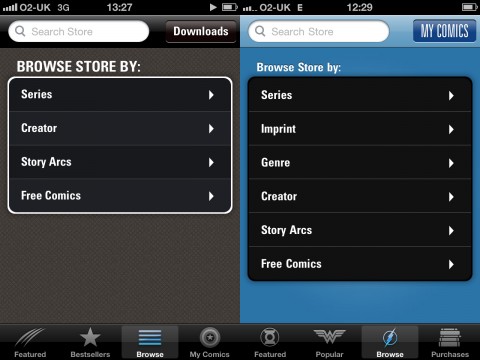 In the meantime, we get exactly the same on screen as we get in print and that is pretty cool in itself to be fair.  The Marvel and DC apps are very similar and both offer access to some exciting stuff.  Aside from the ongoing monthly books you can go back and read things that maybe you don't need in print, or can't afford in print etc.  How many of us have actually read Action #1 for example?   There's a bunch of character intros and must-read lists for your favourite characters and I like being able to search by creator.  I also like the way you see all the variant covers at the top of a story on screen and the fact that there's no advertising in the middle of a book in digital.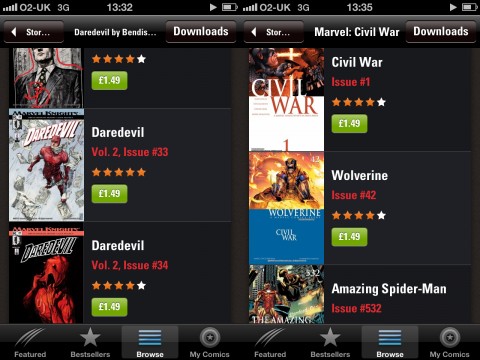 There's something reassuring about trying a book digitally before you buy it in 'real life' too.  Even the act of leafing through can be done on your phone before you even arrive in the local shop.  Is that a good thing though?  Should the local shops have download terminals or something?  Or in-store iPad's to look at books on screen inside the shop?  A giant grey area would be maintaining the culture of comics as the digital market grows.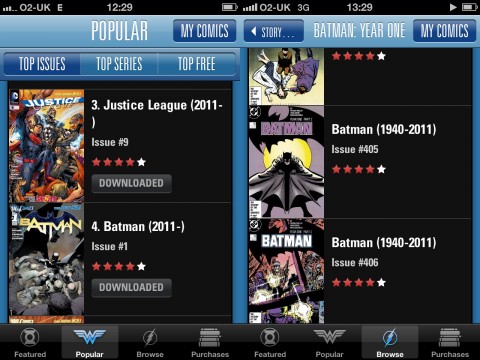 As mentioned previously, I love the idea of being able to go back and actually read Amazing Fantasy #15 or detective #27 without hunting them down and paying millions for them.  This leads me to ask "what other content do I wish I could download?"  I'd love to be able to download artwork in progress or under-drawings.  It would be nice to have extra features for example like a DVD… maybe only available if you download an entire series?  Maybe the story or backgrounds or colouring could be geo targeted, the London version could be foggy and raining for example and the LA version could be bright and sunny?  Maybe the story dictates the setting but, the potential is there to really stretch how things are done.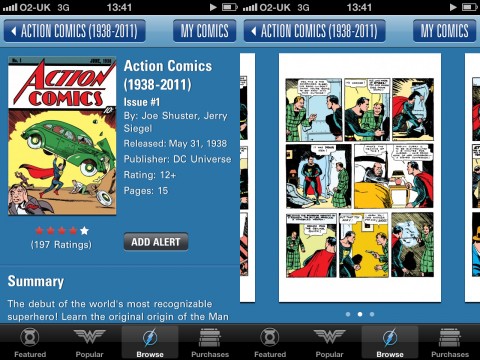 I love how buying in print to 'have' and buying in digital to 'use' stretches as far as my old-school JLA's too.  I probably wouldn't have read these otherwise.   If I'm being honest.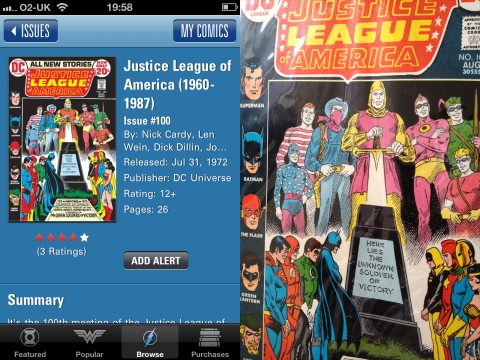 So, how do you do it?