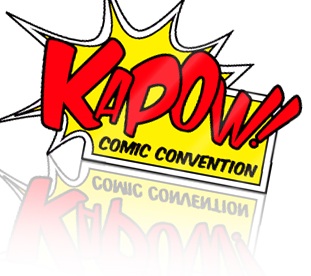 This weekend in ol' Blighty saw the Kapow!  comic convention role into town, boldly claiming the London Business Design Centre as its own for 2 full days in the capital's North East.  The show was much hyped online by the English nerds and managed to gather an impressive momentum in the build-up amongst the benevolent bloggers.  To be fair, it was probably the best con in London for a long time.  Kapow! boasted a divine venue, glorious guest appearances, pleasing panels, a vibrant variety of goodies on sale and some fine-looking, quirky cosplayers all adding to the general wonderment throughout.  Hats off Kapow.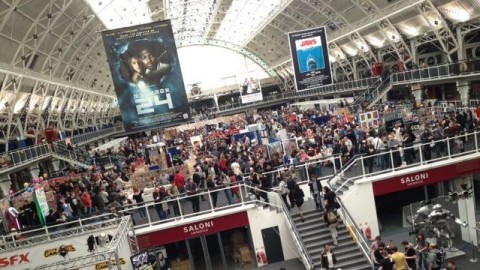 Saturday started with a strong coffee and the DC All Access panel.  Bob Wayne and Dan DiDio flanked the increasingly popular Scott Snyder on stage as the presentation revealed some interesting news on the up-coming DC comics adaptation of The Girl with the Dragon Tattoo, followed by a randomly intriguing announcement that a long established character — whom was originally introduced as 'straight' – will soon be named as "One of DC's most prominent gay characters."  Educated guestimations welcome.   The subject matter soon found its way towards Before Watchmen,  the new and slightly controversial series that kicks off very soon and will certainly rival AVX in terms of its popularity.  A relaxed vibe in the room dictated the tone and the DC guys were happy to answer our questions.  I even managed to swipe the mike myself at one point and asked… "Will the Before Watchmen series be something that happens, and is then over? Or will there be continued story in any form?" I went on… "And did a desire to make a second movie have any bearing on the decision to go ahead with new material in print?"  DiDio responded with a massive sidestep towards  "The other 52 'new' and continued stories currently unfolding the DCU." And didn't really answer my question in any way, a telling response maybe, probably, perhaps.  It was cool to openly talk about the new Watchmen books though and see some future cover art on the big screen.  I managed to meet Wayne, DiDio and Snyder after the panel and even sneaked in a cheeky autograph.  Snyder was also more than happy to hang around for a while after, to mingle with the patient and adoring nerds.  Perfect.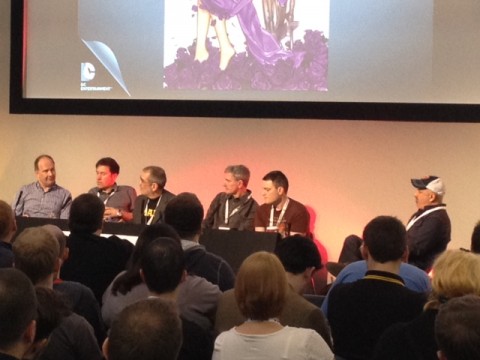 When it was finally time for Snyder's allotted signing a bit later, he seemed to get quite… bummed out when the martial asked him to only sign one item for each nerd. "Is it really just one??" he asked, continuing to sign as many as he possibly could for each fanboy and girl.  He made us all feel very welcome to chat to him and ask questions too.  Result.  Cheers Scott.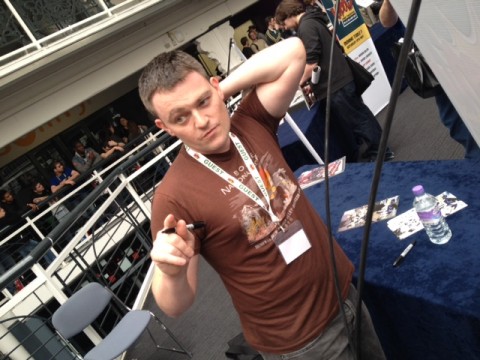 After buying up some old books and handing over my portfolio for review, I mingled with the other amateur creators for a while and then bumped into DiDio again on the floor, buying up some books of his own.  He seemed quite happy to socialize and had a bunch of questions for the indie crowed.  He was sort of hiding in plain sight and didn't make any effort to be quiet or stealthy; to the contrary in fact.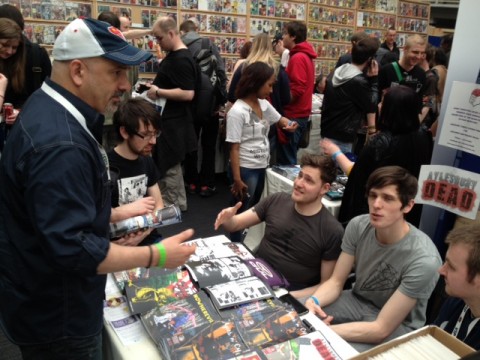 Soon after, I made may exit in preparation for a return visit on the Sunday which was generally a bit quieter and little more chilled out, as is usually the case.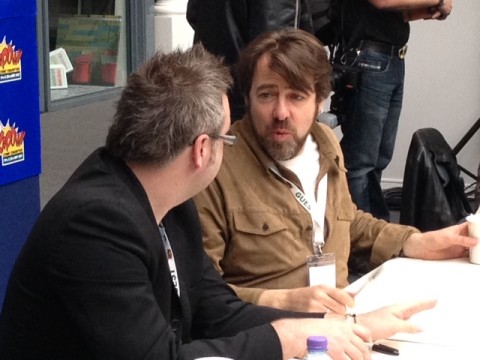 I managed to meet Jonathan Ross and Bryan Hitch which resulted in me showing them a sketch that Dave Gibbons had doodled for me in Hitch's own 'how to' studio book some time before.   Both Hitch and Ross saw the funny side and were also  keen to doodle on the panel- layout page.  Guess which one's Ross's.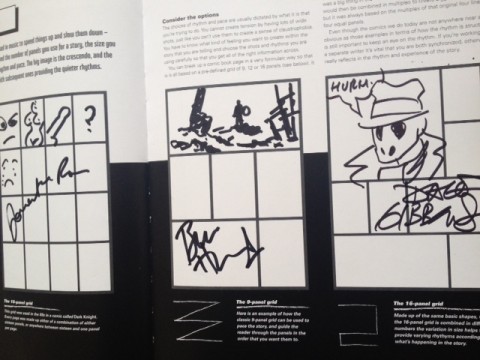 Sunday was also the AVX panel with Joe Quesada, Kieron Gillen an C.B. Cebulski.  I was pleased to hear that Olivier Coipel will soon be taking the reins from John Romita Jr which, will surely make the whole thing feel a bit more like an actual, credible marvel event series, one worth picking up.  Coipel, whom couldn't make the con for personal reasons will of course deliver his thick and serious-looking anatomy and familiar, larger-than-life action in the new pages of AVX from #5.  About time if you ask me.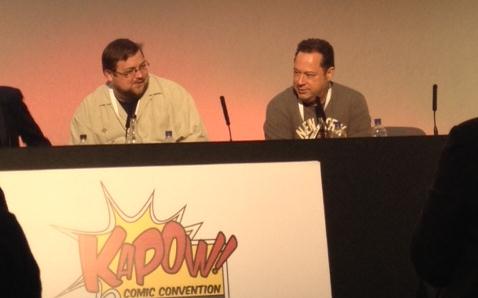 We were also treated to some future covers/interiors and the panelists were in good spirits with frequent references to the Avengers movie and a new-found admiration of the Hulk.  Most of their answers were quite guarded and they seemed to keep most of their secrets despite numerous, similar questions regarding the next few months in the Marvel U.  Quesada was also happy to hang around after the panel to glad-hand the fanboys, myself included.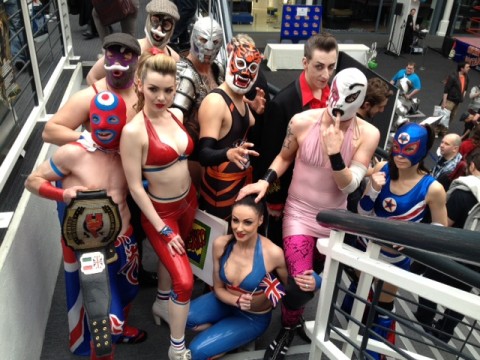 All in, it was a really successful event and one that I'll definitely be going back to next time around.  The best in the UK by some margin, that I've seen.
Hats off to all involved and thanks to all the guests for their time and patience.
What's next?