Furious and frantic comic antics this weekend in ol' Blighty with the London Super Comic Convention taking over the hearts and minds of thousands of proud, nerdy Londoners, most of whom were dressed in full costume so… a lot of comedy on offer in addition to the plethora of books, merchandise and cold hard talent, all there-for-the-taking at the Excel Centre in the midst of London's Royal Docks.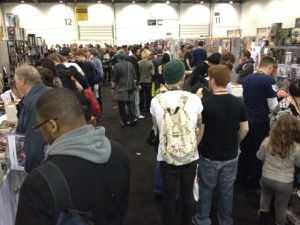 The Excel Centre is a fantastic venue in itself, with good rail links and easy access to some pretty good hotels and eateries, all within walking distance from the from front doors of the Con. The actual Super Convention hall was kind of… like a warehouse or an industrial space and although it did feel slightly below the quality level of the other exhibition spaces within the Excel, it was a perfect place to stage a comic-commune – it was littered with 'cool' from wall to wall and how could you possibly moan about that.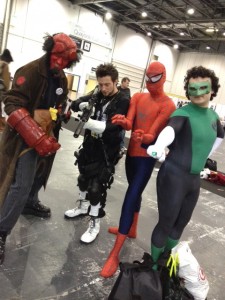 An early entry with my Free Press Pass allows me to head straight to the portfolio reviews stand and after some friendly banta with the other hopefuls, I'm sitting in front of Eisner award nominated Chris Ryall, the Chief Creative Officer at IDW and the company's Editor-in-Chief since 2004.  He's generally impressed with my work and offers some priceless nuggets of advice on how to improve it, to quote him "I'd quite like to see it inked" which could mean a few things, but I'll take it as… "I'd like to see it inked because it's good enough."… cheers Chris.
There were some big names at the Con, all of whom were happy to chat and about their current projects – and engage with you as they worked.  The bigger names did have a bit more of an 'entourage' than others, with assistant's handling cash and helping to prevent a stampede.  It was honestly thrilling to see some of these guys at work AND be able to talk to them while they were sketching.  The sketch lists did seem to fill up rather fast but the guys were busy all day so, you have to tip your hat to them and applaud their efforts.  The average price for a sketch seemed to be around £20 but, most of the guys seemed happy to sign anything on request.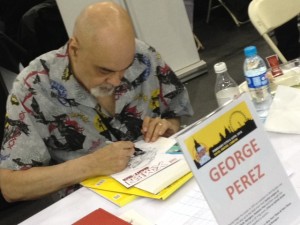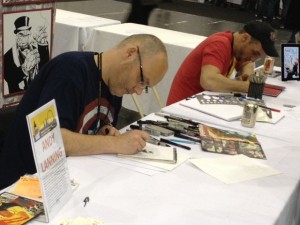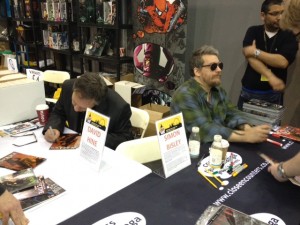 I also hit a couple of the panels – 'DC New 52 6 months on' was a fairly insightful Q and A with Kevin Maguire and Jamal Igle but, with no real 'scoops' to speak of.  When I asked… "Can we expect a '3rd wave' of books in a further 6 issues time to replace the poor selling titles in that future moment?" I went on… "and if the Before Watchmen books are a success in the summer, would any of those characters be considered for an on-going series?" they responded "In terms of a 3rd wave… yes probably." Kevin said the Watchmen Characters should be "left alone." which is a clear opinion on DC's summer's releases.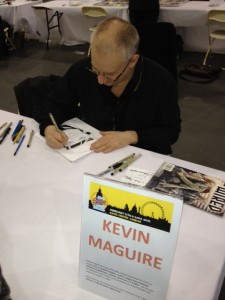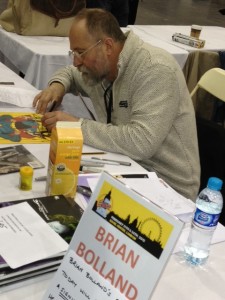 'Breaking into Comics' was a massive use to me personally (being a creator).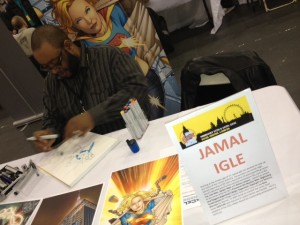 The most interesting panel of the day was (obviously) the Stan Lee Q and A.  Stan was very open an honest with his answers and managed to field questions for a good 45 minutes before he received his standing ovation.  Some of his responses were… suprising.  When asked "Who do you wish you'd collaborated with during your career?" his answer was Alan Moore of all people.  When asked "Which character do you wish you'd created yourself?" he responded "Batman"… not even keeping it Marvel then, smooth – and when asked to pick sides, X-men or The Avengers, he responded "I didn't even know they were fighting" – when pushed for an answer, he said "It would be like picking your favourite child!".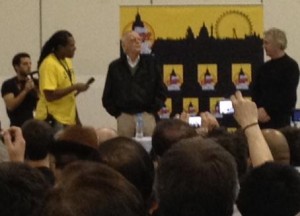 In summary, it was a fantastic event and one that I'll definitely go back to next time around, The highlights for me were meeting (among others) George Perez – and seeing Stan Lee in such good spirits.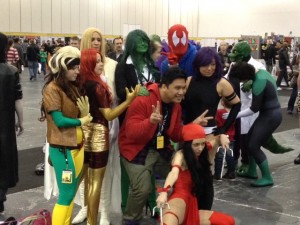 Nice.