It's 1995, I'm 13 years old and Sly Stallone is playing Judge Dredd at the movies.
At the time, I'm sure this type of casting was fine in a cheese-on-toast comic book flick such as this, but looking back and – rightly or wrongly – comparing the first Dredd movie to other superhero movies before and since, it's easy to hate it and poke fun.   The idea of Hollywood taking an iconic British property and doing such a monumentally bad job with it is both shocking… and not shocking, given the other triumphs and duds that have popped up since then.    The '95 Dredd could almost be used as a case-study of how not to do a comic book movie. Rubbish.  What the hell was Rob Schneider doing in there?
New Dredd actor: Karl Urban may show us a more satisfying version in the up-coming movie in September, but will Dredd keep his helmet on this time?  The forthcoming reboot project written by Alex Garland and directed by Pete Travis, has recently given birth to the first full trailer and apparently, he does.
Thoughts?
With the visuals seemingly getting quite close to the originally intended look-and-feel of Mega-City One, maybe we'll get something closer to John Wagner and Carlos Ezquerra's original creation than the 95 attempt.  What we do appear to be promised is actor: Urban's impressive Clint Eastwood impression.  Wagner and Ezquerra were allegedly inspired by Dirty Harry when they first created the character.
Online rumours of the 'shady' production process continue including reports that director: Travis was locked out of the editing room at one point while Garland took the reins to "wind things up".   Apparently, no one really knows quite what the finished product will even look like!… director included.
This Dredd has got his work cut out, at the end of a long summer of superheroes and since it's taken so long to complete the movie having been planned since 2008, we need this movie to be bold beyond its years and spark some interest back into the deeply beloved books.  With a bit of luck, we will see a spike in book sales when the movie arrives in the UK on 7 September and in the US two weeks later.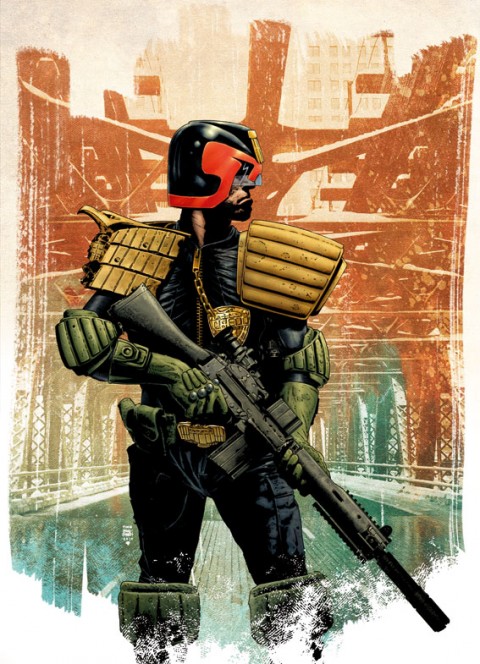 C'mon Dredd.  Do something.