I got busy last night and didn't get a chance to post this (I posted my report for the Pint o'CB panel instead). So, without further ado, here's what my Saturday looked like:
7:00am – Jolted awake by the blaring of my hotel room alarm clock
7:01am – Bleary-eyed and probably still technically sleeping, stumble over to the coffee maker and fumble with it until a cup of in-room coffee has begun to percolate.
7:02am – Wish I was more bright eyed and bushy tailed in the mornings (I can get quite grumpy).
7:03am – Add sugar and powered creamer to coffee. Somehow manage to gulp the resulting sludge down.
7:06am – Started getting ready for the day by jumping in the shower. The hot water lulls me into closing my eyes again.
7:45am – Showered, dressed, and a little less grumpy (but still feeling fairly misanthropic), I leave for breakfast
8:00am – Arrive at the Lakeview for breakfast. Carbs, sugar, and grease soon set me right. With a little more coffee in me, I'm ready to start the day.
9:15am – Arrive at the Metro Toronto Convention Centre (MTCC) to find quite a long line-up. Deposit partner in the line and go to the InterContinental Toronto Centre to get my media pass from the press room. Get admitted to the MTCC and watch the exhibitors and guests set up for the day.
9:20am – Meet up with Alice-ann, who's come down to photograph the event for CBD. We start to plan the day by looking at the panel schedules.
9:50am – Loiter downstairs (i.e. street level) with Alice-ann after seeing what is possibly the BEST COSTUME AT THE CONVENTION: a working, talking (Imperial) Dalek. It was awesome.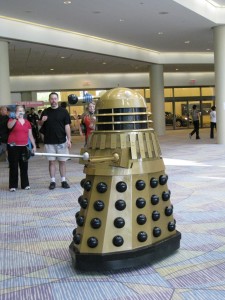 10:00am – Ticketholders are admitted and our day starts. Get a picture with the Dalek.
10:05am – Meet up with our very own J. Jonah Jameson, Pete, to discuss our respective plans for the day. Media plan in hand, we all go our separate ways. Since I'm covering three panels during the afternoon, so I take this time to make my way through the dealer tables and artists' alley.
10:59am – Get in line for Felicia Day.
11:30am – Purchase the two DVD volumes of The Guild. Get them signed by Felicia Day who complements my hair. SQUEE!
11:41am – Eat a barely warm and horribly overpriced hotdog, regret not going down to get street meat.
11:42pm – While eating, slowly navigate crowds to get down to the room the Stan "The Man" Lee panel
12:02pm – Ask another volunteer as to their press policy. Quickly escalates into a battle with the door person at the Stan Lee panel who have not been informed about the amount of access press credentials have.
12:12pm – Get my partner to stand in line and run back to the press room to get the press policy clarified.
12:13pm – Go to press room. Learn there's no set policy for access. Curses the media pass and vows to get an all-access pass next year. Mentally curse out the con organizers and remember fondly the organization at Wizard World (they made it so easy to cover the event!).
12:17pm – Go into the Public Relations (PR) room and get attitude from one of the workers when I ask her to clarify the policy. If staff is this rude to me, I wonder how rude they are to ticketholders. She clearly sees my media badge. You'd think that given the horrible organization and the event's inability to handle the influx of people, I wonder why this woman isn't trying to run damage control. You know, WITH THE MEDIA.
12:25pm – Head back to the line, fighting the wall-to-wall people.
12:30pm – On my way back to the line, I'm very excited to see a female staff member in a hockey jersey (usually they tend to be more knowledgeable as they've been involved in the planning process). After I ask my question, she gets exasperated at me, as if I'm wasting her precious time with what should be a simple question. Yes, I know it's insane what with the three-hour line-ups to get in and all; and that you're stressed out of your mind. But I'm just as frustrated with the entire con and I've made sure to address you with politeness and respect, you could do the same. (I save the outspoken snark for my columns; also, you never know who you're talking to so copping an attitude could come back and bite you in the ass if you're not careful.)
12:45pm – Return to line; start writing this article on my netbook. My photographer returns and mentions that someone who is manning the door is now telling staff to line up behind the VIPs/All Access passholders. This is awesome news. But I also realize that a monkey shit fight at the zoo is more organized than this event is.
1:00pm – Finally allowed into the room
1:15pm – Stan Lee arrives on stage. And it is magical. For the next 35 minutes I bathe in the awesomeness that is Stan.
1:50pm – Stan Lee leaves. My photographer and I run over to the Felicia Day panel where my friends have managed to save me a seat.
2:00pm – Panel begins. The panel consists of both Felicia Day and Amy Okuda (who plays Tink on The Guild).
3:00pm – Leave the panel. Head upstairs.
3:25pm – Wonder what the capacity for the Metro Toronto Convention Centre (MTCC) is while I fight my way through the wall of people. Wait to get readmitted to the dealers' room. Later I learn through the press grapevine that the Fire Marshal locked down the building (i.e. didn't let anyone else in) because it was at capacity. (This resulted in a two to three hour wait for anyone who left the building.)
3:30pm – Run down to room 206C to watch the Pint o'CB panel.
4:30pm – Make my way to the press room and write up my panel report for Pint o'CB.
6:00pm – Media room closes for the day.
6:01pm – Meet up with my partner, who has purchased Stan Lee photo-op tickets and is returning them as they've been woefully oversold.
8:01pm – Partner and I head back to the hotel to relax. I recharge my batteries and manage to eliminate some of the tensions (I'm still a giant stress ball though).
9:00pm – Head out to the Overdraught Irish Pub (on Front Street) for a CBD mixer; have a grand old time.
9:12pm – Think of this article and the panel reports I have to write as I eat chicken fingers.
11:30pm – Exhausted, my partner and I return to the hotel a little earlier than planned.
11:45pm – Pass out on the bed watching TV.
Shelley Smarz is a business woman and a comic book scholar. She's currently finishing up a "Lookback on Fan Expo 2010" article and will be posting her four remaining panel reports regularly though the week.