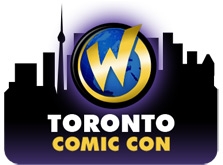 Well, I'm ready to eat my words.
The con today was awesome. It was hip, happening, and everything you want in a con – the only thing that could've been better is if there was more comic programming and retailers.
I think that if Wizard World aims to have another con this size, perhaps even grow it VERY SLOWLY over the next couple of years, this is going to be a nice little addition to the Toronto con circuit.
I spent my day hanging around the Comic Book Daily booth. I also got to interview the man himself (no, not that one, the other one), Danny Husk (Scott Thompson's alter-ego, a straighter-then-straight business man with a rocking 'stache who claims "vanilla" is his passion, who is also the main character of the graphic novel, The Hollow Planet). The interview kind of went to a naughty place, but it was awesome! During the interview Aaron Douglas (Chief Galen Tyrol) of Battlestar Galactica (BSG) fame dropped by.
You have to understand, I'm a huge Kids in the Hall fan. I have been since I first saw it. One of my favourite Danny Husk sketch is where he reads in the paper that he's been kidnapped and that the kidnappers are demanding $3,000 ransom (all in $2 bills). The only problem is, Danny hasn't been kidnapped. Yet he goes through his day as if he has been, even dropping off his own ransom to the kidnappers.
In a nutshell, Danny is a plain ol' regular guy with a super-duper positive attitude (he's the guy making the lemonade when life gives you lemons), he's super eager (despite not being the sharpest tool in the shed) and he never gives up.  (Which comes in handy when he's sent to another world).
Though there is a reference to "Husk Musk" in the graphic novel (one of three, SQUEE!), it appears that Danny's Kids in the Hall past is erased (he's no longer the exceptionally well-endowed Blade Rogers no longer j 70s-style porn star (Blade Rogers), his wife looks nothing like Kevin MacDonald in drag, and his boss doesn't ask him to look at the brown goo coming out of his mouth).
Shelley Smarz is a businss woman and comic book scholar. If you were at Wizard World Toronto today, you may have seen her in her pink cardigan and Angry Birds Buffet shirt.