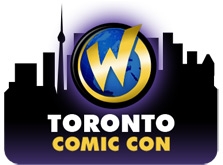 Ahhh…the last day of con.
Though it was much quieter than yesterday, it was still quite busy. The only real annoyance was that the hall itself was quite cool. I had on a long sleeve shirt, a t-shirt, and a uber-warm sweater and I was shivering.
I don't have much to report on the day. I spent most of it sitting at the Comic Book Daily table, telling everyone about the Comic Book Movie Prize Pack. I wandered the booths for some last day deals and scored a couple of first-printings of Marvel original graphic novels (God Loves, Man Kills and Days of Future Past).
Ended up leaving the con a little earlier than planned; I was completely exhausted (the result of a sleep deficit caused by the time change last week) and had a bit of a sore throat. I'm sitting at home, watching TV, wearing a pair of knitted socks, drinking a Hot Toddy – which is basically a mug of hot scotch diluted with liberal amounts of both lemon juice and honey – desperately trying to fend off the dreaded nerd flu.
Shelley Smarz is a comic book scholar and business woman. She'll be a busy bee transcribing these interviews – and a couple from last year's TCAF that she thought had been eaten by the digital wolves. While brevity has never been her strong suit, the story is as follows: She thought that the digital audio files had been lost (my computer-sticky-thing crashed) but she found a copy in a very unlikely place.