I just wanted to check in with you. AVENGERS: AGE OF ULTRON is really coming along nicely. I wish you would re-consider your decision to not let me cast you in the movie. ROBERT, MARK, JEREMY, and the two CHRIS's are decent enough actors but when you and SCARLETT are on screen together – KABLAMMO!! The sexual chemistry is explosive! Please be in the movie! PLEASE!
SINCERELY,
JOSS WHEDON
Joss, Joss, Jossy, Joss-Joss…
I told you: I won't be in your new AVENGERS flick because I won't support a film franchise  THAT HAS RUINED THE COMIC BOOK INDUSTRY!!!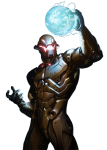 It's not just the fact that every comic book writer working today tries to write Whedonistic scripts. You know: Clever one-liners. Powerful, sweeping statements immediately followed by funny, diminishing remarks. Ironic, self-aware observations.
The truth is, 99.9% of comic writers today AREN'T YOU! You, J.W., are a bona fide genius who knows how to use those remarks, those observations to build tension and keep an audience locked into the plot. Most of these schmoes operate under the 'Throw Enough Crap Against the Wall and See What Sticks' M.O.
It's not just the fact that every artist is locked into drawing all the characters EXACTLY like their movie counterparts. Yeah, I get the fact that they are being ordered to do so by the Feige-onauts high atop their corporate Mount Olympus, but that's just one more slice of artistic freedom shaved away from the artists [NOTE: Believe it or not, True Believers, there once was a day when THOR had the cultural integrity to wear a helmet, TONY STARK had a real honest-to-Crom beard and not the current fringey, Downey-fine thigh-tickler he currently sports, and don't even get me started on the Jacksonizing of Nick Fury}.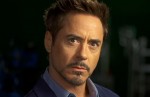 It's not just the fact that comics have gone Team crazy. Suddenly, we are TEEMING with TEAMS! We've got AVENGERS, NEW AVENGERS, AVENGERS UNDERCOVER, MIGHTY AVENGERS, SECRET AVENGERS, UNCANNY AVENGERS, DARK AVENGERS, AVENGERS WORLD, AVENGERS AI, YOUNG AVENGERS, and I know those snot-nosed punks from AVENGERS ACADEMY are floating around somewhere.
Factor in all the X-Teams, Inhumans, and Fantastic Four (They are still putting that out, right?), and you're still only scratching the surface. AVENGERS begat THUNDERBOLTS and GUARDIANS OF THE GALAXY and for the love of God, two AVENGER books released this week
feature two MORE teams: EUROFORCE in AVENGERS WORLD and THE GREAT SOCIETY in NEW AVENGERS, which is the 47th time Marvel has created a pastiche of the JUSTICE LEAGUE (Yawn).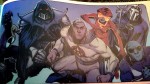 Yeah, Jo-Whee, don't think the AVENGERS Distinguished Competitors across town escape the effect: JUSTICE LEAGUE, JUSTICE LEAGUE OF AMERICA, JUSTICE LEAGUE BEYOND, JUSTICE LEAGUE 3000 (also known as BEYOND JUSTICE LEAGUE BEYOND) JUSTICE LEAGUE DARK, JUSTICE LEAGUE UNLIMITED, and now JUSTICE LEAGUE UNITED, which appears to be JUSTICE LEAGUE CANADA…making me yearn for the golden days of GREAT LAKES AVENGERS.
"So what's the problem, you grouchy old hard-ass? Everybody loves team books!"
Yes, they do. You know who loves them the most? Lazy writers.
GOOD comic writers make sure each character HAS character. Distinct personalities. Interesting relationships. GOOD comic writers work at their craft to create compelling interesting people to inhabit their stories.
Here's the current checklist for the typical standard superhero team rosters as used by the LAZY writers:
–POWERFUL BOY SCOUT TYPE
–BRUTAL LONER WHO DOESN'T FOLLOW THE RULES, AND YET LEADS THE TEAM
–STRONG WOMAN WHO IS A POSITIVE ROLE MODEL, EXCEPT FOR THE STRUCTURALLY-IMPLAUSIBLE  HOOTERS TRYING TO ESCAPE HER UNIFORM
–FAST-TALKING IRONIC SMART-ASS WITH ATTENTION DEFICIT DISORDER (You know, for the kids)
–SOME MYSTERIOUS HERO/HEROINE WHO IS MYSTERIOUS IN HIS/HER MYSTERIOUS-NESS.
In the first issue,  a couple of them will clash and  trade barbs. by Issue 4 they will have formed a grudging admiration for each other…by Issue 8 one of them will save the others life..by Issue 9 the other will return the favor…by Issue 12 they will be besties…and by Issue 16 they will open a Bed and Breakfast together and go antiquing and picking juniper berries.
All of that factor in on why I think your AVENGERS movie has obliterated the comic industry. But the most important reason is the extinction of SOLO CHARACTERS.
Team books are easier because you have your lead characters clearly defined by other creators or your own reliance on these existing stereotypes. Even supporting characters are laid out for you: they're the ones played by B-List actors in the movies.
If you write one of those dull, boring solo character comics you have to come up with your OWN supporting characters: Friends, lovers, bosses…you know, mundane everyday people like…us.
A writer would have to put a hell of a lot of effort into creating compelling characters to surround their lead. I don't know, like a butler with a fascinating backstory who loves the hero like his own child. Or a heart-broken orphan who is redeemed by the hero. Or even a charming criminal who balances her love for the hero with her love for stealing shiny objects.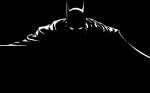 NAHHH!! That would never work! That comic would never last!!
This genre was founded on SOLO characters. And if the industry abandons them, then comics will continue to morph into $3.99 storyboards, which writers use to audition for movie studios.
Please understand, Joss, I don't blame you. I love ya, compadre! You created the superhero movie that eight-year-old DOC prayed for, on his scabby knees by his little bed in Daytona Beach.
Maybe you can right the ship! How about, after AVENGERS 2: ELECTRIC BOOGALOO you make a SOLO Superhero flick. Now that is a movie I would make with you.
Admit it– A little leftover hair dye from St. Patrick's Day and DOC CURMUDGEON could easily sliiiiiiide into the role of DOC SAMSON, no problemo!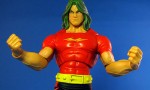 "DEAR DOC CURMUDGEON" IS A COLUMN MADE UP OF COMPLETELY FABRICATED RESPONSES TO MOSTLY FABRICATED QUESTIONS. BUT YOU KNEW THAT, DUE TO YOUR DISCERNING NATURE AND BRILLIANT MIND WHICH WOULD NEVER FALL FOR A COLUMNIST TRYING TO BUTTER YOU UP…UNLESS YOU'RE INTO THAT. IF YOU LOVE WHAT HE WRITES, SEND A MESSAGE TO [email protected]. IF YOU DON'T  LIKE WHAT HE WRITES, SEND A MESSAGE TO mxyzptlk@ kltpzyxm. OR, JUST FOLLOW HIM ON TWITTER @doccurm.